Are you one of the 44 million people in the UK still with a Big Six energy provider?
If you are, you can console yourself that at least you are not alone in overpaying, collectively, to the tune of £3.4 billion a year.
It's difficult to imagine which other companies could get away with routinely overcharging and a lack of clarity over prices that is frankly endemic, but then, these are energy companies, dominating a market that we all depend on to sustain the way we live now. There's a lot of power in power.
Furthermore, there is a lot of power in fossil fuel power, which we don't mind telling you we dislike intensely.
We aren't alone.
The Clean Energy Campaign, backed by The Big Deal and 38 Degrees, has launched the biggest collective consumer switch from fossil fuels ever seen in the UK, encouraging people to switch to green suppliers using collective purchasing power to bring down the overall price for individuals.
And it is working. More than 42,000 individuals signed up to switch in the first 48 hours. And Good Energy confirmed it would offer a deal that is £232 cheaper than the average Big Six tariff. You can still sign up at www.thebigdeal.com and see how much you could save, simply by entering your postcode. If you don't like the tariff on offer then you're not committed to switching and can simply stick with your existing supplier.
The switching message is certainly working. According to Reuters, 13% of the energy market share is now with smaller suppliers, compared with 2.6% two years ago.
There's cheaper – and cleaner – choices than you realise
MYTH: Renewable energy tariffs are more expensive.
FACT: Green tariffs regularly feature among the best buys and 84% of those on the market are, according to uSwitch, cheaper than Big Six standard tariffs.
Cheap, clean energy deals are taking the domestic tariff market by storm.
Increasing numbers of suppliers offer green tariffs. You can get 100% renewable electricity tariffs, but some suppliers, such as Ovo, offer 33% renewable electricity as standard. Ovo says it always likes to double whatever is the market average for renewably-generated power. The average for the last 3 months was 25%, according to government figures, so perhaps it will increase its mix further soon 😉
(Remember we are talking about % of electricity and not gas here – with the exception of some small-scale biogas trials from Ecotricity, you can't get renewable gas yet.)
So if you are on a standard tariff from a Big Six supplier, the first thing to say is you will almost definitely save by switching, to a green tariff or otherwise. See our tables, compiled by uSwitch, below. But you knew that already…. didn't you?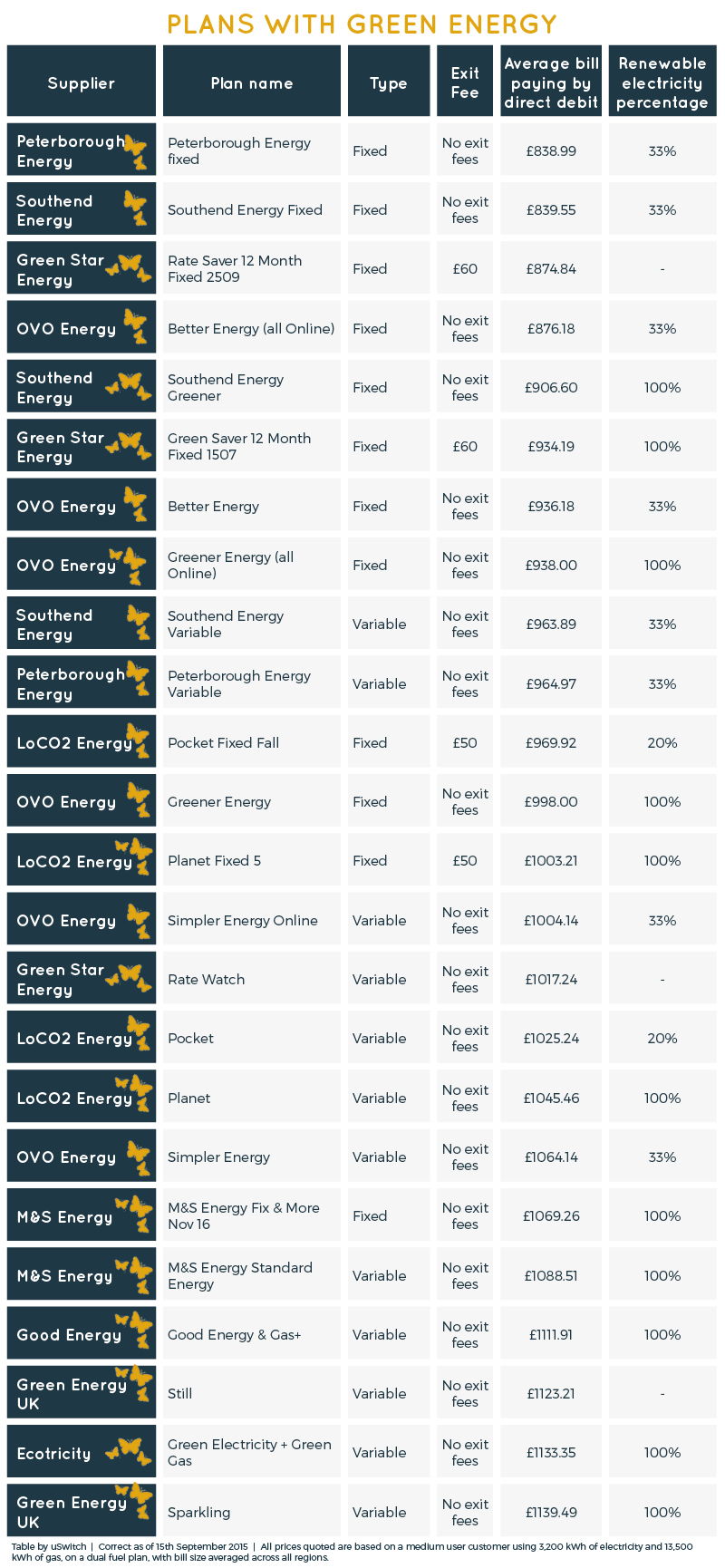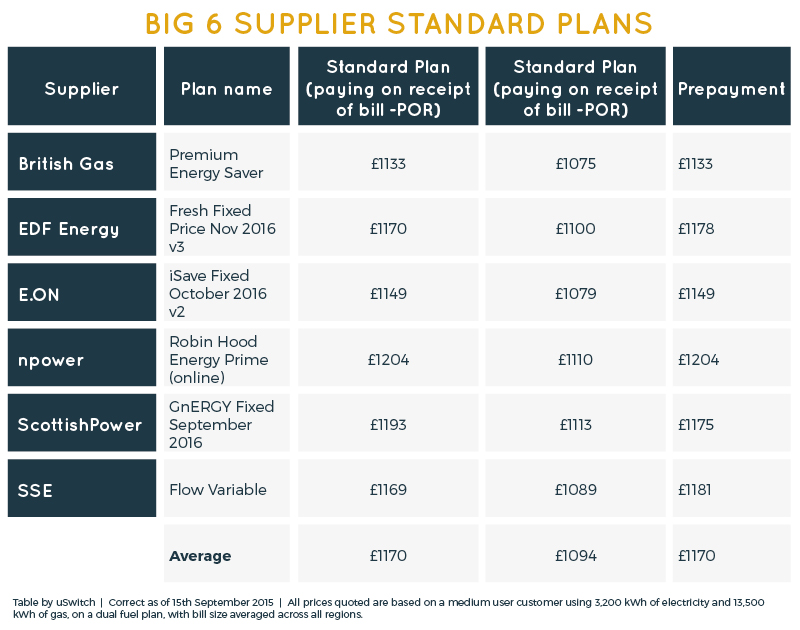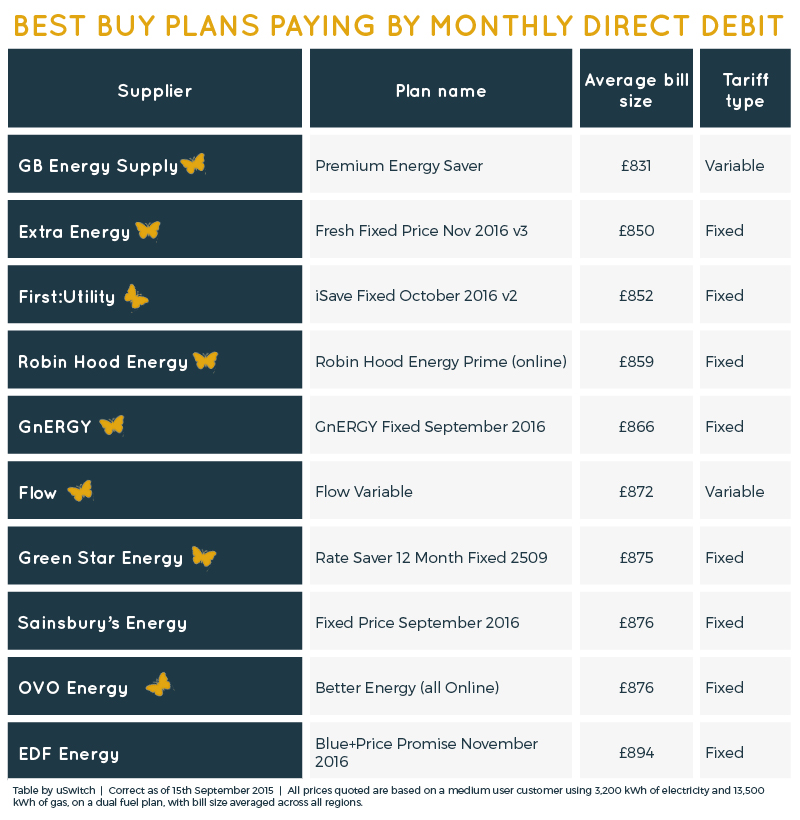 If you are not bothered about going green and are on a standard tariff, paying by direct debit, from British Gas, EDF Energy, E.ON, power, ScottishPower or SSE, switching to the cheapest, non-green best-buy would save you £263 – that's the difference between the average Big Six standard tariff and a variable tariff from the market-leading GB Energy Supply, at £831. See our tables for the raw data.
Of course we would prefer it if you switched to a greener tariff, however.
And the good news is if you would like to make a huge saving AND feel good about contributing to renewable energy generation, then switching to the cheapest national green provider would save you £220 if you were on the average standard Big Six tariff – Green Star Energy, a renewables supplier, offers a "Rate Saver 12-month fixed" tariff, which works out at £874.84 for direct debit, medium-user customers. That's still a blooming' good saving. Green Star says that 95% of its electricity is renewably-sourced as standard.
This Green Star deal is the seventh cheapest energy deal currently around on the whole market – both green and non-green. The ninth best – from OVO Energy – is less green, a 33% renewably-sourced electricity, but very competitive.

Because Green Star says its deals are either 100% renewable or not far off and one of the cheapest around on the market, we HEART it.
Local tariffs can be cheapest – and greenest
Conscious energy users in Peterborough and Southend have lucked out – not only are deals from Peterborough Energy and Southend Energy among the greenest in the UK, with 33% renewably-generated electricity (they are powered by Ovo) – they are also among the cheapest, at £838.99 and £839.55 – only £7 and £8 more expensive than the very cheapest, non-green deal on the market. But you have to live locally to be eligible.
The recent success of local suppliers is some boon for the fledgling small competitor industry – many are less than a year-old but already undercutting the Big Six substantially AND reducing CO2 to boot.
But if you are impact as well as price conscious, be aware that not all local energy suppliers are committed to renewable energy. Many (such as Robin Hood Energy) focus only on price, which, in our view, is a shame, particularly when you consider the example being set by Peterborough and Southend – that you can indeed achieve both.
There are bigger, more established providers of green energy if switching to a small supplier makes you feel nervous.
The best known of these: Ecotricity, Good Energy and LoCO2 Energy.
Ecotricity is the UK's oldest 100% green provider (it is responsible for green gas and the nation's electric car recharging points at service stations, among other innovations).
Its website has a very handy tariff comparison tool – all you need to do it input your postcode. As well as 100% green energy, it also invests profits in building new turbines to generate even more renewable energy.
Based on uSwitch's figures (see table), Ecotricity is one of the more expensive green plans, at £1,133,35. BUT it is still cheaper than pre-payment or paying on receipt of bill plans with all of the Big Six providers.
Good Energy, which also offers 100% renewable energy, charges £1,111.91, which is £22 a year cheaper than Ecotricity.
LoCO2 is smaller than Ecotricity and Good Energy and focused on small-scale hydropower. But it doesn't only offer hydro-fuelled tariffs; its range stretches from a 100% renewable tariff ('planet', costing £1,045 for a typical user) to a low-carbon tariff sourced from a minimum of 20% renewable power ('pocket', costing £1,025), although we think they can probably do better than 20% now.
But Ovo, and the various local suppliers it has partnered with, is mopping up the middle ground of cost and environment-conscious billpayers. Its cheapest nationally available tariff with 33% renewables in the mix is significantly cheaper than a standard tariff with a Big Six supplier, at £876.18 a year (a saving of around £220 a year).
In addition to its energy mix, it says it offers fair energy, and has a handy guide on its website that allows you to see exactly how your tariff is made up – a marked contrast to the waffle and seemingly impenetrable range of tariffs available with a Big Six supplier.
NB. Be wary of signing up for one of the Big Six's so-called green tariffs. If you can find a deal among this negligible range (the Big Six have ditched most of their green tariffs), in all likelihood less than 20% of the energy will come from green sources.
RANT ALERT – remember that green energy, which is infinite and very low cost, is completely at odds with the current business model of energy providers, and therefore they do not have any commercial incentive to pursue it. In fact, it is in their commercial interests to see renewable energy falter.
And finally, there's a growing range of options for your energy closer to home: solar panels, ground source heat pumps, direct investment in renewable technologies through a collective fund, or community energy schemes that result in lower bills for locals, for example.
The Government is making some changes to Feed-in tariffs in January next year, which may mean there is only a short window to make cost-effective investments in domestic renewables. There's a separate article on renewable energy investing in the current policy climate coming soon from us. This move to reduce support for renewables is unfortunately not isolated and comes amid a raft of changes that do not bode well. See #saveoursolar for more.
How to switch
Switching is remarkably easy. It's a few meter readings and some direct debit details, then the rest is taken care of for you by the supplier you are switching to. So let them do the hard work and start planning what you will do with your savings.
All figures courtesy of uSwitch.com. Prices quoted are based on a medium user customer using 3,200kWh of electricity and 13,500kWh of gas, on a dual fuel plan, with bill size averaged across all regions.