Have you ever wondered what companies your pension – assuming you have one – is invested in?
Are they health care, tech firms or banks? Are they oil firms, steel or minerals extraction firms, or are they arms manufacturers? Or, are they companies having a more positive impact on the planet and society, perhaps those firms more aligned with your own personal values?
Well, you're not alone. According to research by the Government, two thirds of UK savers want their money to account for its impact on the environment, as well as profit. Further research from Triodos Bank reveals seven in 10 people think financial providers need to be more transparent about how they invest their customers' money. 
Find out how green your pension is

Until now, it's been pretty hard to find out how climate-friendly your pension is. However, the launch of our new green pensions platform called Isitgreen.org, developed with a team from leading UK think tank, Demos, will allow you to do just that.
All you need is the name of the fund your pension is invested in, and if you can't remember that, then just the provider name will do. Follow the prompts on the site, input the information where asked, and Isitgreen will assess your pension fund's climate credentials using both climate performance data (from a company called Climetrics) and financial performance data (from a company called Refinitive, part of the London Stock Exchange). You will then receive a rating for the 'greenness' of your pension fund, ranging from 1* (poor) to 5* (top).
Changing to a climate-friendly pension
And, if you decide you don't like what you see, you can read on for some suggestions on more climate-friendly pension fund ideas so you can then talk to your employer adviser or your IFA.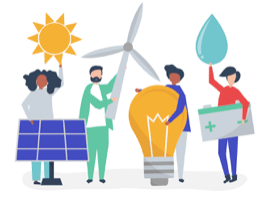 Lisa Stanley, co-founder of Good With Money, said: "The problem is two-fold. Firstly, UK pension-holders are sitting on a goldmine of more than £2.6 trillion, and many of us won't be aware – nor will we like the fact – that those trillions of pounds are not invested in sectors that align with our values.
"Fossil fuels, tobacco, arms and deforestation were once core sectors for UK pension funds, but as we all recognise our planet needs a greener future, we have the chance to direct our investments towards more sustainable areas.
"Secondly, until now, even if we do take an active interest in where our pensions are invested, it has been pretty difficult to work out where that may be. Our workplace pension is probably invested in a default fund, and information on the potential sustainability of any personal pension funds is likely to be buried 20-odd pages deep in the fund marketing material, obscured by a barrage of different terminology, ranging from ESG to sustainable to responsible to green to ethical.
"So even pension holders who want to take an interest in how climate friendly their pension is may find it confusing. That's where Isitgreen comes in."
Avoid the greenwash
Charles Seaford, Demos fellow and founder of the Isitgreen platform, added: "As the climate crisis becomes ever more important, we're all looking for ways to make a positive difference. We may not realise it, but how we save and invest our money – as well as, naturally, how and where we spend it – can make a huge impact. 
"However, as increasing numbers of financial providers jump on the growing green investment bandwagon, it's important to cut through the greenwash and shine a light on those financial providers who walk the walk as well as talk the talk. So, Isitgreen has been developed to do just that – for the first time investors can find out easily whether their pensions and other investments are genuinely tackling climate change. And do something about it if they're not!"
Greening your pension is powerful
According to Make My Money Matter, the green pension campaign led by Richard Curtis, greening your pension is 21x more effective at reducing your carbon footprint than giving up flying, going veggie and switching energy provider combined.
Huw Davies, Senior Financial Advisor, at Make My Money Matter said: "Pension funds have invested trillions on our behalf without asking the crucial question – do these investments create a world we actually want to live in? Isitgreen helps make it easy for ethical consumers to understand more about their investments and take action if they are not happy with the answer.
"Our pensions can be one of our biggest assets, with real power, but our money may often not be aligned with our values and the world we want to see. We are calling for all pension funds to commit to robust net zero targets and climate action – including a halving of emissions this decade. After all, what's the point in retiring into a world on fire?"
Check how climate-friendly your pension is here.
---
Find out more on how to green your pension with our Good Guide to Pensions
---