When it comes to being responsible, who you borrow from is as important as who you pay money to. In the course of our lives, a mortgage is likely to be our single biggest borrowing.
Rising interest rates means that finding an affordable mortgage is not now an easy task. Rates shot up to an average of more than six per cent in October 2022 in the wake of the ill-fated mini-Budget, and while they are now slowly falling they are expected to settle at between four per cent and five per cent next year.
The good news is that if you want a mortgage from a more ethical lender there are several choices out there.
The even better news is that they cover everyone from mainstream borrowers to those struggling to get on the property ladder or those wanting to build something more interesting.
Here are five Good picks.
Standard variable rate (renovation) of 5.29 per cent
Standard variable rate (residential self-build) of 5.79 per cent
If you're borrowing for a project that is a little different, Ecology Building Society specialises in properties outside the mainstream. These include self-build mortgages for non-standard but energy efficient construction, energy efficient renovations, moorings for houseboats and loans for buying woodland.
With a standard variable rate from 5.29 per cent for renovations and 5.79 per cent for self builds, Ecology won't compare with the cheapest rates on the market. But mortgages for non-standard properties are typically more expensive than the norm. The good thing is, once your property is complete, the rate is typically discounted according to the energy savings you are making.
So if you're building a wattle and daub house or want to make a listed building more energy efficient, Ecology will consider your project without taking what it calls a 'tick box' approach.
The mortgages are funded through members' savings accounts.
Good For: Selfbuilders, energy improvers, homes that promote sustainable living
A Good Egg: Ecology Building Society
Two-year fixed rate at 6.29 per cent with a 20 per cent deposit (£199 application fee/ £999 completion fee)
Three-year variable (discounted) rate at 4.59 per cent with a 20 per cent deposit (£199 application fee/ £500 completion fee
Smaller building societies are traditionally more able to look at customers on an individual basis, and Suffolk is proud of its roots in the community. As well as promising to consider each customer individually, it works with housing organisations across Suffolk to help address more systemic homelessness issues. The group also has a focus on financial education in schools.
Suffolk had been one of the few mortgage providers to being offering mortgages with a 10 per cent deposit. However, due to "unprecedented demand", it has withdrawn these products.
Good for: First-time buyers with smaller deposits (from 20 per cent)
Two-year tracker at 3.64 per cent for those with 30 per cent deposit (£999 fee)
Two-year fixed rate at 5.39 per cent for those with 30 per cent deposit (£999 fee)
Britain's biggest mutual uses its size to offer good value products for more standard borrowers, particularly those with a decent amount of equity in their homes.
For those who do have equity or a decent deposit to put down on a first home, Nationwide's rates are competitive, including the 3.64 per cent rate above. If you want total peace of mind, it offers a ten year fix (with 30 per cent deposit) at 5.09 per cent. Most of its products come with a £999 fee.
Nationwide's 'Green Additional Borrowing' scheme offers a lower initial interest rate if at least 50 per cent of the loan is used to make your home more sustainable. This includes the following measures: "air source heat pump, cavity wall insulation, double glazing/replacement windows, electric car charging point, ground source heat pumps, loft insulation, small scale wind turbine, tanks and pipes insulation."
Good for: Borrowers with lots of equity in their homes/ first time buyers with at least 40 per cent deposit
Two-year fixed rate at 5.82 per cent for remortgaging at 85 per cent loan to value (no fee) or 5.27 per cent (£999 fee)
Despite its highly publicised woes in recent years, the Co-op continues to reiterate that it is an ethical bank, despite hedge fund ownership. It is currently donating £5 to youth homelessness charity Centrepoint for every mortgage taken out.
Good for: Borrowers looking to remortgage
If the mortgage market feels a bit overwhelming, Habito is an online mortgage broker that promises to take care of the entire mortgage process for you. Habito is a B-Corp company, which means it is legally committed to putting people and planet on the same level as profit. The online platform can search more than 90 lenders and 20,000 products in just a few seconds to find the right product for you.
Using Habito as a broker to find your best mortgage deal, and apply for it on your behalf, is completely free.
It also offers a 'Habito Plus' service where it will handle all your buying admin, including price negotiation, an in-depth property survey, conveyancing and legal work, for a fixed fee that starts at £2,000.
Good for: People wanting some expert help with finding a mortgage
---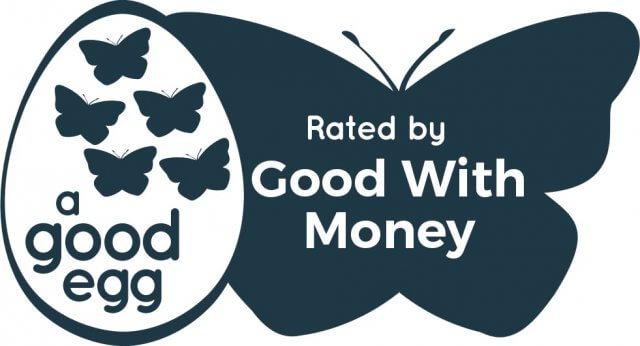 If you want to have a savings account, insurance policy, investment fund or mortgage from companies that do the right thing, check out our Good Eggs.
These are companies that have passed strict (independent) criteria to prove they make a positive impact – to the planet, society, and you. 
---
If you'd like to find out more about the above providers, a Which? membership gives you access to in-depth, expert reviews, 'Best Buys' and 'Don't Buys' so you can buy with confidence and make quicker, more informed decisions. Subscribe to Which? today and save 50 per cent on an annual subscription for your first year. Offer ends 28th February 2023. This offer is only available for new Which? annual subscriptions (excluding Gardening, Travel, Computing or Money packages).
Good With Money occasionally uses affiliate links to providers or offers, where relevant. This means that if you open an account or buy a service after following the link, Good With Money is paid a small referral fee. We choose our affiliates carefully and in line with the overall mission of the site.