Do you know what? "Good" (as in ethically sound) current accounts are, generally speaking, just as good on both price and service as standard (as in non-ethical) current accounts, making it very easy to justify switching to them.
So why don't we all bank with the good guys? The reasons are several.
1) Firstly, there aren't many ethical bank accounts to choose from
The biggest ethical finance players in the UK – Triodos and Charity Bank – are peerless when it comes to savings products, but when it comes to somewhere to keep your monthly income, they score a big fat 0.
Because, for banks of this size, current accounts are not straightforward products. Unlike basic deposit-taking, they are complicated to administer and require networks of cash machines, bank cards and online banking facilities – not an easy thing to do if you are a relatively small-scale operation. That's one reason we tend to be stuck with the big banks when choosing which lucky provider will get to look after our monthly salaries.
2) The big banks are more familiar
Another is awareness. Large players can afford fancy, ubiquitous advertising campaigns, whereas the smaller ones cannot. So they are just more familiar, creating an impression of trustworthiness.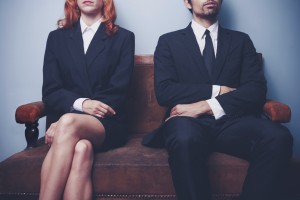 3) Switching seems so, SO hard
Hardly anyone ever switches bank account. There are people out there who change spouses more frequently than current accounts. Like energy bills, or long division, it just seems too HARD.
And current accounts are notoriously difficult to compare (as it explains in this Independent article), making it hard to work out why you would switch and leading to the conclusion that they are all much-of-a-muchness.
We await the results of a Competition and Markets Authority investigation into the current account market with interest – it is due to report in April next year on whether the market is functioning normally and in the best interests of the consumer.
4) So they are all basically the same, so why switch?
So for now, perhaps it's true that there is little to choose between them, but there are some differentiators out there. One is customer service. Another, dear friends, is a bank's social and environmental credentials.
In fact, bringing a bank's impact into the equation is a helpful way of narrowing it down a bit. Because they either have some, or they don't. And not many do.
5) What is out there for GWM-ers
In fact there are really only two current account providers that deserve a butterfly of approval: Nationwide Building Society, Co-op Bank (and Smile, which is the Co-op Bank's online-only bank).  Check out our tables for current account options on the market now (click to enlarge) – we've rated them for credit interest and overdraft interest, so you can choose based on which is more relevant to you – and look for the butterflies for the deals we like (no butterflies means they don't float our goodness boat.)
Moveyourmoney.org.uk loves Nationwide and has this to say about it: "Nationwide is the largest building society in the world, and commands an impressive branch network that rivals even the Big 5 banks. It has an excellent track record in contributing to the real economy and in ethical lending, partly thanks to its strict code of human rights standards on its supply chain.
What's more, Nationwide shows that better banking can also provide great returns, with its impressive FlexDirect current account offering 5% AER on balances up to £2,500 for the first year – far higher than even most savings accounts. You can also share £200 when you recommend a friend who uses the switch service to move to Nationwide. "
Nationwide also takes a responsible approach to lending, with mortgage arrears rates less than two fifths of the industry average by March 2013. Its basic bank accounts are open to people on a low income.
Moveyourmoney.org.uk remains reserved about the Co-op, in light of its rescue by hedge funds after getting into financial trouble two years ago.
Meanwhile, the challenger banks, such as Metro Bank and Secure Trust, promise straightforward, transparent banking. These newer, fast-growing banks tend to differentiate themselves from the old stalwarts on customer service rather than ethics, per se.
The simplicity in itself is arguably a more ethical form of banking – engaged in the old-fashioned banking business of deposit-taking and lending, with most loans apparently going to straightforward UK businesses, your money is easier to trace with a challenger bank than it is if it's housed with a global behemoth that has an investment banking division, investing your money into who knows what, where (see below for an update on ring fencing retail banking from investment banking). But they don't make an effort to invest in businesses with high environmental and social governance scores, as far as we know.
Nevertheless, it is great news that both of these challengers do offer current accounts (Metro Bank's details here and Secure Trust, which offers a pre-paid MasterCard, here.)
On the separation of retail and investment banking:
You may remember, or you may not, one of the responses to the financial crisis of 07/08 was a resolution to ring-fence retail banking divisions from investment banking activities at banks that engaged in both services.
This was because it was considered important to be able to protect customer's current account money and savings deposits in the event of another huge financial crisis from the mistakes being made by greed-driven investment bankers.
This proposal came out of the Independent Commission on Banking in 2010. Ring-fencing has been fiercely opposed by, you guessed it, the banks, who say it is just too tricky to separate everything that they do. So five years on, and we still do not have a ring fence for your cash, which means if you bank with a bank that has an investment banking division, your money is at immediate risk from any problems with what it invests in. That could be the collapse of oil prices, or an economy such as China. While such events affect us all – they would affect those with direct exposure the hardest. 
So far, the more ethical current account providers have not dabbled much, if at all, in investment banking. So as well as being ethically sound, they are also arguably more structurally sound too.
And which banks to steer clear of completely if you want to save the world…?
No big, global bank is without sin. But Barclays, which is invested in fracking, and HSBC, which also owns First Direct, is being investigated for money laundering, are right down at the bottom of our barrel when it comes to morals. The moral of the story? Don't judge a bank by its branding, but by what it does with your cash.