Becky O'Connor and Lisa Stanley. Two blonde mums with a bit of a conscience and a fair amount of background in personal finance. You can read more about us here.
Our aims
"Goodness is the only investment that never fails"

Henry David Thoreau
We want to change the way people choose financial deals, so that price, while important, is not the only consideration.
We want to shine a light on good practice (and weed out the bad).
Because believe it or not, it is possible to get a deal that is good for your pocket and for everyone else.
That could mean finding a savings rate that is above the average market rate from an ethical provider and highlighting the extra amount in pounds and pence you could make by switching to it, or the amount you could save by moving to a 100% renewable energy supplier (you won't know this from the price comparison sites, but many green deals come in cheaper than standard ones).
Read the back story for more on why we set up this site and more here on why we think it is possible to be good with money in every way.
Our values
We aren't self righteous (all the time), just practical. We aren't hippies (no knitted yoghurt in sight).
We are just normal humans who want to do their bit by making their money more considerate.
We aren't perfect, no one is. We just think it is worth trying to be better.
To this end, we like fund managers and companies that do not harm people, animals or the planet.
We don't like coal, oil, gas, tobacco, arms, pesticides or animal testing.
We LOVE businesses that have a strong positive impact on environment and society.
How to use this site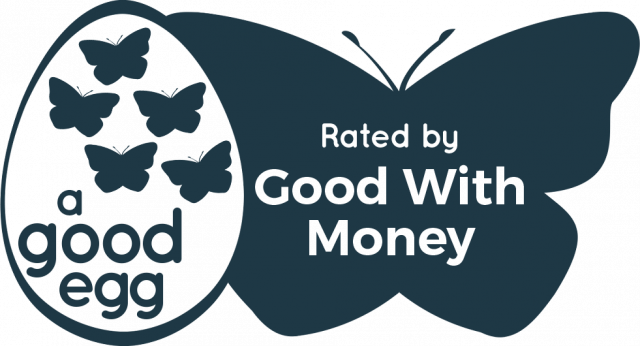 Good With Money launched the Good Egg mark in May 2017. The mark is only awarded to financial services companies who are making a positive difference. We use an independent research company and a panel of experts, alongside a set of criteria and agreed methodology, to assess whether a company is eligible. Companies that are interested pay to apply for the mark. You can see a list of companies already awarded the mark here.
We also have a directory of companies that we rate highly, but which have not necessarily been through the process of applying for a Good Egg mark.
Our articles and guides also offer information, news and views on how well products and providers match up to our vision of being both a good deal financially and ethically – so it is a useful resource for people who want both.
How we make our money
We are interested in growing the market for more responsible financial services and are therefore keen to form relationships with all financial services providers.
However, we choose who we enter into commercial arrangements with carefully.
We offer sponsored blog posts, guides and banner advertising.
We are sometimes paid for referrals or new customers when someone clicks from our site to a provider's website.
Companies applying for a Good Egg pay us for the mark, which covers legal, research and marketing fees.
We always make it clear when a blog is sponsored and advertising appears as banners on the site, or when we are receiving a referral fee.
Want to feature on Good With Money? 
If you are coming from the same place as us, we want to hear from you.
Writers can contribute for free to raise their profiles.
Companies can contact us to ask us how to apply for a Good Egg or to feature in the directory, or for rates for sponsored blog posts and advertising space.