Tut tut, VW, tut tut.
It's really hard to know what is most shocking about the revelations that Volkswagen cheated on US emissions tests by adapting diesel cars so that their emissions could be reduced well below their normal levels during the test and switched back to full-on pollution mode after.
Is it:
That staff at VW – from senior executives to engineers, could openly and knowingly collude to make it possible for the car manufacturer to use so-called "defeat devices" in this way routinely and as a matter of course?
That no one at VW questioned this practice?
That they got away with it for so long?
Markets have rightly punished the German car maker of popular Polos, Golfs and the hippy vehicle of choice – the camper van, today with a 20% share price decline.
The results of an investigation into whether the group has adapted similar practices to pass its cars through EU emissions' tests may result in further declines when they are published.
There will now be pressure to publish these results as quickly as possible, although shareholders will be understandably reluctant.
They will not know whether to bail out now or await the EU emissions test results – there is no indication yet from VW whether it knows internally that the devices are used in European tests too.
The chief executive will surely resign.
Coming back from this will take VW a long time.
That the company got away with it for so long is an unfortunate example of free markets failing to act in the public good. It was pressure from environmental groups that brought to light this dodgy practice, after suspicions were raised about pollution levels from vehicles that had passed official tests. The officials never blinked.
Thousands of drivers will have bought VW-made cars on the back of their lower emissions levels. They will feel pretty sore today.
Another group of people feeling more worried than most will be residents of the German state of Lower Saxony – it is among the biggest shareholders in VW.
So again it will be ordinary people, and not the executives who made the decisions, who lose out as a result, through lower returns on pension and other investment funds that are exposed to VW.
The irony – that the practice was adopted, presumably, in order to reduce costs and boost profits at the group for shareholders, but has ultimately wiped off at least one fifth of the value of shares in a single day – will not be lost.
This is always the irony of the huge corporate failing from a company that prioritises short-term profit maximisation over long term sustainable growth. It is the irony of greed: you want more, you get greedy, you end up with less.
Before the scandal broke, the share price was already falling steadily after rising dramatically in the three months to April 2015.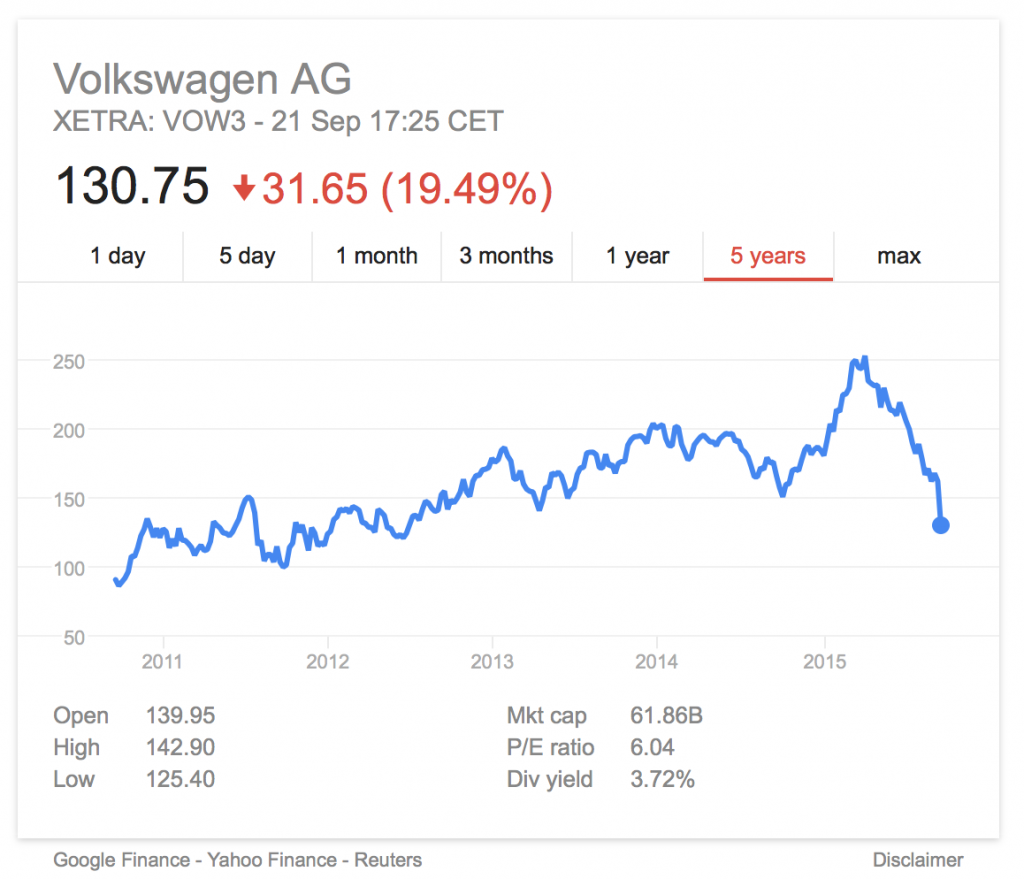 In a statement today, VW chief executive Martin Winterkorn, said: "The trust of our customers and the public is and continues to be our most important asset."
Given the revelations, this seems somewhat hard to believe. Rather, VW has taken trust, strapped it into the front seat with a dodgy seat belt and crashed it at 80mph into the nearest wall.
Cases of institutionalised corporate malpractice on such a scale rarely make the news these days. They have a distinctly eighties vibe.
That in itself is a sign of progress. Stories such as VW appear to be the exception. Which is another reason it leaves such a bitter taste. We all thought the world was better than this – a sneaky, schoolboy-ish practice of cheating when no one is looking, just because you can.
So VW has given us investors a reminder never to assume that just because companies are made up of people, they have the same moral standards as most people. They do not, because their primary motivation is profit, and where making this is at odds with the goals of also looking after other people and the planet, then the latter two, unfortunately, tend to get at best overlooked and at worst, deliberately abused.
There are lessons to be learned from this and no doubt VW will learn them. But it might be too late for some shareholders.