Crowdfunding is designed to let you put your money into whatever you bloomin' well like, so it's great if you are a 'conscious' investor (does conscious sound daft? we can't decide).
Anyway, here's our pick of some crowdfunds with positive social and/ or environmental spin-offs (please note we cannot vouch for the accuracy of any equity valuations or returns forecast, but can suggest you consult crowdfunding review websites Crowdrating and All Street to find out more).
Buffalo Grid

Launching on Crowdcube early next week (you heard it here first) – Buffalo Grid creates a power supply for the off grid world – bringing mobile power and connectivity to millions – starting with India and Kenya. Find out more about their gadget and what it does on the website.
Sports Xtra
Were you always last to be picked in school team sports? If so, you will totally get the concept behind Sports Xtra on Seedrs, which runs activity courses for children that focus on boosting self-confidence and a desire to take part no matter what a child's level of physical ability. A great idea – we wish there was a course near us. 
Renewable energy projects
Abundance Generation has one live raise offering a 7% return over 20 years generated by domestic solar panels installed on homes in the North East. 
Interestingly, the Abundance bulletin board, where people who have bought debentures in previous projects can sell them, also lists a decent number of opportunities to benefit from the income generated by already constructed projects. So if you feel apprehensive about the Government's slasher approach to subsidies but still want to make money from renewables, the bulletin board, here, is worth checking out.
A loan to UK businesses via Funding Circle
Funding Circle auto-diversifies on your behalf so you don't have to choose businesses yourself but can lend across the entire portfolio of borrowers. While none of the businesses currently listed on Funding Circle's auctions are ethical with a capital E, they are regular, UK businesses, in wholsale, manufacturing, IT and retail, taking out medium-sized loans, usually for growth capital. From what we can tell, none are mining, extracting shale gas, testing on animals or sending children up chimneys. We like the focus on UK small caps and the diversity of the loan book.  This is what the returns look like for investors that are invested in 100 or more businesses, with exposure to any one company of 1% or less.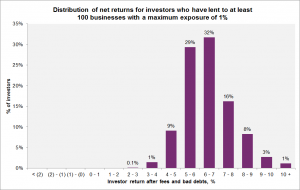 5.  Gower Power Co-op CIC
From a beautiful part of south Wales comes this fund raise for £12,000 for a small holding producing organic food. Listed on Buzzbnk, the social crowdfunding platform, the raise is eligible for match funding (meaning the Co-op gets £1 for every £1 raised from the crowd). This crowd fund does not offer a financial return to supporters (so might be more one for the locals). However there are details on the Gower Power website of a share offer, coming soon, which could offer a 6.5% return with Social Enterprise Investment Tax Relief on top. You can pre-register your interest here.