Last week, Mark Carney, the Governor of the Bank of England, issued a warning on the carbon risk to financial markets.
As we approach Good Money Week, we are looking at ways you can organise your finances so that you can reduce your own carbon exposure.
"The justification for removing fossil fuels from your portfolio is no longer just environmental, it is financial too", says John Ditchfield, of Barchester Green, the IFA. "We now have clients asking us about this issue specifically."
A little known secret: the oil and gas sector has actually been underperforming environmental markets since early 2013.
Take a look at this five-year chart: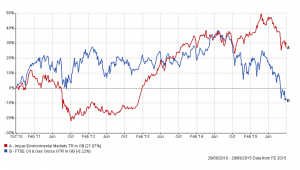 Proxy Oil and Gas versus Environmental Services
At its most basic, someone who invested in environmental markets instead of oil and gas five years ago has seen their investment rise in value, whereas someone investing in oil and gas has seen a fall.
But in practice, people don't invest exclusively in one sector, they invest in mixed funds that have varying levels of exposure to a sector.
If you look at this table showing the performance of a mainstream FTSE All-share tracker fund against the actively-managed, low carbon fund, you will again see that the low carbon option has outperformed over 1, 3, 5 and 10 years (although curiously less well in the last 12 months):

Obviously, it depends which fund you pick, but these are not isolated examples of low carbon outperformance.
The fundamentals supporting a global transition towards low or no carbon energy generation remain strong and in the run up to climate talks in Paris in December, where carbon pricing and CCS will be very much on the agenda for the oil majors, those investors interested in whether their money is backing the old or new energy guard may wish to keep a close eye on how talks develop.