Solar panels on your roof: they promised so much. A lifetime of lower bills as well as a clean conscience vis a vis your carbon dioxide output.
Even back in May, the incoming Conservative government was promising a "revolution" in domestic solar. It was music to the ears of anyone who is both cost and environmentally-aware. Which is most of us.
However it looks like this promise was too good to be true.
A matter of weeks later, and a consultation on proposals from the Department for Energy & Climate Change to drastically reduce the Feed-in tariff incentive paid to solar panel owners from January next year has just closed.
The renewable energy industry has made it very clear that it feels the reductions are too harsh and risk cutting this promising solar industry off at the knees.
Until the conclusions of the consultation are revealed in six or so weeks, the industry is in turmoil – four solar firms have gone bust already.
IKEA, which looked like it would succeed in making rooftop solar a mass market proposition on these shores, is to end its two year deal with Hanergy, the Chinese supplier, at the end of this week, with no announcement as yet on what will replace it.
There is a chance the Government may be persuaded by the consultation responses to be less heavy-handed, but for homeowners who are considering putting panels up, there are big financial reasons to do so before the end of this year, as returns could drop off a cliff if the Government gets its way and the 87 per cent reduction is introduced.
According to theecoexperts.co.uk, if the cuts are enacted as proposed, average annual earnings from the Feed-in tariff will fall from £468 to £61. The time it will take a homeowner to make a return on their investment will go up from 10 years currently to 27 years for those who install panels post-January 2016.  And the total earnings over the 20-year life of the panels will fall from £13,450 to £5,320 – a drop of £8,140.
If you are thinking about getting solar panels installed, the time to do it is before January.
There is still time – but it is disappearing fast, with just six weeks, realistically, to get them up on your roof, before Christmas.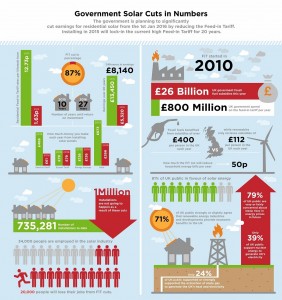 And if you are cross about the government proposals, get tweeting #keepfits and visit the website www.keepfits.org for more information.