After Black Friday and Cyber Monday, comes Giving Tuesday. Well, thank goodness for that.
Just in case there's a teeny chance you've got any cash left, Giving Tuesday asks you to consider some more worthy destinations for your Christmas spending.  We're not saying a 50 per cent discounted coffee machine from John Lewis is not a great way to spend your cash (well done you!), but if you can afford to do so, you may want to supplement all that buy buy buy with a little give give give.
Charity is of course the most deserving place for spare pounds (or time, or talent) at Christmas. But we've also compiled some ways to make a big impact through giving that don't involve total self sacrifice for #GivingTuesday.
Give a Deki voucher
Deki is a microfinance charity which allows recipients of its 'gift' vouchers to choose actual, real-life developing world entrepreneurs to benefit with a loan. The entrepreneurs / businesses can all be seen on their website, and you can be assured that they will receive 100% of the loan given. Plus, you get your money back at the end.
2. Rewards-based Crowdfunding
From helping to fund an album or film production, to a tennis player with ambitions to make it into the world top 10, to reviving gin-making in the Chilterns or the UK's first sustainable and ecological lunchbox…the whole of human aspiration is there to support through crowdfunding.
Some crowdfunded projects offer a reward in return for a pledge of money (rather than interest or equity stakes) – and some of these rewards can be 'bought' in gift voucher form. Those projects listed above are some of those currently available on CrowdfunderUK, the UK's largest crowdfunding site. You could then use a reward as a Christmas gift with a nice back story (you're welcome).
For example, Rustem Hayroudinoff is offering a 1-hour piano lesson, a signed copy of his new CD, free digital download and your name in the acknowledgments if you donate £250 to help him make a recording of two Sonatas by Sergei Rachmaninoff and three of his transcriptions.
3. Shared Interest
Shared Interest has been going for 25 years. They offer the chance to open a Share Account with as little as £100. These collective funds then provide fair finance around the world to fairtrade buyer and producer organisations. The majority of their lending goes to producers in more remote areas across the globe that are unable to access fair finance. The money invested benefits from an interest rate, too, currently 0.5 per cent, which is better than nowt.
4. An ethical savings account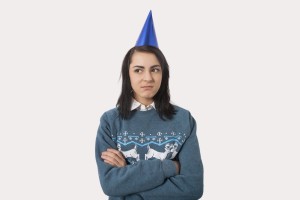 Want an antidote to all the tat? Consider putting some of the money you might otherwise spend on more Christmas jumpers into an ethical bank account, instead.
Both Charity Bank and Triodos Bank offer a range of savings accounts with varying interest rates that support ethical and sustainable businesses, social enterprises and charities across the UK. Triodos allows you see the range of organisations it lends to on the website www.knowwhereyourmoneygoes.co.uk and Charity Bank offers something similar on the social impact section of its site, where you can find stats and data about its recent loans, as well as read stories of recent loan recipients.
5. Peer-to-peer lending and investing
Peer-to-peer debt-based investing, a form of crowdfunding, allows you to either lend directly to other credit-worthy individuals for an agreed rate of interest through Zopa or Ratesetter, or invest directly in projects you like.
Abundance currently has a range of renewable energy projects open for investment from as little as £5. Similarly, the positive investing platform Ethex has a range of charitable, social enterprise, community and energy projects seeking finance, and you can invest via a range of vehicles, from charity bonds and debentures, to equity investments.