Change a life with a loan: win a Deki gift voucher to give this Christmas
Gift vouchers with Deki enable recipients to choose to lend to an entrepreneurial business in the developing world. The entrepreneurs' projects can be seen here.
This month, anyone who signs up to our newsletter will be entered into a prize draw for a £30 Deki Christmas voucher.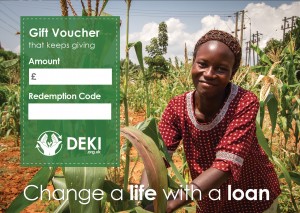 A Deki Christmas voucher isn't like charity Christmas gifts. On average, every Deki loan helps six people in the community – the positive effects for a sustainable business in the developing world last a lifetime.
As it's a loan, the money is repaid within 12 months. You don't get interest back, but then, interest rates are far from rewarding at the moment anyway.
If you lent £100 through Deki, you would get £100 back. If you put that £100 in a savings bond for 12 months, you'd get around £102 back, at current average 1-year savings rates. It's a big difference to someone's life for the sake of £2 profit at the end of 12 months.
To win a voucher, just sign up to receive the newsletter and you will be entered into our prize draw. The winner will be announced on Christmas Eve, December 24.
You can enter your details in the sign-up form to the right of this post.