The good people at Carbon Tracker have shared the wonderful infographic above, which explains why those investors (which is all of us with savings and current accounts held with banks too, btw) should understand our over-exposure to carbon emissions and do something about it prontissimo.
"Poring over a Bangladeshi flood map as a London financial analyst 12 years ago, Mark Campanale had no idea the moment would spawn a financial concept powerful enough to rivet central bankers, anger oil moguls and fuel a grassroots movement to get investors to dump their fossil fuel holdings."
This Reuters piece gives a fascinating insight into the history of the "Carbon Bubble" concept and how it has gained credibility from everyone from Sovereign wealth funds (Norwegian) to large global insurers (Allianz) to Mark Carney, the Governor of the Bank of England and creator of a global taskforce on climate change risk to financial markets.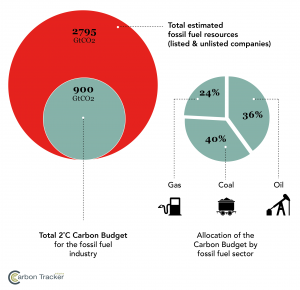 What can you do about it?
The good news is the worm is turning and large fund managers are becoming more enlightened, steadily reducing exposure to the worst culprits (coal) and shifting to the cleaner stuff. But the big banks and less enlightened asset managers will be the last to flip in the energy transition and until they do, your investment returns are at risk. Depending on how and when an energy transition is implemented, pension savings and other savings products could also suffer from what looks now like an inevitable slow death of the fossil fuels industry.
Want to take a preventative strike with your money? We compiled this blog, giving tips on how to make your money climate friendly.
Here, Mike Appleby at Alliance Trust gives his top climate-friendly stock picks, for those who wish to avoid getting stuck in the Carbon Bubble.
You can follow the work of Carbon Tracker here.