This whole site is a bit like one big resolution. Want to know what I'm prioritising for 2016? Here are some ways I plan to make mine and my family's cash better this year.
We do pretty well: Good Energy for dual fuel, accounts with the Co-op and a mortgage with the small and mutual Coventry Building Society. But there's still plenty to work on. Copy these if you wish, but make sure you do the right thing for your personal circumstances. Ours might be very different.
Open junior ISA for Theo that is invested in sustainable industries and transfer William's into the same funds.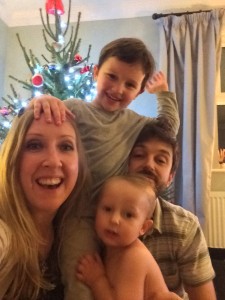 Theo is 1 already and we still haven't got around to opening his junior ISA. Dreadful admission from me but life does get in the way. I opened accounts with Alliance Trust last night for both of them. Alliance Trust has a sustainable future fund range, run by Peter Michaelis and Mike Appleby, which I am very impressed by, into which I will invest £50 a month for each boy (rising when they are both in school to £150 a month and we no longer have childcare costs to wrestle with).
William's existing junior ISA was set up a few months after he was born. We've only put in £10 a month since then so it has risen to a not very impressive £885 now (he is just over 4). It could have been worth more if we had invested it better and we needn't have compromised on values either. It is invested in the One Family Family Charities Ethical Trust, which is invested in companies listed in the FTSE4Good.
When I conducted an ethical junior ISA investigation for Good With Money in October, I found that the FTSE4Good invests in HSBC and Royal Dutch Shell, companies that I do not think are that ethical. Nor are they good performers.
The value of William's ISA had actually gone down from March to September, in line with oil price falls. It was also not that easy to see how the fund has performed over time when I visited the account pages (black mark for transparency, although the site is easy enough to use). So these funds will be transferred into Alliance Trust asap (it's a simple form to fill in and post if you are also thinking of transferring your junior ISAs to a more ethical option).
You can invest up to £4,080 in a junior ISA in each tax year. £10 a month from year 1 to the child's 18th birthday, the minimum you can invest in the Ethical Trust is a total investment of £2,460. The worst case scenario projection at 18 is £2,640 and the best, £4,640.  Up the saving to £50 a month, and the total of £9,060 invested becomes £9,460 (which would be really disappointing), up to £15,000.

The Alliance Trust Sustainable Future Absolute Growth Fund has returned 59.7 per cent over ten years, although performance of this fund has also been knocked by the drag on indices from the slide in oil and commodities share prices in the last 12 months, it does not invest directly in such stocks.
The performance is by no means the best in class or anything like the most profitable fund over 10 years. However, it is creditable, better than the return on savings and I like the transparency of the fund and believe the managers have sustainability at heart. And I also believe that sustainable funds will in general outperform over the long term, as the world heads towards an energy transition from fossil fuels to renewables, even if it might be a bumpy ride.
2. Move old pension funds into a SIPP
Step one: open SIPP account. I like the look of AJ Bell – it has won several awards and looks easy to use. The charges seem transparent. The only criticism I can see (which is not unique to AJ Bell but a problem with all investment platforms), is that it ranks funds according to performance only on the main fund page. Whereas what I want is sustainability AND performance rankings. But I can use the relatively new fundecomarket.co.uk tool to screen out funds that lack values and then check the performance of the funds this tool returns against industry benchmarks myself to work out which are top performers for both return and goodness. Sustainalytics is another useful information source (excitingly, if you are a geek like me, Morningstar is about to launch an Environmental, Social, Governance ranking for funds using Sustainalytics research). Then use the AJ Bell platform to invest in these via my SIPP. It's hardly straightforward but it puts me in control. Just got to keep my eye on the charges…
I also just got in touch with the managers of my old workplace pension to find out how I can transfer out. I do not expect this to be a quick process but will keep on chipping away at them.
3. Buy an electric vehicle
Or it might be a hybrid. Not quite a money resolution but it will have some serious impact on our finances. We drive a Ford Focus Zetec diesel. YUCK. So ashamed. Now that the passage of time has brought down prices of the first electric models that came onto the market, you can pick up a Toyota Prius second hand for around £9,000. We are hoping to potentially get two electric cars. We make small 2.5 mile journeys into and out of our nearest town every day, sometimes twice a day. So one for those journeys and one for every day trips into London and back. James commutes – it's a 46-mile journey, and we estimate we could make a saving of around £200 a month on the price of his season ticket if he drove into London in an electric car instead of getting the train – as there's no congestion charge and charge points near his office, this could be a real winner, once we have paid off the upfront cost of the cars anyway. You can read this blog from Ecotricity for more on how the numbers stack up these days, but at 2p approx versus 10p approx, comparing electric power to petrol is a no-brainer.
There are other limitations of course, such as having somewhere outside your house to park your car that can take a charge point. Luckily, we have said goodbye to the days of parking three streets away – so we have the luxury of making this choice.
4. Switch current account from First Direct to Nationwide
This has been on the to-do list for a long time but here, I will admit a bind. First Direct's customer service is exceptional. However it is a division of HSBC, a global mega bank with a distinctly chequered ethical pedigree. Having good customer service doesn't make a bank ethical, although it is an important factor to take into account for many people when choosing an account. It is clever of First Direct to do this so well, as it makes it very hard for people like me to leave, knowing how much easier they have made my life over the years and how much they continue to improve. BUT, HSBC's values do not match my own, so First Direct has to go. Nationwide is not perfect but I have two business bank accounts with Co-op already, and in the interests of diversifying risk, I wouldn't have all with the same provider. Nationwide and Co-op are really the top choices in a current account market bereft of competition (see our good switching guide here), among values players or otherwise. High hopes for Triodos' plans to launch a current account this year, and a keen eye on the challenger banks such as Atom and Mondo. I'd also love to see Virgin Money put a stake in the ethical personal finance ground.
And the rest….
Rescue languishing cash from old savings and vouchers. I have a number of savings accounts with very little in them but added together, the sum is probably a day's work. One of these is with the now defunct Intelligent Finance. I've tried to access the cash before but failed when I couldn't  remember the password. I am going to try again. It's my cash, after all.
Another boring but rewarding job is to gather together unspent gift vouchers. You will probably have some new ones from Christmas. We keep a load untouched in a letter rack, because we can never decide what we want, nor do we have much time to spend them. I've worked out we've got about £120 just sitting there in that letter rack and they will be spent on energy saving or eco homewares. We need an indoor compost bin – that's the John Lewis ones sorted.  And a steam cleaner – eco-friendly because it doesn't use chemicals. Job done.
Oh, and these ones too:
Know my limits
Accept the mundane
Be nice to my family, as well as the planet!