Old fuels are on their way out, not because we are running out of them, but because grown-up countries have agreed to do the right thing and keep them in the ground.
Make no mistake, what was agreed in Paris in December WILL change the course of energy history, in the same way that fossil fuels did in the first half of the 20th century.
As we write, renewable energy share prices are rising and a £352 billion investor coalition has just launched to encourage companies to back a switch to 100 per cent clean energy, led by Aviva Investors and ShareAction, the campaign group.
The timescales for this great global energy clean-up are surprisingly short: more than half of new cars will be powered by electricity in 15 years' time if we are to meet new emissions targets (read the Ecotricity blog on the cost benefits to you now), and all electricity will have to be renewable by the 2030s.
Being on the right side of this shift from the beginning will almost certainly benefit your pocket in the long run.
But one of the biggest problems and ironies with energy efficiency measures is that the most effective ones usually require large upfront outlays, which means that only wealthy people with some spare K can afford them. Unless they've got a generous landlord, it means renters on low incomes with no savings cannot reap the rewards of the best government incentives (mad, isn't it?)
But even if you haven't got the skillz or budget to pull off a house designed to run off £15 a year, like this one in Merseyside, there are things you might just about manage.  Don't be daunted. Maybe just pick one from this list you might manage to achieve – and try not to get too jealous.
Switch to a green energy supplier
Most of the UK still overpays large fossil-fuel using companies £300 or more a year for energy. Not at all rational really. We did some digging and found that all green tariffs are now cheaper than standard Big Six ones (meaning if you choose one, you will save money straight away and help save the planet). Even better, many green tariffs are among the very cheapest on the market – meaning that you don't have to compromise on value. Don't believe us? Read the guide.
2. Wood fuelled stoves with back boilers 
Could you get a wood burning stove? Ranging from £400 (without a back boiler) to £4,000+, wood burners can fit in corners and recesses as well as fireplaces and walls, they can be narrow or long and require chimneys or not. In fact, there is almost no longer an excuse NOT to have a wood burner (although btw. only 50% of the good money girls have them), if you also have place to store the logs and pellets, the space you have for the stove is big enough and you can afford the initial outlay. Plus, they're dead trendy.
But make sure you know what type you are buying as efficiency and running costs vary quite a bit. It's a myth that they will always heat the whole house, for example. The point is to avoid using your gas (or oil or electricity) for central heating as much as possible, cutting down on your energy bills. The Energy Saving Trust estimates the saving from a typical stove with back boiler could be up to £880 a year, compared with electric heaters.
Btw. if you opt for pellets instead of logs, your burner might also be eligible for the Renewable Heat Incentive, which will pay 5.14 p per kilowatt hour for new applications from January 1 2016, down from the current level of 6.43 p per kilowatt hour. You can check whether your product is eligible for this scheme here. For more info on logs versus pellets and other biomass quandaries, The Energy Saving Trust guide is a must-read.
3. Insulation
Many domestic energy modifications require an energy performance rating of band D or above. For homeowners whose property does not meet this standard, getting it there is the first step. Insulation is usually the answer. The Energy Saving Trust has guides on all types of insulation, from floor to cavity wall, here, but generally speaking, it's the cheapest efficiency adaptation you can make.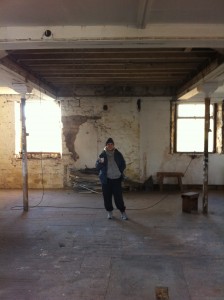 The financial benefits extend beyond no longer paying for wasted heat. Anyone planning to insulate their homes this year and also remortgage should check out Ecology Building Society. You won't find it in the mortgage best buy tables, but the eco-specialist lender does discounts for homes with energy saving adaptations, such as brand new, top quality insulation. Here's a case study of some of its customers – Simon and Kari (having a cup of tea, right) – who took advantage when they converted a former chapel into a home in Yorkshire.
Expect professionally installed loft insulation for a typical three-bedroom, semi-detached house with gas central heating to cost around £300, according to Which?. It will take around two years to pay for itself through the savings you'll make on your heating bills. The recommended thickness for loft insulation is 270mm. Ecomerchant.co.uk supplies natural insulation materials such as sheep's wool and hemp.
4. Electric cars
How about an electric car? We've suddenly noticed more normal people (ie. not super rich) driving around in hybrid Toyota Prius's and Nissan Leafs. They can be dramatically cheaper to run, although likely to cost a few £1,000s more to buy in the first place. They have been around long enough now for second hand models to be available, but still expect to part with around £20,000 for a second hand Kia Soul EV for a family-suitable model, small urban runarounds such as the Renault Twizy are of course cheaper – this costs from £6,895 new. A high-performance Tesla S, only on the market since last year, costs at least £60,000 second hand, an Audi A3 Sportback Etron about £30,000 second hand. However if you are buying new, there is a £5,000 government grant towards to the cost. A list of eligible models is here.
5. Solar panels
Less compelling financially from February as the Government, rather counter-intuitively given agreements on emissions just reached in Paris, is set to slash the subsidy on small-scale solar, including domestic. They are also about to slap VAT on panels. This means that the payback for an initial outlay of circa £5,000 to £8,000 for a typical domestic installation – the period of time it takes for your savings to equal the original cost – will be much longer from January. It's currently about 10 years but could go up to more like 30 years.
Ouch doesn't cover it – this is a huge financial disincentive for those looking to make the solar switch on their properties and will create a great domestic energy divide of lucky 'haves', those who got in when the feed-in tariffs (subsidised guaranteed revenue) was high, and 'have-nots' – the rest of us less self-sufficient saps beholden to traditional utilities for our supply. It is possible that costs will become more bearable again as panel production costs continue to fall, but that's an unknown.
So if you can afford them and want to stay in your house for at least 10 years, get them before January 30 2016. On a roof that faces roughly south, it's a no-brainer as you make savings on your energy bills too as well as receiving the tariff and revenue from the electricity you export to the grid. After that date, having panels is likely to be a decision reserved only for those with lots of cash, lots of conscience, or both, for a few years or if and when new incentives appear.
NB. Domestic battery storage, such as the X Hybrid E is now available for people who already have solar panels installed in the UK, enabling you to use more of the solar energy you generate, while still (for now) receiving the same FIT payments. But these will set you back £2,500 approx. More battery makers, including Tesla and Bosch, are set to come to the UK soon.
6. Ground source and air source heat pumps
Not to be considered until your insulation is in place, as they do not make water as hot as gas boilers, these pumps turn warmth from the air or from underground into hot water in your home. Air source heat pumps are substantially cheaper (tho not cheap) at around £7,500 compared with £23,000 for a ground source heat pump, because this includes the cost of drilling a bore hole. But ground source heat pumps are more efficient because in the winter, when you need the most hot water, the ground remains warmer than the air, so the ground source heat pump doesn't have to work as hard in cold temperatures to heat your water.
The difference in the upfront cost is reflected in the Renewable Heat Incentive rates, which is less generous for Air Source, at 7.42p, than Ground Source, at 19.10p per kilowatt hour.