Love them or hate them, or (more likely) don't even really care about them, the UK's energy suppliers are essential.
A report released this week from Opinium Research revealed more than half of Brits say the nation's energy providers have a poor reputation, ranking them just above banks and the government.
Their bad reputation is all very well, but how bad are they really, and are there any GOOD providers out there?
Well, on brand recognition, unsurprisingly, the Big Six dominate, with British Gas netting the lion's share. Of the challengers, First Utility and Ovo do well, ranking above the more visible supermarket offerings. It's not great, but not too bad, to see three green providers – Green Star, Ovo, and Woodland Trust (run by Ovo, no longer available) and one other challenger, Flow Energy – in the top 14. The long-established stranglehold of the Big Six, and continued denial of or debate around climate change clearly plays a part here.
The good news is that when it comes to a positive connection with their customers, these four challengers materially outrank the old guard, with Ovo topping the table here, too.
Opinium's research shows that almost one in four customers (37%) are inert, neither switching in the last year nor considering switching next year. Of these people, only 14% even thought about switching last year.
In contrast, one in 10 energy customers are serial 'movers', having switched energy providers in the last year and likely to do so again in the next year. Almost all switchers thought the switching process was easy and 62% said savings they had made were better than expected.
Why you want to be a committed convert
Opinium also identified a small bunch of us they call 'committed converts' – 1 in 20 people who have switched in the last year but are unlikely to switch again soon. They have the highest level of satisfaction among any segment with 85% being satisfied, and the majority of them said the level of savings they had made were better than expected (58%), a core driver of their loyalty. While these people are driven mainly by saving money, they are also attracted by brand values. They are the group most likely to be using one of the independent providers in the market – particularly those who offer green tariffs, such as Ovo – and they do show a higher likelihood to be interested in ethical energy. Over half (54%) of this group think their provider is environmentally friendly, compared to 42% across all those surveyed.
But what does this really mean when the government – with its ongoing subsidy reduction for renewables – continues to play Russian roulette with our natural environment and sustainable energy sources. Interestingly, the Opinium research found if people are to have an energy source located near their homes, renewable sources are preferable, with solar and wind far outweighing nuclear, gas or coal.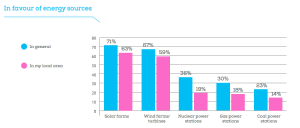 So, while the chill continues to bite, if you're in the game for switching your energy supplier, you know you'll be in good company. And remember, the option to 'go good, go green' with your energy does not have to cost you more; in fact, in many cases you could even save money. Read more in our investigation here. What are you waiting for?