The term "challenger bank" has been around for a while,  but until recently, few banks were really  challenging the Big Four's stronghold.
Metro Bank shook things up in 2010, with its all-singing-all-dancing-dogs-are-gods-first-high-street-bank-to-launch-in-100-years. In contrast, the 'sensible' bank Handelsbanken that launched in the UK in 1982 has been slowly but surely winning more people over with its steady-Eddie Scandi model.
Other entrants such as Virgin Money, Tesco Bank and M&S Bank have all managed to get their stakes into the ground, though we've yet to see any one player completely upset the established apple cart (and M&S Bank is ultimately owned by HSBC in any case).
B Bank, B different?
But all that could be about to change with the launch of B Bank. Yes, potentially another case of emperor's new clothes, as B is essentially an online platform for two old-timers, Yorkshire Bank (established 1859) and Clydesdale (established 1838), but the launch spec. is pleasantly surprising for such industry stalwarts.
B is launching with a current account and a savings account. A fee of £2 a month will be payable on the current account after the first 12 months. It will pay 0.5 per cent on current account balances up to £2,000, and 1 per cent on savings balances.
Its designers say its plus point is its "intuition". By tracking a user's spending habits, B should be able to alert users if funds are running a little stretched, or whether there's a few pennies left in the pot for an end-of-month shopping spree or indeed, and more importantly, whether someone can afford to pay their bills that month. Anything that gets us more in tune with our spending habits, as well as helping us take greater responsibility for our day-to-day finances, is surely a good thing.
We also like the fee element. At £2 per month, B has set the fee at a level that won't put people off but acknowledges that there is no such thing as free banking.
However, for ethics and goodness to the planet as well as people – be they B's own customers or society at large – the jury's still out on B. Yorkshire and Clydesdale don't score overly well on the Move Your Money banking scorecard. But it's by no means an awful score, either.
Which challenger bus will you be on?
Luckily, though, it seems challenger banks are a bit like buses at the moment. You don't see one for ages and then several come along at once. One way or another, they all aim to reflect our lifestyles and personalities more than banking does currently. Which should mean that there will be more attention given to ethics.
Just recently, the self-styled "good" bank, Tandem, announced plans for a £1 million crowdfunding campaign to get more people – they call them co-founders – involved in the bank's launch, build a solid base of advocates and attract new customers. Last month the bank offered free shares worth five per cent of the business to around 5,000 co-founders to thank them for their advice and product feedback.
Good With Money met the founder, Ricky Knox, earlier this year. (Check back soon to read our profile on Ricky and Tandem). He described his vision for the new bank as a sort of partner to its customers, a service that would: "sort out your shit" and help solve all your little money-related irritations while making banking (quite simply, our financial transactions and monitoring our money) as smooth as Uber-ing.
It claims it will first and foremost do the right thing by its customers. It does have a banking licence, but has yet to release details on its product offering, though Knox said Tandem will, in time, offer full service banking.
Meanwhile, we can also expect Mondo – famous for running the fastest crowdfund in history when it raised £1 million via Crowdcube in just 96 seconds back in February, to come fully out of the blocks some time this year. Although it does not yet have a banking licence, it has launched limited-edition Alpha and Beta cards (Mondo MasterCard prepaid debit cards) which work like any other pre-paid cards allowing users to top up and make withdrawals at cash machines, be used in-store, online and at contactless terminals. Mondo's website says it wants to "build the best bank on the planet". Its app is built for smartphones, updates balances instantly and gives intelligent notifications.
And probably the most well-known of all the new challengers, Atom, which was granted its banking licence in June 2015. Many features sound similar to those of the others we've outlined above,  plus what it calls "true personalisation". Users will receive their own unique Atom logo, and can name the bank whatever they choose, whether that's tightwad, skinflint…. or mum and dad. It claims account opening will be conducted in a minimal number of steps.
Like Tandem, Atom is also being ably driven and challenged by a team of 'founders' shaping and building the bank, trying out new services.
There are others waiting in the wings, too. Masthaven, the banking arm of mortgage and bridging finance provider Masthaven Finance, was granted its full banking licence at the end of April. It plans to disrupt the market with a customer-driven savings and mortgage rates and an employee partnership structure.
Starling Bank claims to offer transparency, collaboration and connectivity. Founder Anne Boden says Starling will be able to "tell you whether you have enough money to the end of the week, month, year or to the end your life." Starling put this graphic together back in 2015 to show the growth of the market. Even in the short time since then, the challenger bank and fintech landscape has changed dramatically.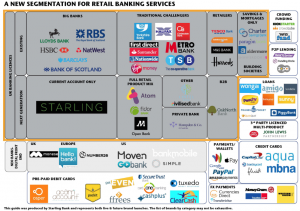 And finally, Fidor, a German bank which launched in its home country mid-financial crisis in 2009, and in the UK last September. Described as a sort social network rather than a bank, it has the added benefit of a growing online community offering finance tips, peer-to-peer loans and stock trading services. It launched a contactless debit card for its current account in January this year. And although the fees applied after the first three withdrawals may be a little hard to stomach for regular cash machine users, with the increase in contactless payment and services like ApplePay, cash machine withdrawals may become less of a sticking point anyway.
Its Fidor Smart Account offers interest rates which are influenced with Facebook likes, and being a part of the Fidor smart community gives users access to a platform of likeminded people with whom users can discuss financial decisions and get cash rewards for being an active member.
Watch this space for other – and even more "good" launches – ethical bank Triodos has confirmed it will launch its current account early in 2017. And who knows, there could be many more waiting to step forward.
If you're not a groovy early adopter, then perhaps you may prefer to sit tight for a while and see how all these new challengers pan out after a certain period.
But at last you can be assured that leaving your bank for another might finally be easier than divorce. And what faces you on the other side will be genuinely more desirable.