ET Index is the latest global finance disruptor to turn to crowdfunding to support its rapid growth.
The start-up low-carbon and fossil-free index is raising £1.1 million on SyndicateRoom, the equity crowdfunding platform.
ET Index offers research and analysis to institutional investors, which are increasingly concerned about the impact of the global transition from fossil fuels towards low carbon alternatives on their portfolios.
The raise launched on May 6 is now 73% funded –  but there is some way to go before the June 3 deadline.
The lead investor, a German Family Office, has invested £390,000 on a pre-money valuation of £2 million.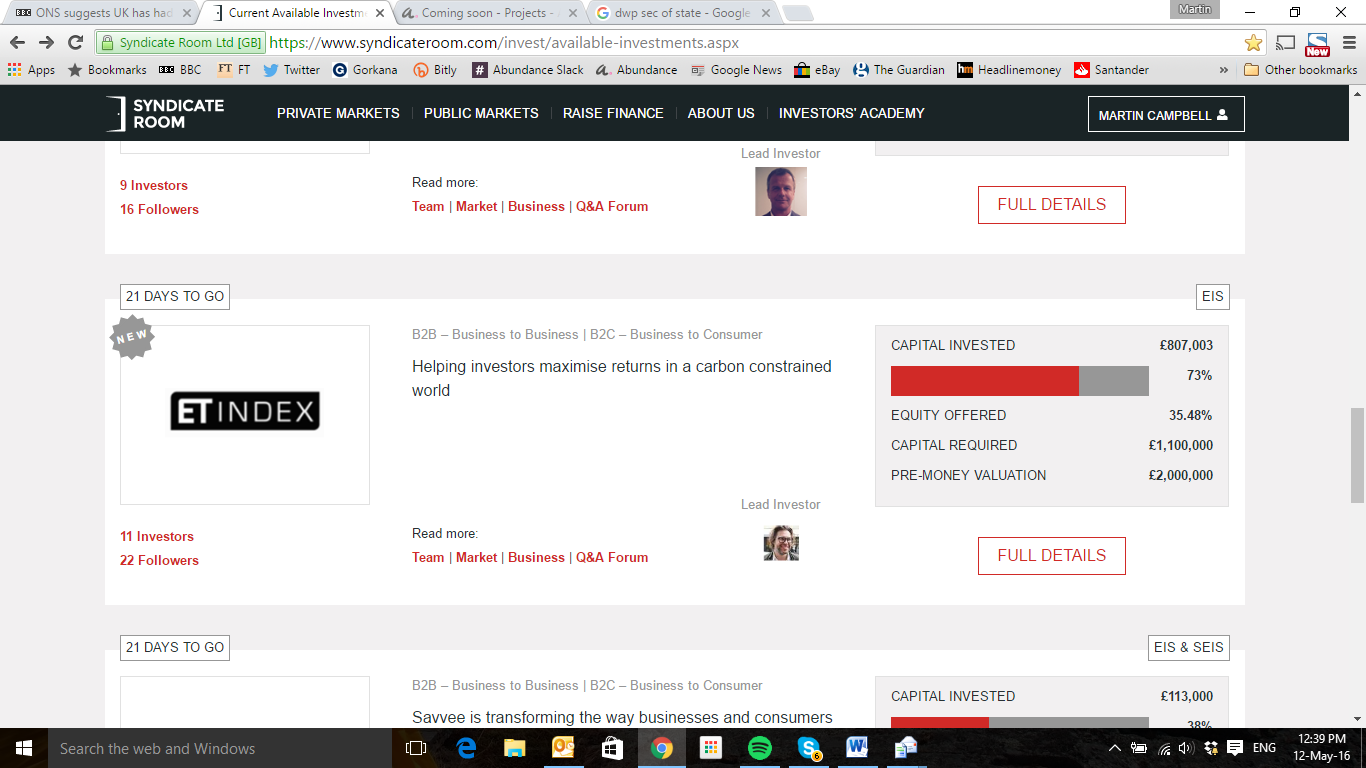 The ET Index series is the only low-carbon and fossil-free index option on the market to be linked to a public, fully transparent carbon ranking of all of the companies within each index.
This gives investors the assurance that they're putting more money into the low-carbon companies and less money into the high-carbon ones, at a time when there is increasing concern about the impact of global carbon reduction policies on the value of investments.
The information it provides on corporate carbon emissions can help investors, some of which manage billions of pounds worldwide, reduce their exposure to the companies that are the most at risk from policies to keep global temperatures within 2 degrees of warming, such as oil companies, by quantifying the risks and the financial impact of their exposure.
Specifically, ET Index gives investors:
Detailed corporate carbon emissions data
Portfolio carbon footprinting and reporting services
Bespoke portfolio analysis of exposure to carbon risk
Low-carbon indexes to enable better investment management
Underpinned by public, transparent ET Carbon Rankings, each ET Index also acts as an engagement tool to encourage constituent companies to lower emissions.
Operating on a licensing and subscription-based model, ET Index is already generating revenue, after recently performing a pilot portfolio carbon footprint analysis for CalSTRs, one of the largest pension funds in the US.
Sam Gill, chief executive, says: "Climate change is the challenge of my generation. I want to empower others to tackle the problem. Since indexes are a pooled investment vehicle where money is moving in unison, and around one-third of the world's money is invested through indexes, if this money could be redirected according to a company's environmental impact, then this could be a very powerful tool to shift company behaviour.
"I also want to honour my late father's legacy. My father, Michael Gill, wrote a visionary book called Environmental Tracking back in 1997 – which I updated in 2011 as Environmental Tracking 3.0 – outlining the broad concept upon which ET Index is based today. Following a career in the city as an analyst and, briefly, a fund manager, he could see the potential for index funds as a force for good.
"'Success for ET Index will be increasing the incentive for companies to lower emissions. The only way to maximise that incentive is to maximise the size of assets following the indexes, which in turn will increase profitability for ET Index as a business and return value to our shareholders."
Watch the video:
Meet the Business
Want more info before investing? There is a free 'Meet the Business' session being held for anyone to attend to hear more about what ET Index is all about, see a demonstration and quiz the CEO – on May 25, from 5.30-7.30 at "Europe's largest Fintech Accelerator" – Level 39 in The Pantry at Canary Wharf.