Edit November 2021: Please note that Bulb has now gone into 'special administration' in the UK because of the energy crisis that has sent wholesale gas prices soaring.
The sticking point with renewable energy in the past has always been the cost. As well as the usual hassle factor of switching anything more complicated than a pair of socks.
Last year, a Good With Money investigation showed that all UK renewable energy tariffs now beat the Big Six standard tariffs on price, even if they aren't the very cheapest in the market. Yet still, the hassle factor proves too much for many: as a nation, we are switching more, but not enough to topple the balance away from the incumbents. And we are still more motivated by price than how much renewable energy is in the mix.
But now, along comes Bulb, promising to change all of that (and answering the prayers of the Good With Money team) with one simple 100% renewable energy tariff that is 22% cheaper than the average of the rest of the market – or about £240 for a typical home (£1,066 v £826, on average, with Bulb). Proving nicely that renewables don't have to be dear.
Set up by Amit Gudka, a former energy trader and Hayden Wood, a former energy  consultant,  Bulb is an attempt to seize what they see as an opportunity to massively undercut the large, cumbersome incumbents, which are weighed down by clunky, out-of-date systems and processes, simply by using the latest technology and keeping operations lean and simple.
The graph below shows the cost of Bulb's tariff compared to others on the market at the moment (they update this graph live on the website – yep, impressive).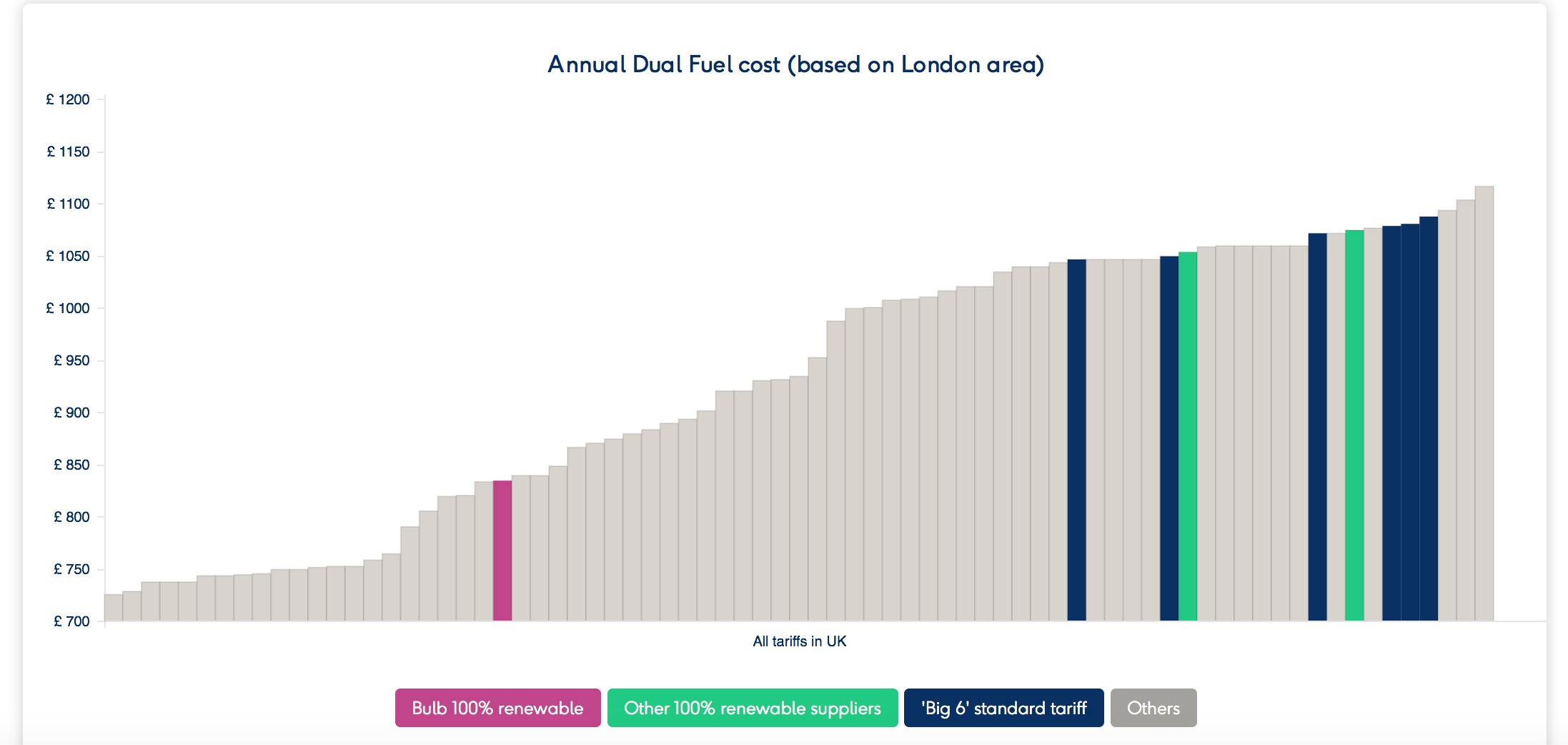 Bulb isn't sacrificing on good service to keep the cost down either. It claims it's standards here are also a cut above thanks to "clever tech". Someone from the London-based support team picks up a call within 8 seconds. The members that joined during the beta phase rated Blub no. 1 on Trustpilot for energy. Bulb also says it is quick to pass on energy price falls, rather than "sitting on fat profits." It did so four times last winter.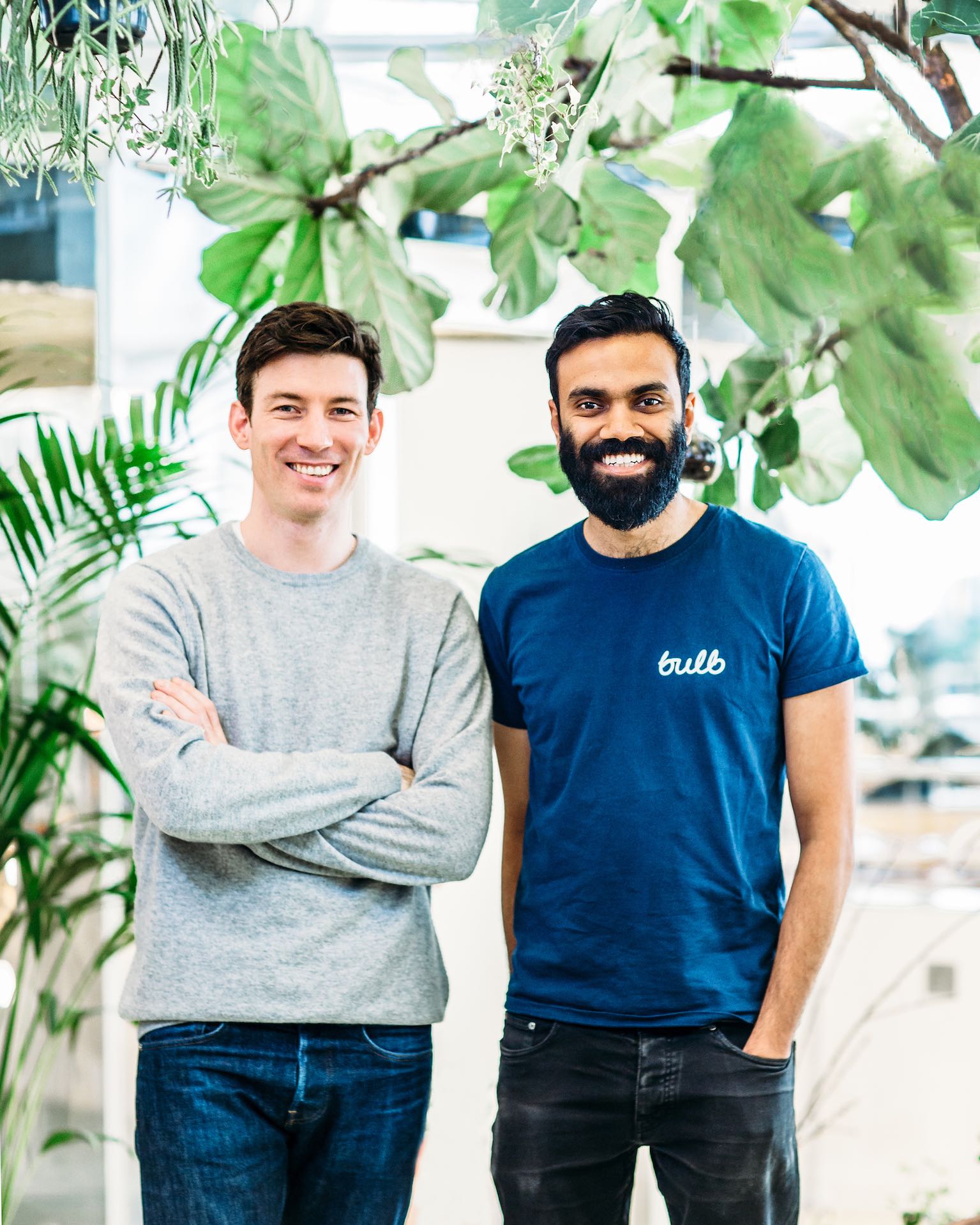 It might be a new company but the founders aren't newbies to energy. Having studied mathematics at Cambridge University, Amit 32, spent 8 years trading European gas and electricity for Barclays where he grew frustrated with the lack of affordable renewable supply options for UK consumers. Prior to founding Bulb, Hayden, also 32, studied economics at LSE and spent 10 years as a management consultant, first at Monitor Group and then Bain & Company.
So when they say that "renewable energy is a no brainer" and  "independent renewable energy generators need our support more than ever given recent subsidy cuts," who are we to argue?
Fyi: as with most dual renewable tariffs, only the electricity is 100% renewable – Bulb gets it from three hydro power stations in Wales. Unusually, 10% of its gas is renewable too. From pig manure, as it happens. But you don't need to see that.
---
Good With Money occasionally uses affiliate links to providers or offers, where relevant. This means that if you open an account or buy a service after following the link, Good With Money is paid a small referral fee. We choose our affiliates carefully and in line with the overall mission of the site.