Campers and festival goers who want to demonstrate some green credibility can now solar charge their al fresco experience.
Ecotopia, the online store run by Ecotricity, the green energy company, has a range of environmentally friendly products that are also useful to, for example, drunk people stumbling in the dark trying to find somewhere to have a wee; those who are too far from the food tent and need to cook their own, and people who burn easily. Take a look below.

OFFER! Good With Money readers who LIKE OUR FACEBOOK PAGE will be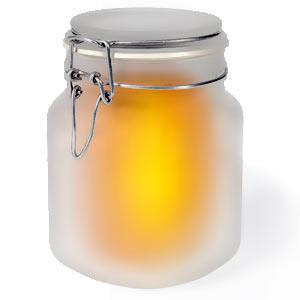 entered into a draw to win an Ecotopia Sun Jar worth £16.99. 
---
Sun King Eco Solar Light – £19.99
A brilliant solar light – quick to charge, lasts ages, and ideal to find that tent late at night.
Solar and USB powered powerbank charger, speaker and mobile pouch – £34.99
This great 3-in-1 kit is a must have for your festival weekend: it can play your tunes, charge your phone and works as a handy pouch – all powered through a solar panel on the front or a USB connection.
Sun Jar – £16.99
This amazing solar powered Sun Jar stores energy from the sunshine and releases it all night in the form of a gorgeous coloured glow.
Kelly Kettle cook set & pot stand bundle – £64.99
If you're fed up of the long queues and over-priced food at your favourite festival, then this is the answer – a bundle that contains everything you need to cook and eat out in the open.
UV strength indicator – £3.99
Thousands of people every year will enjoy a day of festival fun in the sun without realising that they're getting sunburnt, so this handy tool lets you know the strength of the sun at any point during the day.
All items are available from www.ecotopia.co.uk on a special festivals page with free delivery on all orders over £50.