Not enough to boost competition and not enough to protect consumers from racking up huge punitive charges: that, in a nutshell, is the rather dissatisfied response from the consumer interest side of financial services today, as they unpicked the recommendations from the Competition and Markets Authority's investigation into the current account market.
The banks, which make £1.2 billion a year from unarranged overdraft charges, will no doubt be ok with the measures recommended, which include a cap on unauthorised overdraft charges, but one they can set themselves.
They might also be relieved that they still do not have to meet the same tough capital requirements as smaller rivals, meaning the market remains pretty fundamentally skewed in favour of larger incumbents and hard to gain a decent share of for challenger brands.
The CMA itself recognises these problems: "Older and larger banks do not have to compete hard enough for customers' business, and smaller and newer banks find it difficult to grow", the report says.
The Authority itself wants the revolution.
It's recommended measures might not have gone far enough, but there are still some positive steps in there, for example:
A requirement to implement Open Banking by early 2018. Open Banking will enable personal customers and small businesses to share their data securely with other banks and with third parties, enabling them to manage their accounts with multiple providers through a single digital 'app'. This allows people to take more control of their funds (for example to avoid overdraft charges and manage cashflow) and to compare products on the basis of their own requirements. It will also be a great step for newbie investment apps such as Moneybox, and wonderful, potentially life-changing money management apps such as Bud, which need open access to banks APIs to be able to offer their users a full service.
A requirement for banks to send alerts to customers going into unarranged overdraft, and to inform them of a grace period to avoid charges. Research by the FCA has shown that this type of alert, when combined with mobile banking, can heavily reduce overdraft charges.

In addition to more transparency on service offerings, one of the report's recommendations, Good With Money would like to see all banks show customers what they do with their money. Triodos and Charity Bank are excellent examples of banks that put the impact people's money is making first, but they do not yet have current accounts. We are excited about the levels of openness and engagement from some of the new digital challengers: Tandem, Mondo and Atom. 
Check here for the Good With Money/ Moneycomms tables comparing overdrafts, credit interest and the use of debit card abroad.
Click here for the full list of CMA measures: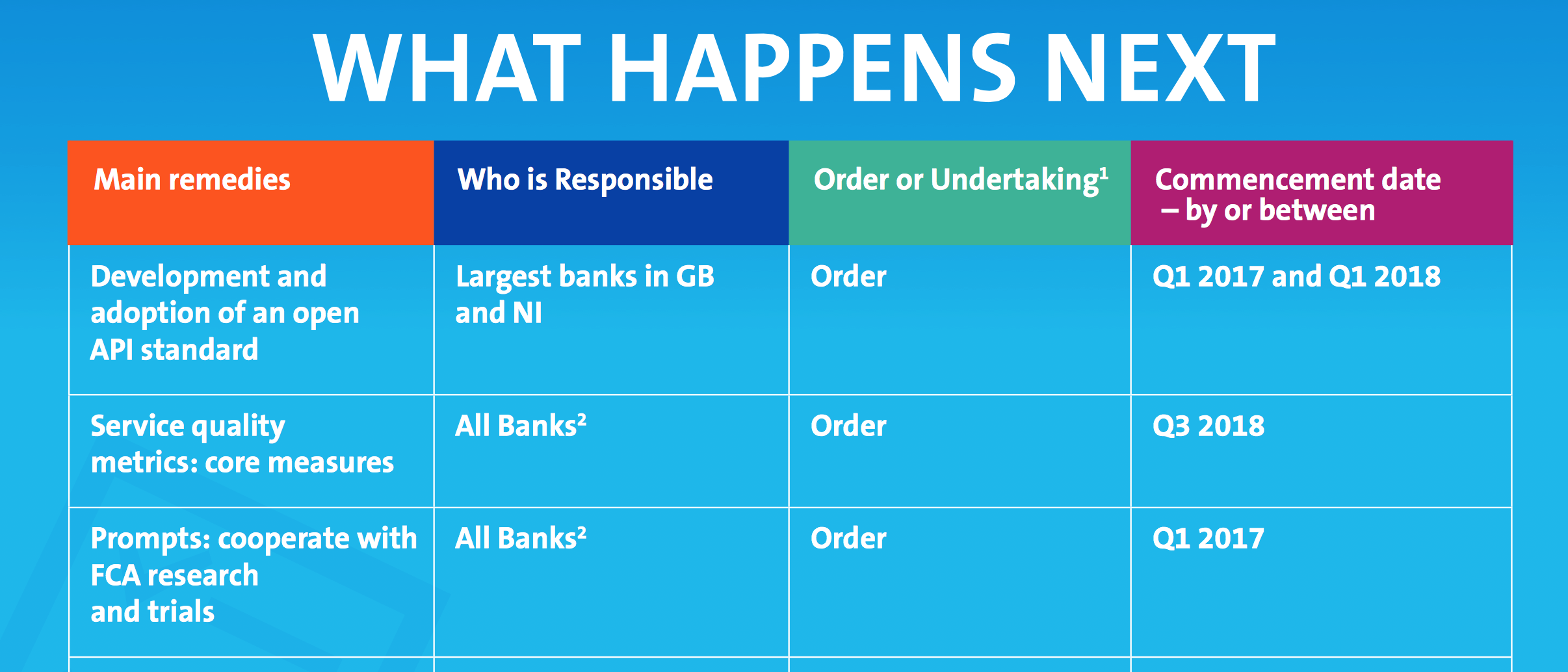 Industry reactions
Joe Garner, Chief Executive of Nationwide, said: "The CMA's proposals to provide digital open banking will provide greater convenience, clarity and control for consumers.  
But where digital provides convenience, it is people who offer service.  That's why, as a mutual, we passionately believe in the future of branches and the people in them who have a fundamental role in providing support and advice to the millions of consumers who actively choose to use them every day.
We know that consumers of all ages want a strong branch network which enables them to talk to someone about their financial needs.  When we launched our new FlexOne current account for 11 to 17 year olds, around 80 per cent of accounts were opened in branch, despite the fact that those over 14 could open the account online.  This demand is precisely why Nationwide has committed to invest £500 million in our branches over five years, providing access to help and advice so our members can get long term value for all their financial needs.
The blend of both digital innovation and human contact is a powerful combination and in my view will be key to providing greater choice, clarity and control for all consumers and their financial needs."
Alex Neill, Which? Director of Policy and Campaigns, said:
"The steps outlined today, to provide customers with better information and an improved switching experience, are welcome. However it is questionable whether these measures will be enough, not only to increase competition but also to ensure banks deliver a better service for their customers.
"It is disappointing that the monthly charge cap is not actually a cap and banks will be allowed to continue to charge exorbitant fees for so called unauthorised overdrafts, rather than protect those customers that have been identified as among the most vulnerable.
"The Financial Conduct Authority must now test these remedies and decide if they measure up and will deliver much needed improvements in banking. The regulator should review unarranged overdraft charges in comparison to other forms of credit and crackdown on punitive fees."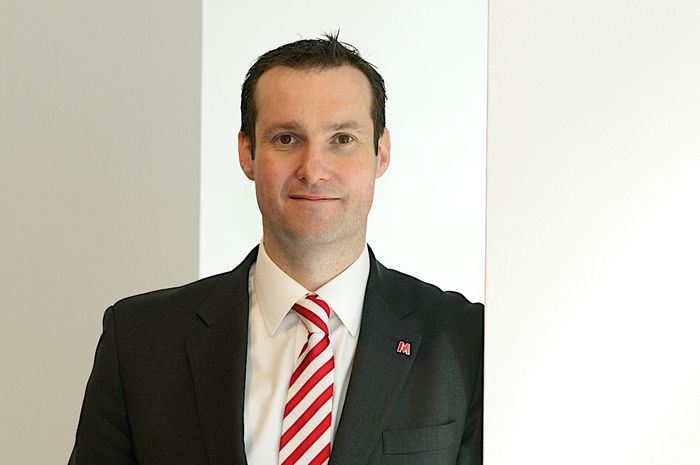 Craig Donaldson, Chief Executive Officer, Metro Bank, said:
"After more than two years in the writing and costing several millions of pounds, we are astonished that the CMA's findings do not attempt to level the playing field for new entrants and challenger banks, by recommending that the PRA looks into disproportionate capital requirements. Disproportionate capital requirements are anti-competitive and unduly support the large incumbent banks by allowing them to hold up to 10 times less capital for the same loans than challenger banks.
"The CMA was given a rare opportunity to support and develop competition in banking, it is disappointing that they decided not to get at the root of the problem, but rather they missed the point and tinkered around the edges."
Nick Kennett, Director of Financial Services, Post Office, said:  
"The CMA's final recommendations on the current account market promise an 'open banking revolution' but the measures they suggest to reform the industry do not go far enough to address the systemic issues with UK banking, and while today's announcement does attempt to promote transparency, a greater degree of choice and clearer guidance for consumers, the measures do not address the core issue that stands in the way of true competition for the current account market.
"Our current system of free, in-credit banking reinforces the dominance of the UK's major banks and doesn't allow for customer-focused challengers to offer true innovation. This system produces products that leave many paying unclear, excessive fees which is particularly concerning for vulnerable consumers who have difficulty managing their money – while the introduction of a 'maximum monthly charge' on overdrafts seems like a promising way to address this, it is set by each individual provider rather than as an industry-wide standard. It forces consumers to find the best rate rather than simply offering them a fair deal.
"We need to provide fair, accessible products and services in order to really provide competition for the UK's banking customers. While today's proposals try to tackle these issues, we had hoped for more effective recommendations to improve consumers' options."
Adam Tyler, chief executive of the National Association of Commercial Finance Brokers (NACFB), said:
"This report is a giant step in the right direction, but these measures need to be implemented swiftly.
"If the small business community is going to take advantage of the opportunities presented post-Brexit, the Government must drum home the message that banks aren't the only route to funding.
"With the diversity of funding options now available to SMEs, it's staggering that most small business owners turn to their existing bank for finance.
"There needs to be greater awareness and transparency of the types of funding available to small businesses, beyond the high street.
"Business owners shouldn't see their existing business account provider as their default lender and their only source of finance.
"At a time when the banks are still ultra cautious about who they lend to, there are more lenders than there's ever been in the commercial finance sector who are happy to provide finance to small businesses.
"It would be a positive message from the Government if they highlighted the alternative funding options that are available.
"And I hope that Margot James, in her new position as Minister for Small Business, will support the measures recommended by the CMA, and ensure they are acted upon."