The US and China have just reached an historic agreement to ratify the Paris climate agreement made in December last year and go all out to save the planet from carbon dioxide emissions.
It is not a meaningless gesture. Jeremy Leggett, founding director of Solar Century and chairman of Carbon Tracker, said in his blog this weekend: "These two nations, so far apart on so many issues, have erected glass walls around the shared climate threat and worked hard together for four years to fight it.
"They do so now buoyed by the strengthening momentum of climate-survival technologies, and aware of the increasing catalogue of problems faced by the energy incumbency notwithstanding climate considerations. Meanwhile, the increasingly alarming warnings they hear about the unfolding pace of global overheating from their respective scientific establishments is undoubtedly a major motivator. The great global race against time has very much begun now, and they are the undisputed leaders on the first lap."
The smart money has been choosing clean over dirty fuel for some time.
Although the market for renewable technologies looks small relative to the trillions of dollars still pumped into oil, coal and gas around the world, it is growing at lightening pace, while the energy incumbents, who for so long have been banging their heads against the walls of climate science, have been left behind.
As this chart, from Castlefield, above and below shows, investors who made the switch from dirty to clean 4 years ago will not be regretting their decision now: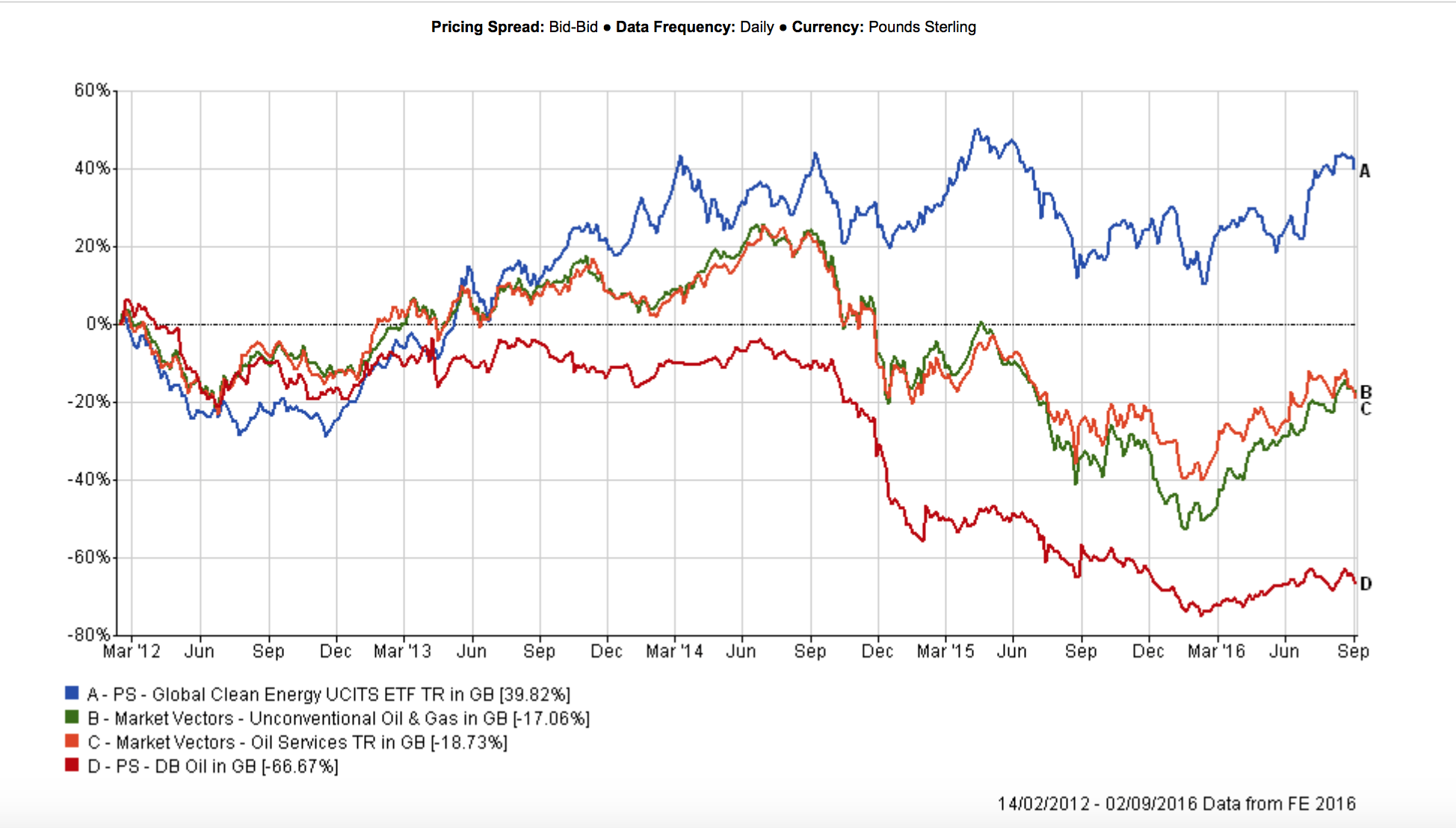 The blue line is a Global Clean Energy ETF, listing companies such as Seoul Semiconductors, ITRON and Tesla. It shows a rise of 39.82 per cent.
The green, orange and red lines show various oil indices, posting declines of between 17 and 67 per cent over the same period.
The unconventional oil and gas index – the green one – includes companies that are dominant in fracking and tar sands, such as EOG Resources and Occidental Petroleum.
Yes, oil prices may yet rise, again and again and again. But these rises are bounces down a rocky hillside.
Renewable technologies are taking over and they are making money as more and more large companies increase the % contribution of renewable energy to their mix and it becomes cheaper for households to do the same.
Battery storage for renewables – the missing link for some investors – is entering the market – and the gap between the old and new in terms of financial performance, is getting wider.
John Ditchfield, of Castlefield, the responsible IFA, said: "The recent G20 announcements from China and US on the ending of fossil fuel subsidies and their ratification of the Paris climate summit emissions targets heaps further pressure on the already beleaguered oil and gas sector.
"It's interesting therefore to consider how investors have been impacted by this gradual shift away from fossil fuel and towards cleaner forms of energy. The chart above shows the performance of a number of index tracking products; clean energy, oil services, unconventional oil and gas and the oil price, with the performance of these sectors shown over a five year period. Given the obvious political will within the US Democratic party and China's long history of investing into clean energy perhaps we are headed into something of  a golden age for clean fuel sources."
So if the UK doesn't follow the US and China, it looks like we'll be losing out on our investments over time too.