Hillary Clinton and Donald Trump sparred for more than four minutes on energy policy in their second presidential debate; Theresa May put breaking the stranglehold of the big energy companies at the top of her prime ministerial agenda in the same week the UK gave the go ahead to fracking, meanwhile the Paris Agreement to limit global temperature increases through zero carbon investing will be fully enforced on November 4, after a critical number of major-emitting countries agreed to ratify the deal.
Don't be fooled, even the chief executives of the worlds' biggest fossil fuel companies think the old energies are headed for the door faster than you can say "clean coal isn't real".
Which investment funds look set to benefit from this colossal global shift from old energy to new?
Below is our pick of funds, all of which you can invest in via a regular stocks and shares ISA, through the fund management platform of your choice (I use Hargreaves Lansdown for its transparency on fund holdings). Although the Triodos Sustainable Pioneer Fund is not available via fund platforms:
Impax Environmental Leaders 
The managers Hubert Aarts and Bruce Jenkyn-Jones look for companies globally which generate most of their revenues from energy, food & agriculture, water and resource recovery.
Also run by Impax, the Environmental Markets fund comes with a higher 1 per cent Annual Management Charge, but superior performance makes it worth mentioning. It has beaten peers over all periods in the last five years as well as the FTSE All Share, growing by 129% since 2011, compared to 53.7 per cent for the FTSE.
Impax today posted 4th quarter results showing assets under management at a peak of £4.5 billion, having risen by 59 per cent over the year.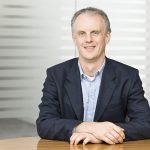 Ian Simm, Chief Executive of Impax, said: "At a time of increasing concern about the rate of future economic growth, investor interest in opportunities arising from the transition to a sustainable global economy continues to build.  Impax is regarded world-wide as one of the leading investment managers with deep expertise in this area, and our global distribution network has again provided the foundation for a significant expansion of our AUM and the further development of a strong mandate pipeline to underpin future growth.
"With an investment process that has been developed since the late 1990s, all our listed equity strategies have outperformed their global and environmental benchmarks for the full year."
WHEB Sustainability
The thing we love the most about WHEB is that it is one of a handful of forward-thinking City firms to have become a B Corp – a type of organisation that must operate for the benefit of all stakeholders, including society and the environment, as well as shareholders. It also recently joined the "Portfolio Decarbonisation Commission".
"Asset managers and financial markets increasingly realise that tackling climate change creates quality growth opportunities whilst helping to reduce systemic risks to the global economy," said George Latham, Managing Partner of WHEB.
The return over the year to date has been an impressive 38.3%. Assets under management in the Accumulation Fund are £119 million.
Triodos Sustainable Pioneer Fund
Under performing its benchmark (17.9%) over the year but still delivering a healthy 11.5% return in the last 12 months, this fund is the whitest of white, investing in companies that are pioneers in the following areas:
Climate protection (sustainable energy)
Healthy people (medical technology)
Clean earth (environmental technology and water)
Corporate social responsibility (CSR)
John Fleetwood, of 3D Investing and Good With Money expert, is pretty fussy about which funds he gives five stars to, and this is one of them. It actively engages with the companies it invests in on issues such as conflict minerals and freedom of information, and deselects companies that do not meet expectations. Arms, nuclear, climate change and basic labour rights are the top issues for engagement. 60% of its holdings are in the US. Edwards Lifesciences, Vestas and Acuity are the top holdings. The fund has a relatively high up front charge of 3 per cent of the value of your investment.
Alliance Trust Sustainable Futures Global Growth 
This fund, run by Peter Michaelis, invests mostly in international equities, with its biggest holdings in US construction, retail and chemicals, and has returned 23.52% growth in the last year. UK holdings include Unilever, Kingspan and Vodafone.
Alternative investments:
Not traditional funds, these platforms offer a range of responsible investments from community share schemes to debentures in renewable energy projects. They tend to be lower cost and more accessible to people with only a small amount to invest (from £5 with Abundance). And because you are investing directly in a project, you know exactly where your money is going, making the whole process more transparent and personal. However, your capital is at risk.
Ethex – the positive investing platform
Abundance Investments – debentures in renewable energy projects (eligible for the Innovative Finance ISA)