While the Government frets about back-up coal plants keeping the lights on, some small community groups around the country are taking power into their own hands.
The Small Wind Co-op is one example, raising money through share offers that pays for farm-scale wind turbine installations – in Scotland and Wales. The share offer is one of many similar raises that have successfully funded small community projects around the UK in the last few years.
The group, which successfully raised £1 million over summer, has just issued a second share offer, which aims to raise a further £550,000 to install turbines in Wemyss Bay, Inverclyde and in Cerdigion, Wales. Scottish and Welsh investors take note: the raise gives priority to locals who live within 20 miles of both projects on the first £100,000 raised, for the first two weeks.
The minimum investment is just £100 and the projected average annual returns are 6.5%, over 20 years. Note that last bit: this is a long-term investment. You might be able to sell your shares sooner, but you'd have to find the buyer yourself. Your capital is at risk if you invest.
Installation work has already begun.  Jon Halle, Director, Small Wind Co-op, said: "Over 300 people joined us to help raise over £1 million this summer which means the groundwork is now getting underway in Inverclyde and the turbine has been ordered for Ceredigion. We're building on that momentum with our second offer and we really want to encourage those living in the vicinity of the turbines to join our supporters from across Scotland and the UK."
Returns are supported by the government-guaranteed Feed-in Tariff and the project will generate a community fund of £3,000 a year (index-linked) for 20 years at each site in Scotland and Wales. The project has attracted support from politicians across the political spectrum in both Scotland and Wales.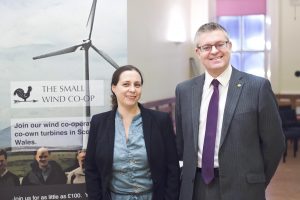 Stuart McMillan, MSP, SNP, said: "It's great news that work is about to start on the Kellybank turbines, supporting initiatives that improve employment prospects and grow a further sense of community in Inverclyde. And now local people have a second chance to join the co-operative and benefit directly from owning a share in these wind turbines. The impressive levels of electricity generated from wind recently are evidence that we should be investing in Scotland's enviable potential for a clean and reliable source of energy for our future.
"The Scottish Government will ensure that by 2020 at least half of newly consented renewable energy projects will have an element of shared ownership like this one. And we will argue for Scottish control of our share of feed-in tariffs to help promote community ownership schemes."
The Kellybank site is just above the town of Wemyss Bay, east of the Clyde estuary where the winds blow in from the islands to the west. Much of Inverclyde is socially disadvantaged after the loss of large employers over the years. The community fund from the Kellybank turbines will be targeted to support initiatives which improve employment prospects and which grow a sense of community in the local area.
Alice Hooker Stroud, leader of the Wales Green Party, said: "Congratulations to everyone involved with the Small Wind Co-op. Initiatives like this give local people a chance to invest in their communities and a clean energy future. To have raised £1 million already is a fantastic achievement, and it's exciting that people are being given another opportunity to support this great project."
Sharenergy, based in Shrewsbury, has helped set up over 30 community energy projects throughout the UK. It's easy to join the Small Wind Co-op. Shares can be bought using the application form in the comprehensive Share Offer Document, available to download at the Small Wind Coop website www.smallwind.org.uk.