A new charity launches this week with a commitment to ensure 'fair trading in finance.'
The FairLife Charity reckons that strong finance can be a positive driver for the UK economy by ensuring a trusted finance industry and a financially educated population.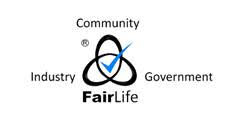 It aims to improve everyday financial products by awarding its trademark logo (The FairLife Mark) to financial products or services that offer a clear benefit to the public beyond that required by law. In doing so they hope to encourage financial institutions to trade more fairly with the British public.
They also aim to to provide education around the responsible management of personal financial affairs. The FairLife Mark will also highlight schools and colleges committed to teaching financial education, as well as financial commitments made by employers (such as pension funding or treating debtors fairly). The charity is running a pilot with two schools to help and encourage school-based financial education.
Founder of FairLife, Dr. Paul Boscott, who spent many years in the City firstly with Barclays Global Investors then running an independent investment management company, says,"We believe the FairLife Mark can help improve standards in the finance industry, by ensuring that everyone benefits from an integrated programme of financial education. This will help to rebuild peoples' trust in finance and to kick-start a culture of saving – something the country desperately needs."
Boscott adds, "Our vision is one of a trusted finance industry, a community able to provide for itself until the end of retirement and a society which better protects the vulnerable." 
Steve Baker, MP for High Wycombe and member of the Treasury Select Committee, adds, "This is a great example of the financial services industry coming together with employees, schools and other charities to rebuild trust and understanding of finance.  By creating a culture where saving is done by the many, not the few, we can create a fairer society, nurture a confident and motivated workforce, create an economy which is able to prosper through future uncertainty and rebuild respect for our world-leading financial services industry, which powers UK companies and generates prosperity."