"Doing the right thing will always and forever be the right thing." We quiz Danny Matthews, the founder of Mortgy, a new online mortgage platform, about his financial goodness.
1. How would you rate your own personal finances for goodness, on a scale of 1 to 10? Why?
I'm pretty good with money but it hasn't always been that way. It's learned behaviour, so despite me advising on finance and protection for the last 10 years, I don't have a traditional financial services background. I grew up very average (in everything; family, school, life, etc.) and, like most people, was never educated on money. I still drive a small economical car and don't care for fat whips or gold teeth.
I'm still paying off reckless ageing debt from my youth, but continue to commit to giving more than I'm receiving.
I think if we all do our bit it will make the biggest impact, so I shop local and love second-hand shops. The list of things I have got from charity shops is amazing. My collection includes a pair of brand new Burberry trousers (RRP £375) for £10, and new shoes from Shipton & Hennage (RRP £187) for £7. I often get furniture at 90% off RRP and second-hand clothing from places like Next and Ralph Lauren for a few Pounds, and I always share it on my Snapchat account. Doing all of this means that my dream of impacting lives and enabling people to trust financial services via companies built 100% on 'Good' over profit may actually come true. So I'd say I'm a solid 8.
2. What bit of your finances would you most like to change for the better?
I'm so excited by all of the latest developments in fintech. I've invested miniature amounts of money in some smart challenger banks and other apps and gadgets because I believe in a better future, despite some people saying these companies are more risky when it comes to investments.
I still need to completely shut down my traditional bank account – just as soon as the new banking bugs are all taken care of. I should maybe also start thinking more about the pension or property topic.
I imagine chefs don't cook when they get home and it's sometimes the same for me, I help everyone else and neglect to think of my own financial future sometimes.
3.    Which provider are you most impressed by? Why?
Can I choose 2? It's worth it I promise…
Apart from the challenger banks there are two apps which are solving problems. Moneybox – I love. For people who don't think they have money to save, there is a feature of the app where every time you buy something and use your card it rounds up the cost and puts the difference into a savings account for you – it all adds up over time.
The second is GoHenry which is a bank account and card for children aged 6-18 which the parent controls. They can set spending rules, parent notifications when it's used and set tasks and chores for your child to complete to earn extra money. The team there have created a way to teach children how to save and spend responsibly.
4.    Which provider would you like to see hoisted by their own petard? Why?
I hate this question. It forces me into a negative state, which I try to stay away from. But, most traditional banks and insurance companies. I can't single anyone out because there is not one traditional financial services company in the UK which doesn't, at a minimum, need at least a little tweak.
The financial industry is full of companies with big logos, 'false' values and legacy procedures, keeping the companies and their customers in siloes, and where nobody takes responsibility for their decisions. Things would be much easier if they (all companies, not just banks. But mostly banks and insurers) practiced doing the right thing.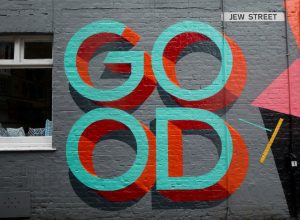 Doing the right thing will always and forever be the right thing.
5.    Do you think you have lost out financially by making sustainable choices?
Yes and no. In most cases, I  have an end goal of 20, 30 or 40 years. This doesn't make me an eco-treehugger, I'm just happy to give up short term financial loss for long term gain.

Sustainability is a choice; you care about your future or you don't. Once you educate yourself on the subject and realise the impact, I think people might be prepared to give up more than they think. Saying that; day-to-day, making sustainable choices doesn't have a negative impact on me financially.

6.    What personal finance headline would you most like to read in the next year, and why?

I have such big eyes that I can think of hundreds I would like to see, mostly reflecting all the businesses I would launch, given the resource and time!

An interesting thing has happened with technology over the last 5-10 years or so. We've seen companies like Moneybox and GoHenry emerge, alongside Uber, Airbnb, Skyscanner. One thing that has always fascinated me is that the people who created these companies are not from those industries. Most had to raise millions in investor capital to start, whereas the organisations who have the resource, infrastructure and expertise missed the opportunity to really make a difference.

The one thing I believe we are missing in financial services – both as an industry and to the consumer – is education. So an interesting headline I would love to see would be: "CEO of [INSERT BANK HERE] uses 1 year's salary to fund international fintech student exchange program for the under 19s".