Moves to democratise investing so that people with less money can access the stock market took a leap forward today as Wealthify, an investment platform targeted at millennials, dropped its minimum investment to £1.
Wealthify joins Abundance Investment (£5 minimum) and Moneyboxapp, which rounds up your spending to the nearest £1 and deposits that in an investment account automatically, in the competition for less experienced but enthusiastic young investors.
Wealthify says it offers customers investing amounts below £2,000 get a plan containing around 15 passive mutual funds made up of approximately 6,500 globally-diverse underlying investments. Plans in excess of £2,000 will contain up to 20 funds, including ETFs, and around 8,000 underlying investments.
Moving investors over into low cost market tracker funds has attracted criticism from the Governor of the Bank of England, among others, for leaving investors exposed to downturns in global markets. The investment style also leaves people with less choice if they wish to invest in line with their values.
However, they have also opened up investing to a wider audience – people who had previously felt that investing was not for them because of the high charges and minimum requirements involved.
The move means anyone looking to try investing can do so with a small amount, whilst getting access to a risk-balanced plan. Wealthify's management fees and fund charges are 0.7% per year on management fees and 0.17% per year in fund charges – relatively low in comparison with other platforms.
The criticism of low investment minimums has always been that if you've only got a few quid to invest, perhaps you shouldn't be investing at all.
However, the other argument is that "wealth is not a skillset", meaning just because you don't have much spare cash to invest doesn't mean you don't know what to do with it.
People with less net worth are not dummies by default, in other words. So it's good to see another platform acknowledging that people who only want to invest a tenner a month have a right to do so.
In fairness to the traditional platforms, it used to be more hassle for them and the funds to organise the admin on low value investments – they wouldn't get out of bed for less than a £1,000 starting point and a £100 a month direct debit.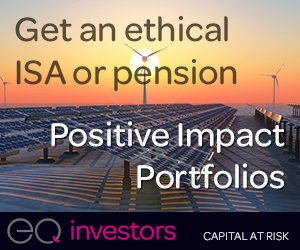 Now, with the advent of better technology behind transactions and processes and the birth of low cost tracker funds and direct crowdfunding, this "not worth the admin" excuse doesn't wash.
True, it is still hard to justify the spend on acquiring a customer who is only going to deposit £100 a year – but if platforms think a bit longer term – and many are doing – then they realise that those young investors who put a bit in early on might just stick with them for the rest of their lives, increasing their contributions as they go.
Richard Theo, CEO of Wealthify, said: "These changes are an important steps towards our mission to democratise investing and demonstrate a genuine desire to be the most accessible, most transparent and most straightforward online investing service available.The platform has made a number of other changes to open up the investment market to a different audience. It says it has also made fund charges far clearer and expresses them in percentage and monetary value terms – a key recommendation of the recent FCA/FSCP report carried out by Boring Money.
"With cash savings earning next to nothing and rising inflation wiping off up to £9bn per year from UK cash savings accounts, now is the time for everyone, no matter what their level of knowledge or confidence in investing, to look for alternative ways to grow their money. Our mission and today's changes means that everyone, no matter how much or little experience or money they have, has the option to give investing a try."