It's International Women's Day today (March 8), so Good With Money, run by two self-employed Mums with young children who are only too aware of the inequalities faced by women in the workforce, are pleased to present the 6 things you can do to make sure your money is on an even footing with your partner's, husband's and just the rest of mankind's.
Start a pension. If you are not yet saving into a pension but could probably manage to set aside £50 or so a month, set up a private pension TODAY and pay in the minimum you can manage monthly. No one in the family is likely to starve if you do this (just eat less meat for a bit), but you might when you are old if you don't have this in place. More than half (56%) of women haven't started saving for retirement. Moreover, due to a lack of financial knowledge, women invest less than men (17% vs 31%), according to research from Scalable Capital.
Reality check: your husband's pension is not your own, and relationships can break down. Understandably, with mouths to feed, the here and now gets in the way for many women, particularly for those out of work or part-time. But there is no better thing you can do for yourself – sod the shoes or bags. Honestly.
Aviva, NEST and Standard Life are among those with the best Environmental, Social and Governance records – important considerations when saving for the long term for financial as well as general planetary benefit reasons. If you have some workplace schemes, PensionBee is a new platform that can gather together these for you and put them in a much lower cost fund, saving you thousands over the savings term.

2. Round-up your spending and put the difference in savings or better still, an investment account. Research from Nationwide shows that women hold the purse strings – so you may as well be saving as you spend. The Moneyboxapp is an absolutely genius new app that rounds up your spending to the nearest £ and deposits the difference in an investment account. If you fancy trying it too, use the referral code 66GY5 when you sign up and if you are in the first 10 to do so, you get £10 credit and so does Good With Money.
3. Ask for a pay rise. If you are employed by a large organisation and suspect you are on lower pay than your male contemporaries doing the same job, ask for a pay rise. Most large online recruiters can now give pretty accurate average salary information for certain jobs, and armed with this information plus any particular achievements you have made in the last year, you are well equipped to get a reasonable rise. Many women don't know their own worth and have an "attitude of gratitude", which does them a disservice. You are not in work because you owe your employer, you are in work because you are doing your job and should be paid fairly for it.
4. If you are self-employed – don't under-charge. Anecdotally, self-employed women are highly likely to undervalue themselves because they lack the confidence in their abilities to charge what they are actually worth. The thing about under-charging is you don't just do yourself out of pocket, it's not fair on everyone else in your industry either. Do yourself and everyone else a favour and #bebold with your fee expectations for work – if someone says it is too high, negotiate. But don't go too low – you can even end up losing work that way as potential clients might think you aren't as good as you actually are. As point 3 above, this amounts to knowing your own worth.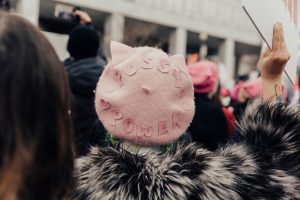 5. Stop subbing your partner. This can often happen in relationships where the woman earns more – but even when she doesn't. It's a result of the "women holding the purse strings" thing and also the "attitude of gratitude" thing: you can end up just paying for everything because it is easier and you feel it is your job to do so. If you are in a relationship, think about a joint account and set up commensurate monthly contributions from each of you to cover joint bills. If you don't have kids yet. If you do and one of you is earning less, you will have to revise this according to who is doing the earning.
6. Don't stand for injustice on pay or worker rights. There are bodies set up to protect and promote the rights of women in the workplace. The Fawcett Society has a handy list of what these actually are.