Good With Money has today launched the UK's first mark to make it easier for people to find financial providers that offer a good deal for their pockets as well as for people and planet.
The Good Egg mark – awarded to financial services firms that can demonstrate a positive impact – has been introduced to help people make more informed choices about how their money is being used when they buy a financial product.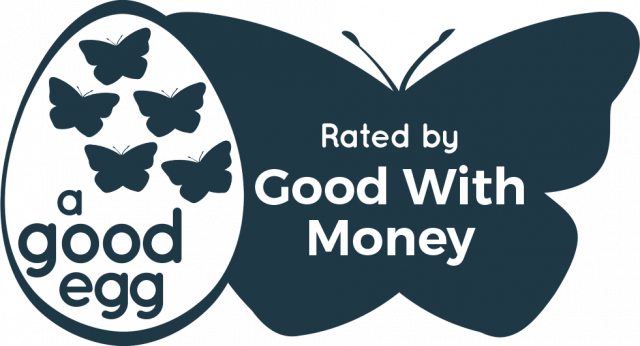 Good With Money has worked with the UK Sustainable Investment and Finance Association (UKSIF) to develop the Good Egg mark, following research conducted for Good Money Week in October 2016 which revealed 63 per cent of UK consumers wanted a label to identify ethical or sustainable financial products.
Meanwhile, 43 per cent said it would make them more likely to buy a financial product, rising to 53 per cent of 18 to 24-year olds. Additionally, 60 per cent of UK consumers believe that investments can make high returns without sacrificing responsibility.
"Look for a Good Egg if you want to have a savings account, insurance policy, investment fund or mortgage from companies that do the right thing."
In further research conducted by Opinium for Good With Money++, 36 per cent of people said that they would be likely to choose a financial provider holding the Good Egg kitemark. 25 per cent of those surveyed thought the kitemark demonstrated that the provider holding would be 'a responsible company', 24 per cent thought it would be 'a company I can trust,' and 22 per cent thought it would be 'a fair company.'
Two launch partners have gained the first ever Good Egg marks: renewable energy peer-to-peer platform, Abundance Investment, and EQ Investors, a wealth manager that offers Positive Impact Portfolios.
Among other reasons for being awarded the Good Egg mark, Abundance is approved on the strength of its environmental credentials. The report states: "All projects funded through the platform are renewable energy projects, reducing demand for fossil fuels and associated pollution and climate change impacts."
One of the reasons EQ Investors has been awarded a Good Egg is the strength of its industry/ fair business credentials. The report states: "EQ Investors provides customers with low-cost options to invest in a socially and environmentally responsible way. The business is transparent about products, fees and charging structures. The company is owned by staff and management and they have confirmed that this is a long-term vision for EQ."
The mark is based on a rigorous matrix of multiple criteria developed in conjunction with Ethical Screening, an ethical research consultancy. Ethical Screening conducts the analysis on each provider applying for the kitemark and produces a report detailing its decision.
The purpose is to determine how well a provider measures up against a range of different environmental, social and industry impact factors, taking into account the size and history of the firm and its performance.
A further level of analysis is provided by the Good Egg advisory panel, which includes Anna Laycock, executive director of the Finance Innovation Lab, Fionn Travers Smith, former project manager for Move Your Money, John Fleetwood, managing director of 3D Investing, and Michael Fotis, founder of Smart Money People.
Rebecca O'Connor, co-founder and editor of Good With Money, said: "A Good Egg is a kitemark that can only be used by financial services companies that are able to prove they make a positive impact, not just by improving the lives of customers, but by benefiting society and the environment, too.
"Look for a Good Egg if you want to have a savings account, insurance policy, investment fund or mortgage from companies that do the right thing."
Simon Howard, chief executive of UKSIF, said: "We welcome Good With Money's Good Egg kitemark because it takes a practical look at the places people put their money and how it is used. It responds to public demand – as demonstrated in UKSIF polling – for a simple label to allow people to easily distinguish between ethical and sustainable, and unethical financial products.
"We know from the growth of Good Money Week that interest in how banks, pension providers and investment managers invest consumers' money continues to grow and we want to see financial firms of all kinds respond to it."
Bruce Davis, co-founder and joint managing director of Abundance, said: "Abundance are pleased and proud to be one of the first companies to be awarded a 'Good Egg'. We set out with the aim of creating investments that are in tune with our customers values as well as making a financial return and after £40m raised for 25 projects including £10m in tax free ISAs from 3500 ethical investors we are finally seeing ethical investment become a mainstream consideration.
"The Good Egg process put us to the test to deliver on our promise of transparency and control for investors and it is great to get independent recognition of those efforts. Hopefully this will mean more people will be able to join our crowd of investors already making a positive difference with their money."
John Spiers, CEO of EQ Investors, said: "We are extremely honoured to be one of the founding Good Egg kitemark holders. More and more people are looking for their money to do good while doing well.
"At EQ, we have a strong sense of being a member of a wider community. We hope that our participation will inspire other companies to get on board."