I had a vision last night. It's possible I've been watching too much The Handmaid's Tale and perhaps don't talk about my fears enough, but yesterday evening as I drifted off to sleep, for whatever reason, vivid as Picasso on acid, I saw myself as an old person.
More than that: I felt what it was like to be old, to feel trapped inside a body that can't properly stretch, jump or carry out the movements it wants to make in the way it wants to make them because it shakes, jars and hurts too much. I felt what it is like to be viewed as redundant by the rest of the population, to be uninteresting in conversation, a slow taker-upper of space. I felt like I couldn't breathe.
This unexpected vision of my own old age, rooted in a fear I didn't know I had rising closer to the surface, was terrifying. I am sure old age for many is not so bad. I am sure that for many, it is far worse. I don't know what my own will be like. But it's clear from those in my own family who have passed on that old age can be beset by ill health and a feeling of watching the self you once took for granted fall away with each passing day.
"Don't ever get old" my Grandmother, who had her fair share of strokes, cataracts and falls, used to whisper to me, like it was the most important lesson she could impart. To her, being old was being a prisoner in her own body – a most unforgiving jailer. The present was no consolation because she couldn't interact with it in the way she wanted – the past was her happy place.
But I can't take her advice without the help of a Swiss clinic or seriously abusing my body with booze and sugar. I can't avoid getting old and these days, it's an experience most of us will endure thanks to that great collective effort to avoid death otherwise known as modern medicine. But those latter years can be an unsettling existence. A bit like the view from above the clouds in an aeroplane, it's the sort of thing you sense people are just not designed to see. In expectation of all this borrowed time added to our lives, the reclaimed land on the banks of our existence, the best we can hope for, really, is that our own old age is as healthy and happy as possible.
On this, however, hope alone is not good enough for me. Certainly not now, after that vision. I'd like to think that my life is naturally, effortlessly going to look like a Saga holiday ad when I reach 65, with me swishing from one Michelin-starred restaurant to another, in between holidays on friends' barges and breaks with the grandkids in Devon (who I won't see so much that they tire me out).
Could more pension saving, more tax relief and the new freedoms now save me from her bleak view of old age?
But HELLO, that shit just doesn't happen naturally. It takes savings. Big, huge amounts of tax-free pensions savings, made as early on as possible in life. Yes, luck and hard work play their part, but also ISAs of all kinds, trusts, going without on some things now, diligence, discipline… which brings me to recent pension industry goings on.
Every day, it seems, there's a new pensions-related report. That's because there have been some big changes lately, including the almost full roll-out of auto-enrolment, where employers automatically pay in to a pension on behalf of workers. It's a good thing to be auto-enrolled. If you are, do yourself a favour: stay put. I'm sure my Grandmother would have said that too.
Linked to this is yesterday's publication of findings from the Taylor Review into workplace practices, which among other things, pointed out that millions of self-employed people and contractors (the "gig economy") who aren't auto-enrolled in an employer pension scheme are facing reliance on the state pension in old age, unless they have some other secret pot stashed somewhere (and most do not).
I am interested in this because I am self-employed and because I very much do not want to end up dependent on a piddling state pension when (if) I ever retire. The report suggests that me and my kind aren't sufficiently incentivised to provide our own pension (for what it's worth, I have an old workplace scheme, a buy to let and a Lifetime ISA, all of which I view as in the pensions mix).
Many pension providers spoke up yesterday in support of the suggestion to introduce auto-enrolment for the self-employed, too. A good idea in theory, although quite how some of the lowest earners in society will afford to set anything aside is a different matter.
The acute focus on pensions is also because of pension freedoms, introduced by former chancellor George Osborne, which gives pensioners more choice over how to fund their retirement instead of being stuck with often poorly-paying annuities.
Today was the publication of another big report: the FCA's retirement income report. It found that people are using their new freedom to take lump sums from their pension pots and access their money earlier; accessing pension pots early has become 'the new norm', it said.
However people don't always know what's good for them, and the report findings bear this out. For example, some people are accessing pension money and moving it into lower return savings accounts, losing the tax relief their money was previously earning.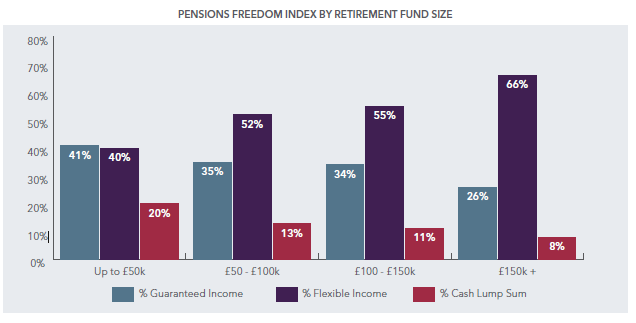 As Kate Smith, head or retirement savings at Aegon says: "The FCA's figures suggest we're seeing the majority of small pots accessed well before traditional retirement age with around two fifths of people either paying down debts or spending the money, with half saving or investing it. The trend for people to withdraw money and save it is somewhat concerning given that many be moving towards low paying cash accounts and limiting their ability to benefit from further tax relief via a pension."
All this pension freedom is a good reason to seek advice when you eventually approach retirement – except because fees are steep, this only makes sense for the wealthier pensioners who arguably know a fair bit already, anyway.

As Jason Hollands, managing director of Tilney, says: "Good advice really adds value and since the introduction of pension freedoms, Tilney's financial planners have helped numerous savers who were contemplating cashing in their pension pots from inadvertently triggering very significant tax charges."
By his own admission, those cashing in small pots early can't afford this very valuable advice. "This end of the market will largely fall outside of the scope of professional advice, because of the affordability of fees" says Hollands: "It is therefore right that FCA considers whether further protections are required."
Whatever happens next, the Government currently seems quite keen to sort this out. It is certainly incentivised to do so – old people dependent on the state is no good thing.
Which brings me back to my Grandmother, on her state pension, in a warden-assisted flat. Could more pension saving, more tax relief and the new freedoms now save me from her bleak view of old age?
A decent pension pot might just help me to be more positive, to distract myself from the view in the mirror and to do some things I've always wanted to do (as long as I don't take it all out at as a lump sum at the age of 60 and spend it on ferraris and trips to St Lucia). What else can I do? Eat more healthily, do a bit more exercise? Sure. I might then not feel as physically wretched as she did at 75.
And with this cushion of funds I plan to have (but may yet fail to achieve), I won't feel obliged to tell my own grandchildren that old age is something they should seek to avoid. You can't buy happiness, true, and you certainly can't avoid death. But you can save as much as possible now to maybe just lighten the burden of old age just a little, when it comes.