Kames Ethical Cautious Managed Fund has been voted top ethical fund in the AJ Bell investment fund and trust awards.
The winners were voted for by users of the investment platform, both customers and financial advisers.
Ryan Hughes, head of fund selection at AJ Bell, said: "The Kames Ethical Managed fund is a strong choice for those investors who deem ethical criteria as an important part of their investment approach. The fund is broadly 50/50 equities and fixed interest with the ability to flex up to 10 per cent each side, giving a well-diversified portfolio.
"The fixed interest team at Kames remains strong despite recent departures while Audrey Ryan on the equity element is a safe pair of hands. For investors looking for a well managed, instant portfolio of equities and bonds with a strong ethical screen, this fund ticks a lot of boxes."
---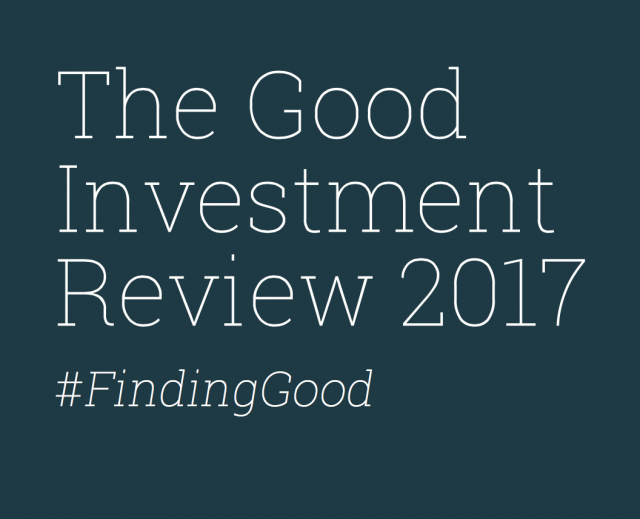 Want to know which funds to invest in for mamimum positive impact? Download our Good Investment Review, in partnership with 3D Investing, today
---
The AJ Bell FIT awards cover 15 categories, including the ethical category.
An expert panel* was enlisted to put forward their nominations in each category. The panel could nominate any investment fund (including OEICs, Unit Trusts, Investment Trusts and Exchange Traded Funds). The panel was asked to look beyond simply investment performance, but also consider how well the fund/trust delivers what it sets out to achieve and how well positioned it is for the future.
Financial advisers and retail customers that use AJ Bell's Investcentre and Youinvest platforms were then invited to vote for their winner during August 2017.
The most popular individual fund was the Fundsmith Equity fund, which won the Global Equity category. First State Investments** was the only fund group to win more than one award.
The winning funds are all strong performers in their category (see the full list below).  A £15,000 investment, split equally across the 15 winners would have more than doubled in value to £31,628 over the past five years.

CATEGORIES
WINNERS
3 year annualised

return

5 year annualised

return

Value of £1,000 invested 5 years ago
UK Equity
Liontrust Special Situations Fund
12.55%
13.30%
£1,867
European Equity
Jupiter European Fund
19.51%
18.11%
£2,298
North American Equity
Schroder US Mid Cap Fund
19.34%
19.21%
£2,407
Asian Equity
Stewart Investors Asia Pacific Leaders Fund
12.02%
12.12%
£1,772
Japan Equity
Baillie Gifford Shin Nippon PLC
32.62%
31.85%
£3,984
Emerging Markets Equity
JP Morgan Emerging Markets
14.77%
11.17%
£1,698
Global Equity
Fundsmith Equity Fund
25.20%
22.23%
£2,782
UK Smaller Companies
Standard Life UK Smaller Companies Trust PLC
17.69%
17.60%
£2,249
Commodities/ Resources
BlackRock Gold and General Fund
8.51%
-3.37%
£843
Technology/ Biotech
Polar Capital Global Technology Fund
28.27%
23.52%
£2,875
Property
F&C Commercial Property Trust
10.62%
12.95%
£1,838
Bonds
M&G Emerging Markets Bond Fund
14.04%
9.78%
£1,595
Income
City of London Investment Trust PLC
8.33%
11.42%
£1,717
Ethical
Kames Ethical Cautious Managed Fund
6.15%
9.09%
£1,545
Specialist
First State Global Listed Infrastructure Fund
17.79%
16.62%
£2,158
Total return on £15,000 split equally across all funds
 
 
 
£31,628