What a great idea – the things none of us have enough of and all of us want more of – FUN and TIME – are the inspiration behind this gift that rather tickled our fancy (you can check out ethical financial gifts here and charity gifts here.)
What is it? The WOKE-est gift ever
A website called Elfless Acts is making it easier to gift people "fun" and "time" instead of stuff, by allowing you to create vouchers for the recipient of your choice. Instead of buying someone something they don't want, the idea is you can gift them the promise of a fun experience with (or without) you instead.
It also works as the perfect last minute gift for those that don't end up managing to actually shop and is the perfect low maintenance (low cost) Secret Santa.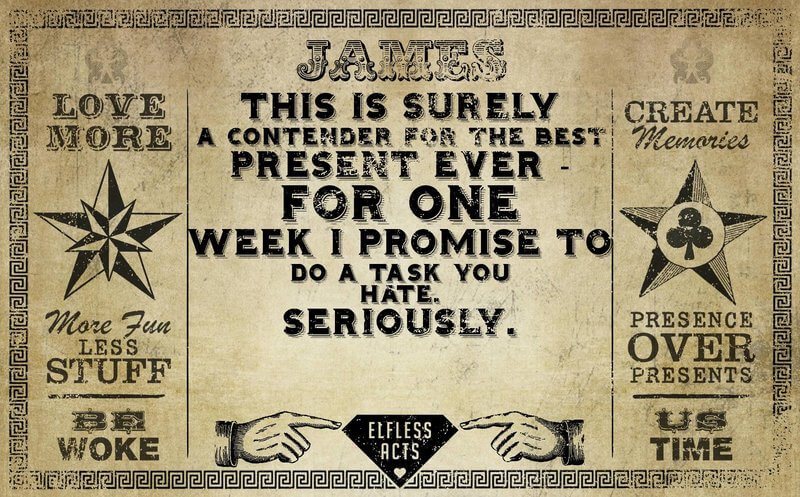 Some examples of elfless gifts you can give:
"I promise to visit once a month – and always bring cake with me!"
"I promise to bring you breakfast in bed every day for a week. I'll even let you lie-in once"
"This year for Christmas, I promise you a day out of your choosing, my treat!"
Apparently £2.6 billion worth of unwanted Xmas gifts are given each year, according to Triodos Bank, the sustainable bank.
So gifting an experience is doing the planet a favour too, supporting the UN Sustainable Development Goals no's. 12 and 13 – Responsible consumption and production and climate action. Feel that righteous glow?
#morefunlessstuff  #ElflessActs

Sonja Graham, Managing Partner of Global Action Plan (GAP), which created the website, says: "Elfless Acts is a fun tool that aims to shake up the social conventions around gift buying at Christmas. In an age when time is the ultimate commodity we want to inspire people to get creative and invest in their relationships with others this Christmas and not in another novelty mug that will go straight to the back of a cupboard or the bin!"
James Wallman, author of Stuffocation, says: "Gifting is a key part of who we are, but wasted gifts that are more problem than present are no good for any of us. Elfless Acts is a great solution: no stuff! If you give a fantastic experience through Elfless Acts, instead of adding to humanity's negative environmental footprint, you'll end up creating a positive happiness footprint — for you and your loved ones!"