A new FREE guide from Good With Money spells out what the Innovative Finance ISA (IFISA) is all about, how it is different from other types of ISAs and how it might be used to diversify an investment portfolio or save for retirement.
---
More than a year since IFISAs were introduced, the guide looks at the developments in the IFISA market and includes articles from experts Bruce Davis of leading energy crowdfunder Abundance Investment, and Chris Hancock, chief executive at leading small business lender Crowd2Fund.
It includes a flow chart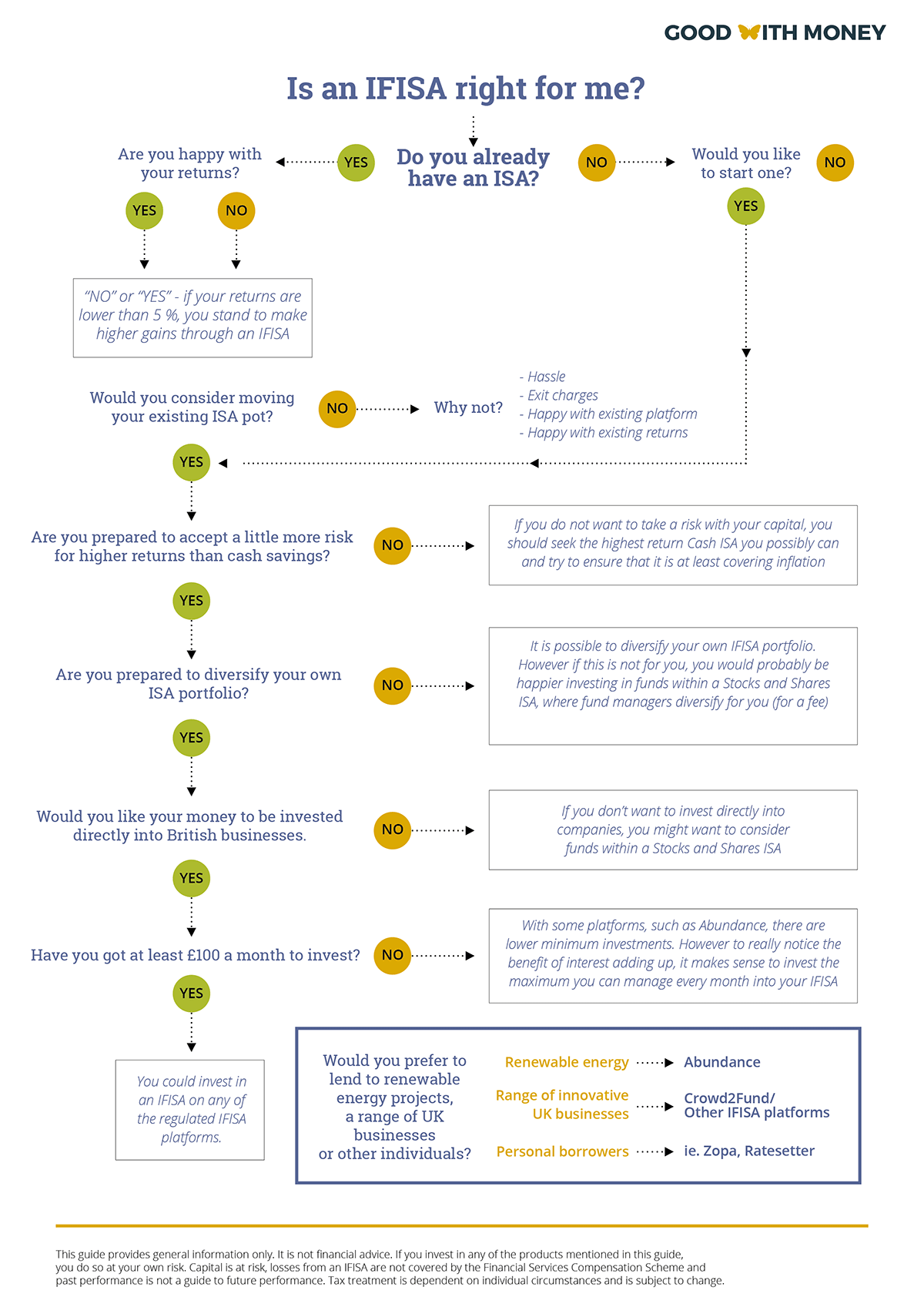 to help you decide whether an IFISA is right for you, and a table summarising all the different ISA options.
Rebecca O'Connor, editor and co-founder of Good With Money, says: "Innovative Finance ISAs are the ISA equivalent of the dish on a restaurant menu with exotic ingredients you've never heard of: you might be tempted, but are not sure if you are in the mood to try something new. So it can be with this newest type of ISA, which behaves differently to both cash and stocks and shares and has a different risk profile to both.
"Even within the IFISA category, the options are varied, with some platforms offering loans to individuals and some to businesses; some offering bonds, and some offering debentures. Faced with such variety, it's no wonder less experienced investors are finding it hard to take the plunge".
The guide also weighs up the pros and cons of investing in an IFISA vs. a Cash or Stocks and Shares ISA.
If you aren't sure what IFISAs even are, let alone how they compare with other ISA types, remember these four 'I's:
INVESTMENT, not deposit. The most obvious difference between an IFISA and a Cash ISA is that an IFISA typically has a higher rate of return. That's because they are a riskier investment, rather than just a deposit account.
INTEREST, not equity. The main difference between an IFISA and a Stocks and Shares ISA is that Stocks and Shares ISAs purchase the equity of companies that are listed on an exchange, often via funds, on your behalf, rather than loans or bonds that pay interest. So with an IFISA, you don't own equity in the business you are investing in, you are just lending it your money.
ILLIQUID, relatively speaking. If you buy shares on the stock market, you can usually sell them at any time, making them a "liquid" asset. With an IFISA, you are lending the money in anticipation of a certain level of interest over a fixed term, so your money should remain invested for the term. Consequently they are considered more illiquid than stocks and shares.
INVOLVED, not passive. Finally, if you have an IFISA where you lend to businesses or projects rather than people (through P2P IFISAs), you can usually pick the business yourself. Unlike some "robo" stocks and shares ISA investment platforms, which pick your funds for you based on your risk profile or target return, many IFISA platforms allow you to browse businesses or projects and self-select the one you think is right for you. You are in the driving seat.'
Rebecca continues: "Compared with Cash ISAs, IFISAs have the advantage of typically higher returns (although they are also riskier). You might also choose an IFISA to complement a Stocks and Shares or Cash ISA you hold, rather than replace them altogether. In fact, many investors open IFISAs as a way to diversify their other investments".
"For instance, a stock market investor worried about a downturn in equity markets might put some money in an IFISA, which is not affected by stock market performance, to hedge against a slump. This could be particularly useful for someone investing tax-free for the long term, for retirement saving, for example, and wanting to use ISAs as well as their pension."
"A Cash ISA investor curious about IFISAs might choose to set aside a small amount in an IFISA to bring a little more profit to their investment portfolio, without sacrificing more security than they are comfortable with.
"Additionally, you might say the IFISA is more interesting, because it allows you to choose businesses you think look like good investments directly – and to choose investments you really like."
Chris Hancock, CEO of Crowd2Fund, says: "If savers start to think a little more like investors, they stand a better chance of being able to safeguard their future. Part of this shift might involve investing in an IFISA. The IFISA allows people not only to benefit from higher tax-free returns but also gain further from compounding interest growth over time."
There are currently two different types of IFISAs on the market: one which allows investors to directly choose the individual businesses they lend to and the other which operates a pooled investment approach.
The majority of investments made on most platforms are facilitated by investors directly choosing the companies they lend to, however, it is also possible to take a passive investment approach to the IFISA. For example, the Crowd2Fund Smart-Invest tool allows IFISA users to define their investment criteria, and savings plans. Smart-Invest will then automatically invest funds into opportunities which match this.
Bruce Davis, co-founder and managing director of Abundance, thinks the IFISA could be a good additional route for retirement saving. He says: "The fourth Great British Money Survey, commissioned in 2016, found that 30 per cent of ISA savers said they were using their ISA to save for retirement. Remarkably, the same proportion (31 per cent) of our own ISA customers told us in 2017 that their financial goal for their Abundance portfolio is retirement."