Want to make your ISA that bit nicer this year? Aside from choosing a Cash ISA with a sustainable bank, such as Triodos, Charity Bank or Co-op Bank, or a Stocks and Shares ISA invested in one of the UK's top impact funds (you can see the best in this guide), you might also consider that ISA wild card – the Innovative Finance ISA. Because within the IFISAs on offer, there are ethical options aplenty.
As with any ISA, you can invest up to £20,000 tax-free. IFISAs arguably offer an option that sits somewhere between the reliability of cash, and the higher returns from investment in the stock market.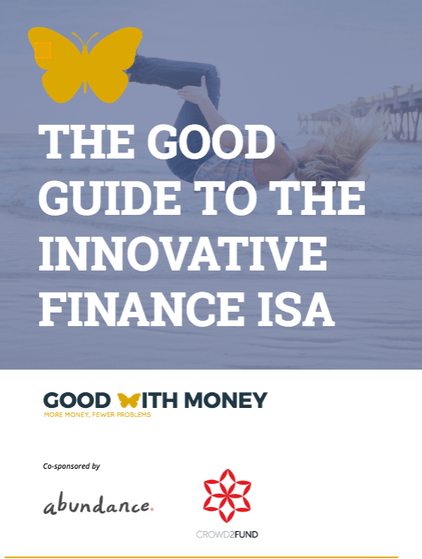 The minimum amounts and rates of return vary, and you can only pick one IFISA platform per tax year, so it is worth researching a range of platforms. And reading this brand new guide.
Below is our run down of the most ethical platforms for your IFISA money this year, starting with two Good Egg companies: Abundance and Downing.
---
Follow our #NicerISA campaign for other ideas on how to make your ISA nicer.
---
With the trailblazing renewable energy platform, Abundance, you can choose to invest in any number of projects through your IFISA, from all those available on the platform, with a minimum of just £5 in each.
This lets you easily diversify your holdings within an Abundance IFISA across a range of sectors, investment terms and risk levels. Most of the projects available for investment offer six-monthly cash returns, which are paid straight into the Abundance IFISA account. Current projects available for investment include Monnow Valley, which supplies heat and energy to small businesses, via biomass boilers and CHP units. This offers an 8 per cent IRR over 19 years. Another is Atlantis Futures near Newport in Wales, which aims to help fund the conversion of the Uskmouth power plant to a sustainable energy source. It will also go towards the development of a significant power and flood protection system across the Wyre estuary. This project offers 8 per cent IRR over five years.
Downing Crowd launched just two years ago but has already helped make crowd bond investment more mainstream, raising almost £50m since launch. Similar to the Abundance site, the investor chooses the company bonds they want to invest in from those available on the platform at the time. Current offers include an opportunity to lend to Warren Energy Limited, the owner of an operational anaerobic digestion plant located near Methwold, Norfolk, offering investors a chance to earn an annual interest rate of 6.75 per cent over an 18 month term; or the one or two-year DDF property bonds, lending to Downing Development Finance Limited ("DDF"), a UK company that makes loans secured against property, and earn 5 per cent a year on the one-year bond or 6 per cent a year on the two-year bond.
Crowd2Fund, co-sponsor of the Good Guide to IFISAs, is the only FCA-regulated crowdfunding platform to offer five models of finance, across debt and equity investments. It provides opportunities to invest directly in businesses of your choice, but also collective IFISA investment opportunities, with an average return of 8.7 per cent, where your money is spread across a range of growth businesses. Instead, you choose an initial investment amount, monthly investment amount and desired interest rate, and the platform's SmartInvest feature does the rest automatically for you, based on your desired savings plan and risk appetite.
Folk2Folk calls itself the 'local lending movement' and offers local, secured, peer-2-peer lending opportunities. Its IFISA offers monthly tax-free interest of 5.5 per cent p.a. or 6.5 per cent p.a. in return for investment in a collective range of local and national, often rural and agricultural, entrepreneurial businesses. All its loans are secured against UK land or property. It promotes its 'Folkonomics local lending movement' (see our recent guest post from founder, Giles Cross), and says its investors are helping to build financially and socially successful local communities across the UK. However, Folk2Folk is rather unusual among IFISA providers in that it levies a ​1 per cent annual administration fee plus VAT (capped at £1,000 plus VAT per tax year) of the subscription amount.
Rebuilding Society is another business P2P platform, and offers average net returns up to 9.7 per cent. There is a £10 minimum investment up to the government's £20,000 annual limit. One opportunity currently on the site is for Nellco Limited trading as New Cross Inn, a 500 capacity bar and live music venue in London.
Lendahand, powered by Ethex, the ethical investing platform, invests from £50 of IFISA money into crowdfunded bonds backed by solar energy companies in Africa. This gives you the freedom to use your money to help increase the access to off-grid solar for families in sub-Saharan Africa, while balancing the risk of this kind of investment with the tax-free returns on any interest earned within your IF ISA. A 5 per cent bond currently available on the platform – the Azuritech SolarPlus bond – will help provide clean energy to 1,000 families in Kenya.
Lastly, and in a first for banking, Triodos Bank, the sustainable bank, recently launched its own crowdfunding platform and now offers an IFISA (in addition to its range of SRI focused stocks and shares ISAs or cash ISAs). Like Abundance and Downing, you choose the projects you wish to support. Current opportunities include the Mendip Renewables offer, a 5 per cent bond backed by an operational community solar scheme supporting charities in Somerset, and Rendesco, a 7 per cent bond for the installation of renewable heat pumps in retirement homes.
Furthermore, many of the other crowdfund and peer2peer platforms also offer IFISAs, with varying degrees of return, such as Assetz Capital, Lending Works, Crowdstacker, Ratesetter, Proplend, Landbay and the original peer-2-peer site, Zopa, which offers lenders up to 4.6 per cent by lending to individuals.