Highlights from the last seven days
---
Royal Bank of Scotland customers who care about the environment were given reason to cheer last week, as the UK high street bank said that it will stop financing new coal projects worldwide, as well as exploration and extraction projects in the tar sands sector, ahead of its AGM and before today's announcement that the UK Government will sell its stake in the bank.
RBS will also stop lending to coal companies deriving more than 40 per cent of their revenues from thermal coal or generating more than 40 per cent of their electricity from coal.
ShareAction, the campaign group, said the move put RBS at the top of the ranks of the UK's big five banks in terms of their climate policies.
Yann Louvel, climate campaigner at BankTrack, said:  "It is good to see RBS finally adopt such exclusions for the coal sector and taking the lead among UK banks on coal. RBS is the first UK bank to adopt a full worldwide ban for the direct financing of new coal plants, contrary to HSBC which adopted in its updated policy last month exceptions for Vietnam, Indonesia and Bangladesh, three key coal growth countries, until 2023. RBS is also the first bank in the UK to adopt a 40 per cent threshold to exclude lending to some coal companies since no other UK bank has any exclusion threshold for coal utilities."
You can read the bank's updated policy here.
Meanwhile the Financial Conduct Authority launched a crackdown on high cost credit lending, such as fixed overdraft fees, rent-to-own schemes, catalogue credit and store cards, which it thinks charge customers too much interest. It produced this clear and handy infographic on the findings of its consultation.
---
Here are four more responsible loan providers and five more responsible credit card providers
---
FTSE Russell, the investment analyst, has published a report identifying the key features of the green economy. Number one: It's substantial. The green economy represents 6 per cent of the market capitalisation of global listed companies, approximately $4 trillion. "This represents a significant investment opportunity, approximately the same size as the fossil fuel sector." Here are all the features it identified: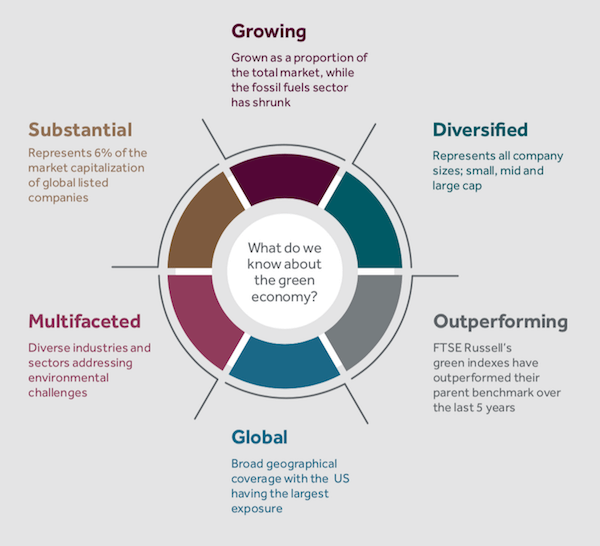 SSE has put up the price of both gas and electricity for customers, with a 6.7 per cent average increase on bills – yet another reason to switch to green.
Meanwhile Co-op Bank, the ethical bank, increased fixed rates for Britannia Fixed Rate ISAs for new and existing customers. For new customers, 1-year rates will rise from 0.8 per cent to 1.1 per cent and two-year rates from 0.9 per cent to 1.2 per cent. For existing customers, the rates go up to 1.15 per cent and 1.25 per cent respectively.
---
Coming up
---
A new bond will launch – the Energy Garden Community Bond – on Wednesday. Energy Garden is the world's first citywide community energy and gardening project, developing community gardening spaces across the London Overground which include infrastructure that improves agriculture, air quality, biodiversity, and low carbon technologies. It supports the 2016 Mayoral targets for cleaning London's air. The bond will be available to investors using the Ethex platform.
The Global Impact Investing Network is set to publish its latest report on Wednesday.