This performance data is an extract from the Good With Money and 3D Investing Good Investment Review
---
Investors in UK companies take note: if you had opted for the ethical versions of such funds, such as any of those listed below, the chances are you'd have made more money.
The average ethical UK equity growth fund has outperformed the sector average every year since 2013, with the exception of 2016/17. Over five years, the average outperformance of an ethical fund was 4.13 per cent, according to research from 3D Investing, the consultancy.
An investor who had chosen a fund with a rating of three or more stars from 3D Investing would have seen an even bigger profit margin over the average, with the average outperformance of the very best funds of this kind at 15.16 per cent.
The comparison is significant, as more fund managers launch ethical, sustainable or impact funds, offering more choice to investors who may be confused about what this type of investing involves.
New research from Barclays suggests the number of investors choosing impact has increased from 9 per cent in 2015 to 15 per cent in 2017.
According to 3D Investing, the number of funds with an ethical or sustainable mandate grew by 10 per cent in the six months to the end of April 2018.
See the outperformance of individual ethical or sustainable funds in the UK All Companies sector in the table below.
Edentree Amity UK, F&C Responsibel UK Equity Growth, Kames Capital Ethical Equity, Liontrust SF UK Growth, Liontrust UK Ethical, Premier Ethical, Royal London Sustainable Leaders and Standard Life Investments UK Ethical have all outperformed the IA UK All Companies index in the five years from 2013 to 2018.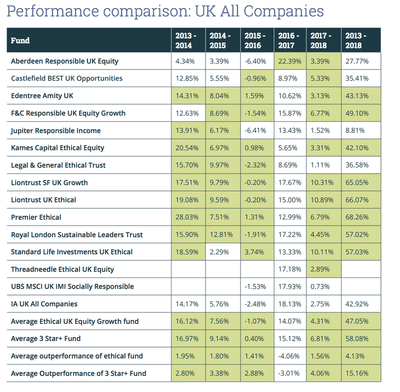 ---
For more information on the ethical and sustainable funds that are beating their benchmarks, check out the Good Investment Review, from 3D Investing and Good With Money.
---