The best quality ethical and sustainable investment funds are more profitable than both the mainstream sector averages and those funds that are labelled ethical or sustainable, but do not live up to their principled promises, according to new analysis.
The latest Good Investment Review from 3D Investing and Good With Money, available to download here from today, shows in the UK All Companies sector, the average ethical and/ or sustainable fund rated three or more stars out of five by 3D Investing has returned 61.51 per cent over the five years from 2013 to 2018, 14.41 per cent more than a mainstream fund with no ethical or sustainable remit and 11.12 per cent more than a standard ethical fund in this sector.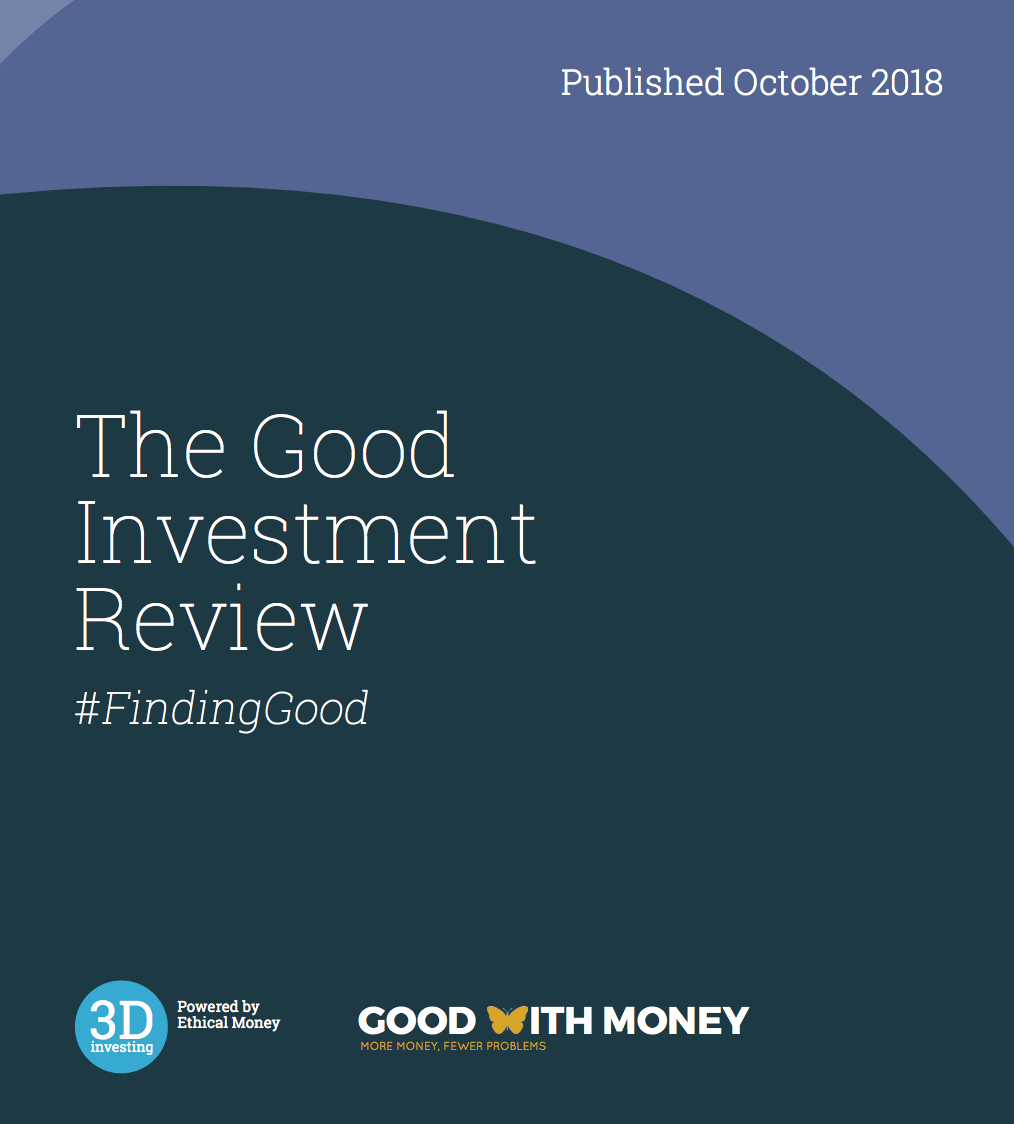 In the Global Equity Growth sector, the average outperformance of a fund rated three or more stars out of five by 3D Investing is 4.38 per cent over the five-year period, at 83.34 per cent, compared with 78.96 per cent for the average Global Equity Growth fund without an ethical or sustainable remit and 77.31 per cent for the average ethical global equity growth fund.
In the Stirling Corporate Bond sector, the average five-year return on a standard, non-ethical fund is 25.03 per cent, 4.69 per cent lower than the average five-year return on a three-star or more rated ethical or sustainable fund and 2.89 per cent for the average ethical Stirling corporate bond fund.
3D Investing rates funds that are described as ethical or sustainable according to how well they live up to their claims and according to financial performance. Of the 226 funds available to UK investors that are described as ethical or sustainable, around half are rated 2.5 stars out of five or less and around half have more. Only the top 25 per cent have four or five stars.
The ratings are designed to be demanding, so a three-star rating is far from average and in fact means the fund is likely to be amongst the best in its sector. A five-star rating is reserved for the very best funds and is an aspirational standard.
There were 11 new funds launched in the six months from April to October 2018 – a five per cent increase – and the value of assets under management in the 3D universe of funds is £90 billion, down from £105 billion in April 2018 as a result of criteria changes that now exclude North American funds.
John Fleetwood, founder of 3D Investing, said: "The evidence continues to show, that if anything, integrating environmental and social factors into investment decision making, improves performance.  It's particularly notable that those funds which are rated more highly by 3D Investing perform better.  These are also the funds that make the most positive social and environmental impact, making them a real win-win."
Rebecca O'Connor, co-founder and director of Good With Money, said: "Amid concerns of greenwash in the sustainable investing industry, it is important for investors to understand the vast range of approaches within the broad "ethical" category and that not only do these variances affect the level of positive impact a fund has on the environment or society, they can also affect returns.
The figures in this Good Investment Review clearly demonstrate that the best quality ethical and sustainable funds are not only better for the world than standard funds, they have also tended to perform better financially than both the general ethical category and standard funds."
The Good Investment Review by 3D Investing is published every six months on the Good With Money website. The latest issue focuses on the role of infrastructure in sustainability.
New funds launched in the last six months include the Montanaro Better World fund, awarded five stars by 3D Investing, the Rathbones Global Sustainability Fund and the RobecoSAM Global Sustainable Impact Fund.
The Review includes interviews with a number of fund managers:
Interview with Impax's Bruce Jenkyn-Jones, co-manager of the Impax Environmental Leaders (Ireland) Fund and co-head of listed equities. He says, 'Impax's thematic equity universe comprises almost 2,000 companies, an eight-fold increase on the 250 that it comprised of in 1999. Twenty years ago, climate change was unlikely to be considered a key risk to an organisation's profitability. Today, supported in no small way by empirical evidence, this is changing. There is further to go of course, but when 9 in 10 people say that they would make changes to their standard of living to prevent future climate catastrophe, the move to mainstream is clear.'
Interview with Euan Stirling, Global Head of Stewardship and ESG, Aberdeen Standard Investments, who says, 'We believe the transition to a more sustainable economy will continue to disrupt an ever-larger proportion of the global economy and that portfolios which focus on well-positioned companies, while avoiding those unable or unwilling to adapt, should outperform.'
Overview of the new Triodos Investment Management set up with With Erik Breen, director of Triodos SRI and fund manager, Triodos Sustainable Mixed Fund and Adam Robbins, senior relationship manager, UK
Interview with Rathbones' David Harrison, a Global Equity Analyst, on the launch of the new Global Sustainability Fund as the next logical step for Rathbones, building on the success and strong growth of the Rathbone Ethical Bond Fund. He says, 'There is a growing cohort of clients who want to make a positive impact with their investments, and the launch of this equity fund will help meet this demand.'
A Q&A with William Argent, fund manager of the new Gravis Capital Clean Energy Fund
An introduction to Pictet's Global Environmental Opportunities Portfolio with Luciano Diana, who says, 'For investors, the opportunity to bring about change has never been greater.'
Lastly, the report speaks to George Critchley at Pennine Wealth Solutions, a Good Egg mark company, about their positive impact portfolios. He says: "I believe that less than 10 per cent of IFAs are involved in any form of sustainable, positive, ethical type of investing. To change this, we have to work with and support our UK IFA community. If they were all involved, I truly believe a third or more of all retail investments would head in this direction. The public have had enough of pollution, bad environmental practices, poor and often greedy corporate practices."
---
---
Sign up to our weekly newsletter
Get better with money, in every way.