A start-up vegan dessert brand has secured £200,000 of private funding – after they were told on BBC show The Dragon's Den they had overvalued their business.
GATO & Co, founded by London-based friends Charlotte Dauzat and Kim Lamza, aims to change the way we tuck into indulgent desserts. Handmade with natural, plant-based ingredients, the puds are vegan, dairy-free and contain half the sugar of similar products.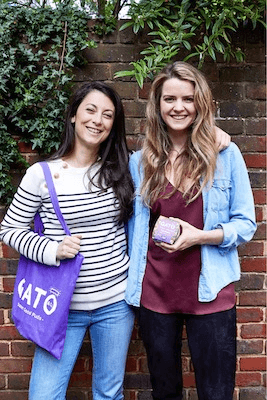 Charlotte and Kim appeared on BBC2's Dragon's Den in May 2018 offering a 1.7 per cent share of the business for £50,000. The dragons praised the delicious taste of the desserts but laughed at the £3 million valuation of the start-up.
The girls were grilled for over an hour before receiving two finance offers from businessmen Touker Suleyman and Tej Lalvani. Lalvani was particularly taken with the sticky toffee pudding, saying: "What's incredible is that you have got the sugar down. It's not easy to do and maintain the taste, so that's really commendable." However, the dragons wanted a hefty 25 per cent of the business for their £50,000 investment.
Feeling uncomfortable at giving away so much of their business, the girls turned down the offers. GATO & Co has now secured £200,000 from a group of private investors and is going from strength to strength. The products are already on shelves at Harrods, Fortnum & Mason, Sainsbury's, Ocado, Whole Foods Market, As Nature Intended, and other independent stores, with more on the way.
Charlotte said: "We are one of the few plant-based desserts available widely today – we're working hard to be on more shelves soon so there's more choice for consumers who want to indulge but want to do so in a plant-based way… watch this space!"
Brazilian beginnings
Charlotte grew up in Provence, in the south of France, and studied patisserie at the renowned Cordon Bleu cookery school. But it was when she lived in Brazil that she started experimenting with healthy, ethical alternatives to traditional desserts. She said: "I was surrounded by so many innovative, natural ingredients like flours made from pretty much anything (even green banana or coconut flour!) and various different nut milks.
"I started experimenting in my kitchen as I've always had a sweet tooth but found it tricky to find tasty, indulgent desserts that were lower in sugar and free from gluten and dairy. I'd test them out on my colleagues before going full time – Gato was born!"
GATO & Co offers a healthier, lower calorie – but equally delicious – alternative to desserts that are packed with sugar and animal fats. For Kim and Charlotte, being kind to the planet as well as to our bodies is key.
Charlotte said: "This is achieved by sourcing plant-based ingredients, focusing on whole nutritious ingredients (so no calorie is an empty one!) and using far less sugar."
Vegan ambitions
In January, the girls fulfilled their ambition to make their products not only dairy-free but also entirely vegan, so they have even less of an impact on the planet. They are aiming to make the entire process of making and selling their desserts sustainable. The pots the desserts come in are reusable glass ramekins and all the packaging is fully recyclable.
We strive for our business to be open and transparent, and to do good for our customers and the planet
Kim said: "Being sustainable is an ongoing process. We strive for our business to be open and transparent, and to do good for our customers and the planet. That means everything from the ingredients we use in our puds (plant-based and natural), the packaging we use (fully recyclable) to, in time, how we invest and give back."
Although Charlotte and Kim currently have their savings tied up in GATO & Co, they are keen to invest their profits in an ethical way when the time comes. Kim said: "As an early stage start-up, our savings are all invested in GATO, which is encouraging people to eat plant-based more often. But we'd love to do more of this in future – we love the concept of ethical investing."
Charlotte said both her and Kim aim to be as health and planet-conscious as possible in their personal lives. She said: "We are big believers in a balanced approach. We follow a flexitarian diet where we regularly eat plant-based meals, and love getting the endorphins going in the morning with a spin or yoga class (depending on how energetic we're feeling)! We believe it's also important to treat yourself and we have a GATO pretty much every day in our co-working space!"
Proof's in the pudding
It hasn't been an easy path to securing investment for the two friends, but they would urge any budding entrepreneur to follow their dream. Charlotte said: "Don't be shy – if you've got a good idea, and the determination to see it through, go for it!"
Kim added: "Be ready to learn and adapt quickly to make your business stronger. If we'd kept our product and packaging identical to when we first launched, GATO may not be around today!"
The proof's in the pudding – what's wrong with a little ambition from two young female entrepreneurs?"
The entrepreneurs said they valued the positive feedback from the dragons on their products but are determined to prove them wrong when it comes to the valuation of their business.
Kim said: "We think the dragons underestimated our business; they challenged us on our valuation and our targets and it was a bit of a battle. We know we're worth our £3 million valuation, as do our investors from both food and finance backgrounds. We have gone on to invest further since the Dragon's Den. The proof's in the pudding – what's wrong with a little ambition from two young female entrepreneurs?"