A new FREE guide from Good With Money spells out what the Innovative Finance ISA (IFISA) is all about, how it is different from other types of ISAs and how it might be used to diversify an investment portfolio and earn a competitive return.
Three years since the introduction of the IFISA, Good With Money has relaunched its definitive guide to the tax-free savings account in collaboration with Crowd2Fund, to help both beginner and experienced investors navigate the newest addition to the ISA stable.
The guide includes Good With Money's ISA Grid, which explains the entire ISA range in one handy table, as well as a step-by-step flowchart (below) to help investors decide whether an IFISA is right for them, all while fully understanding the risks involved.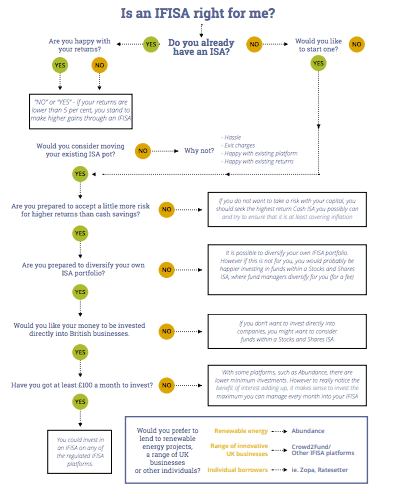 Editor of Good With Money Rebecca Jones said: 'The majority of Britons still overwhelmingly opt to save in cash – despite historically rock-bottom interest rates. This is starting to change, however, and it is thanks in no small part to the introduction of the IFISA three years ago.
'The popularity of the IFISA is clear. According to HMRC, the amount subscribed to IFISAs grew by 700 per cent between 2016/17 and 2017/18 – up from £36 million to £290 million. Meanwhile, the number of accounts shot up from 5,000 to 32,000.'
The guide outlines the opportunities in the IFISA-eligible peer-to-peer lending universe, which offers investors the chance to diversify their portfolios by investing up to 10 per cent of their investable assets (as recommended by the UK Financial Conduct Authority) into innovative British businesses.
Chris Hancock, of Crowd2Fund, who sponsored the guide, added: 'The rate on cash ISAs is currently lower than inflation, meaning those saving in cash are on average losing money in real terms. As has been the case for nearly a decade now, those looking to beat inflation need to take on investment risk, and peer to peer loans within an IFISA are one of the many options available.'
Demystifying the IFISA with the four 'i's'
The Good Guide to the IFISA helps demystify this relatively new asset class using four 'I's:
'INVESTMENT,

not deposit. The most obvious difference between an IFISA and a Cash ISA is that an IFISA typically has a higher rate of return. That's because they are a riskier investment, rather than just a deposit account.

'INTEREST,

not equity. The main difference between an IFISA and a Stocks and Shares ISA is that Stocks and Shares ISAs purchase the equity of companies that are listed on an exchange, often via funds, on your behalf, rather than loans or bonds that pay interest. So with an IFISA, you don't own equity in the business you are investing in, you are just lending it your money.

'ILLIQUID, r

elatively speaking. If you buy shares on the stock market, you can usually sell them at any time, making them a "liquid" asset. With an IFISA, you are lending the money in anticipation of a certain level of interest over a fixed term, so your money should remain invested for the term. Consequently they are considered more illiquid than stocks and shares.

'INVOLVED,

not passive. Finally, if you have an IFISA where you lend to businesses or projects rather than people (through P2P IFISAs), you can usually pick the business yourself. Unlike some "robo" stocks and shares ISA investment platforms, which pick your funds for you based on your risk profile or target return, many IFISA platforms allow you to browse businesses or projects and self-select the one you think is right for you. You are in the driving seat.'
The guide also weighs up the pros and cons of investing in an IFISA vs. a Cash or Stocks and Shares ISA.
Rebecca Jones continued: 'We like the IFISA because, crucially, this kind of investing helps us connect with our money. Seeing exactly where our savings are going and how they are helping small businesses with a product like Crowd2Fund's not only makes for a talking point in the pub, but it's empowering too.
'For a long time – perhaps forever – money has felt like a very distant thing to most of us: especially long term savings in bank accounts or pension pots. In the past, the latter has been the only place any of us has put money in the markets, and then we were unlikely to have had any say in the matter. With an IFISA, you have more of a connection.'
The guide also covers the risks involved, and how investing in an IFISA might complement a broader investment portfolio.
Hancock concluded: 'Crowd2Fund is unique in that it is the only IFISA on the market which is self-selecting, allowing investors to directly assess and choose the companies and organisations that they want to lend money to. By following the tips in this guide you will be in an excellent position to diversify your ISA savings and investments and potentially take advantage of strong returns using the IFISA, helping you to ride out short term market blips and secure your financial future over the long term.'
Download your FREE copy now!