As both governments and businesses across the world respond to the urgent need to make economic growth and consumption more sustainable, innovators are moving fast to develop new products, concepts and systems that could help businesses and nations to turn their green ambitions into action. Here, we round up five of the best:
Algae-boosted solar panels
A new way to boost the output of solar panels by combining them with controlled algae blooms has been discovered by a team of marine biologists and biotechnologists.
Supported by funding from the European Commission's LIFE scheme, the SUNALGAE project is now investigating how best to place the algae – which photosynthesise in low levels of light – alongside solar panels to gain the best effect.
Initial tests have found that by spurring controlled blooms of algae and making it into a coating, solar panels can be made 4 per cent more efficient, even during periods of low sunlight.
If this were extended to the entire global PV industry, an additional £920 million worth of clean power could be generated annually. The Sweden-based SUNALGAE team will begin building the world's first industrial-scale algae and solar plant later this year, with completion earmarked for 2020.
Floating cities
Around 90 per cent of the world's largest cities are at threat of one day being under the sea as glaciers melt and seas rise on our warming planet. With around 2.5 billion more people expected to be living in cities by 2050, the race is now on to create sustainable solutions for urban living.
A UN-backed partnership has designed a model of a floating city called Oceanix, consisting of a network of buoyant islands.
The islands, which would be made on land and towed out to sea, would be made from renewable and fast-growing materials, such as bamboo, and be powered by wind, solar and tidal renewable energy. They would be anchored to the seabed by supports capable of withstanding a category-five hurricane. Each of the islands would support both housing and larger facilities such as farms, offices, entertainment venues and state facilities, and are designed to support the growth of marine plants below them.
UN-Habitat, which works on sustainable urban development, will team up with private firm Oceanix, the Massachusetts Institute of Technology and The Explorers Club, a professional society, to advance the concept.
Chicken poo power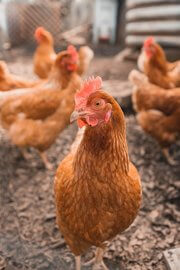 A Scottish chicken farm has developed a system to convert its chicken manure into clean power.
The manure generated by Aldouran farm's 128,000 free-range chickens is fed into biomass boilers, where it is heated by water held at a temperature of 150°C. This clean technology process – called the Organic Rankine Cycle (ORC) – generates 750Wth of clean energy heat, which is captured by a heat recovery device produced by 3M.
A chemical vapour capable of absorbing heat from the remaining manure is then added to the chamber. The vapour drives a turbine before condensing and being rerouted to the heat source. The system technology is powered by wind energy, with a backup diesel generator and off-grid cabinet to protect against power outages and periods of low wind.
Each cycle of manure processed through the system generates 65kWe of electrical power, which is used onsite, while also generating heat for the facility's boiler. The manure ash left at the end of the process is used as fertiliser.
Water-saving hair products
Consumer goods giant Unilever has launched a haircare brand called 'The Good Stuff', designed to reduce the single use plastic, water and animal impacts of hair care.
The range comes in 100 per cent recycled and recyclable plastic packaging and has been developed using plant-based, low-carbon and vegan-friendly formulas. But its key sustainability USP is that the conditioners are designed to be left in.
Unilever claims that the no-rinse formula will save the average user 99 seconds in the shower per hair wash, equivalent to 460 litres of water per full-sized bottle of product. To put this saving into context, the firm has calculated that if every woman in California used The Good Stuff conditioners, 17 billion litres of water – or 6,800 Olympic-sized swimming pools' worth – could be conserved every year.
Unilever, which generated 70 per cent of its profit from its 'Sustainable Living' brands in 2017, also recently launched a vegan-friendly beauty line using 100 per cent post-consumer recycled packaging and a washing-up liquid sold in 100 per cent recycled and recyclable bottles.
Pocket-sized air pollution trackers
A pocket-sized device called 'Flow' has been launched to track air pollution on the go.
The miniature pollution sensor uses a tiny fan to suck air through holes in the outer aluminium case. The air is fed through a combination of lasers and membranes to track pollutant levels. This information is then relayed to the user in real-time by both lights on the device and through a connected smartphone app.
The device weighs just 70 grams and breaks the measurements down into particulate matter (PM), nitrogen dioxide (NO2), and volatile organic compounds (VOCs).
'Flow' – which will retail at £136 per unit – has been designed for use by individuals, so they can make adjustments to their daily routines to reduce their exposure to airborne pollutants. It could also be used by schools, local authorities and businesses to track exposure in their local areas.