More than half (54 per cent) of the entire global population now live in cities, according to the World Bank. That's just over four billion people.
Meanwhile, the United Nations reports that around 1.3 million people are moving into cities EVERY WEEK, with urban populations set to grow by 6.3 billion (or 68 per cent) by 2050.
This rapid urban migration is putting a huge strain on global infrastructure and the environment.
The solution, according to researchers and innovators, is a new kind of city that adapts to the needs of the population while being environmentally, economically and socially responsible. It's called the 'Smart City'.
What is a smart city?
A Smart City is an urban centre that uses technology to improve living experiences. It operates as one big, data-driven ecosystem. The smart city uses data it collects from people, vehicles, buildings and infrastructure to improve the lives of residents while minimising the environmental impact of the city itself.
Here, we round up the top six features of a smart city:
1. Smart Data
Data will be the beating heart of the smart city, and so collecting data from residents, vehicles, and infrastructure is essential. The goal is to assess patterns or inefficiencies to better improve living standards.
SmartCity dwellers will get notifications on the quietest and safest times to travel, their own personal energy usage, and how to improve eating habits, among other things.
This data can also be used to better plan cities in the future, meaning smart cities will continuously get more efficient over time.
2. Smart Transportation
Many car manufacturers have showcased fully autonomous vehicles that are capable of understanding their surrounding environment to make decisions. In-fact, you might not ever drive in the Smart City. Smart vehicles will communicate with surrounding vehicles to ensure that you get from point A to point B as quickly and efficiently as possible.
3. Smart Energy
Smart Cities will use less energy because of constant, real-time data collection and analysis. These 'smart grids' will send energy to areas in the city that need more power, while conserving energy in places that need less.
Solar and wind energy will be collected throughout the day and sent to appropriate areas. Solar energy will be fully integrated into all roads, buildings and residential areas. Smart sensors for water control and rainwater collection or detection of network issues can also play a significant role in saving water.
4. Smart space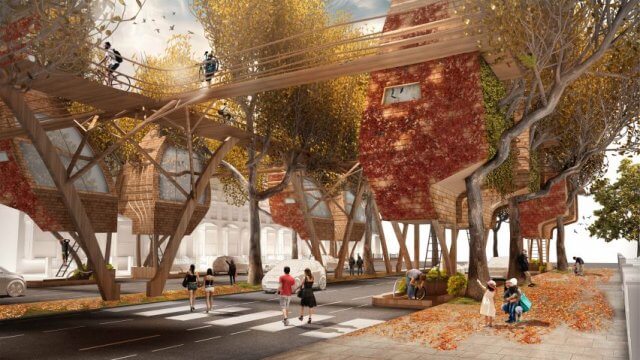 Smart Cities will shift from building large-scale infrastructure to maximising space that already exists. University of
Westminster graduate Matthew Chamberlain has designed a sustainable treehouse to provide starter homes on London's streets, while also tackling the city's high pollution levels.
The Street Tree Pods are teardrop-shaped structures made from wood, designed to merge with existing or new trees. Taking up the same amount of space as a single car-parking bay, each structure would offer short-term accommodation to a single occupant.
5. Smart Infrastructure
With data collected by Smart City technology, city planners and architects will be able to create even more efficient buildings. Smart infrastructure can help prevent public health outbreaks, potentially stopping airborne illnesses or water contaminations before they even happen.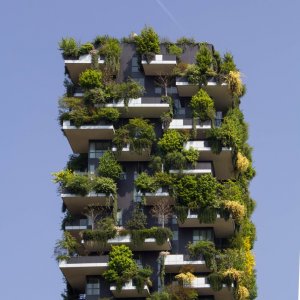 6. Smart people
Smart City residents will be encouraged to plant trees to help combat air pollution. In Melbourne, Australia, a website called Urban Forest Visual enables people to plant a tree, track it, and share its progress on social networks. This strategy has contributed to the city's impressive 22 per cent tree cover, which is expected to double by 2040.