A new report from Oxfam has found that the seven richest countries in the world are not fulfilling their stated commitments to UN Sustainable Development Goal number 10 – to 'reduce inequality within and among countries' – through systemic failings that are having a devastating impact on people and the environment in their own countries and abroad.
The report, entitled 'The G7's Deadly Sins' has been published ahead of a big meeting of what is known as the G7 – the group of the world's most affluent countries that consists of the US, Canada, the UK, Germany, France, Italy and Japan – in Biarritz this weekend.
It looks at seven key policy areas where, it says, G7 countries' actions drive a wedge between rich and poor people both in their own and developing countries, including failing to implement progressive tax systems and supporting a 'shareholder-first' business model that drives down the wages and conditions of workers.
As the rich get richer…
The charity says that income inequality has been rising across the G7 since the 1980s and that today the poorest 20 per cent of people in G7 nations receive, on average, only 5 per cent of all income earned from work, while the richest 20 per cent receives about 45 per cent.
"The richest 10 per cent of people in G7 countries own half or more of their nation's wealth"
Oxfam says that wealth inequality is also on the rise in G7 countries, where the richest 10 per cent of people own half or more of the country's wealth, while the poorest 50 per cent owns 10 per cent or less. The worst wealth inequality is seen in the US, where the poorest 50 per cent of the population owns 1 per cent of the country's wealth, while the richest 10 per cent owns 76 per cent. In the UK, this same split is 4 per cent versus 60 per cent. The most equal country is Japan, at 10 per cent versus 49 per cent.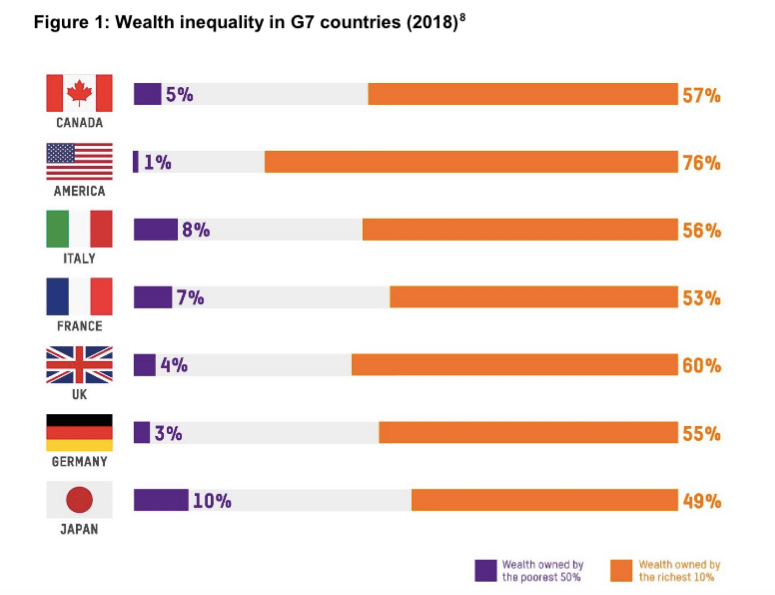 The charity says that G7 countries also have low intergenerational mobility: in France and Germany it may take six generations – or more than 150 years – for children of poor families to reach the average income in their country; five generations in Italy, the UK and the US; and four in Canada and Japan.
High levels of inequality make it more difficult for younger generations to advance on the earning ladder. A recent survey commissioned by Oxfam found that two out of three young Italians aged 18 to 34 believe they will not be better off than their parents.
On a global scale, inequality is even starker with more than half of total global wealth owned by people living in G7 countries while the workers that supply its companies in developing countries like Bangladesh, South East Asia and Africa – live on less than $4 a day.
The G7 deadly sins
The seven key policy areas that Oxfam says is causing this rampant inequality are:
'Captured politics'

This is the ability of corporations to use vast sums of money to lobby goverments to get their way. In the US, for example,drug companies spend more than $200m every year on lobbying, and so are able to shape rules on tax, trade, intellectual property rights and health policy, reaping enormous economic benefits at the cost of the poorest people.

Tax cuts for the rich

The average G7 Corporate Income Tax rate has almost halved from 50 per cent in 1981 to just 27 per cent in 2019. Instead, tax systems are increasingly reliant on average families and workers.

Neglecting social spending

In recent years, public services have been under attack, undergoing cuts, reforms and privatization in the name of austerity and debt consolidation, reducing access for the poorest and most vulnerable people, while driving up poverty and inequality. Women and children are disproportionately affected by cuts to healthcare and education.

Putting shareholders first

The economies of G7 countries focuses on maximizing profits for shareholders, however for every dollar that is returned to wealthy shareholders, one less dollar is invested in better wages, secure contracts, training and research and development. Between 2011 and 2017, average wages in G7 countries grew by less than 3 per cent, while dividends to wealthy shareholders grew by 31 per cent.

Burning the planet

Half of total global emissions from consumption can be attributed to the richest 10 per cent of people. Of these emissions, 77 percent are generated by the richest 10 percent of people living in G7 countries. The poorest half of the world's population is responsible for only 10 per cent of global emissions. Oxfam says none of the G7 is set to meet their Paris Climate pledges.

Fuelling economies that don't work for women

Gender inequality hinders economic equality in G7 countries,  with women more likely than men to go to university, but still less likely to be economically active. Women in G7 countries earned 14 per cent less than men on average in 2017. while in the UK, the report found that almost one-third of all working women earn a wage that is insufficient to guarantee a decent quality of life.

Failing to deliver on aid promises

Foreign aid can make an important contribution to reducing inequality between rich countries and poor countries, however – with the exception of the UK – the G7 have failed to meet their decades-long commitment to allocate 0.7 per cent of national income to foreign aid.
It's taxes, dummy
Oxfam has proposed a number of potential measures that G7 governments could take to address systemic inequality throughout the region. This includes taxing the wealth of the top 1 per cent of people 0.5 per cent extra, which it says could raise more than £200 billion a year. The charity says that would be enough to provide education to the 262 million children who are out of school and provide healthcare that could prevent the deaths of two million people.
Oxfam France's Executive Director, Cécile Duflot, said: "G7 governments have helped to create the inequality crisis, they now have the responsibility to be part of the solutions – to make a choice between a brighter and more sustainable future for all of us or continued extreme wealth for a few."
The charity is also urging British Prime Minister Boris Johnson to use his first G7 as Prime Minister to set out how he will deliver on his leadership campaign pledge to fight for those who feel left behind and to bridge the wealth and opportunity gaps between different parts of the UK.
Instead of cutting taxes on the richest, Oxfam says the Prime Minister should look at ways to make the tax system more progressive, including how to tax wealth more effectively.
"G7 governments have helped to create the inequality crisis, they now have the responsibility to be part of the solutions"
By way of illustration, Oxfam calculated that a new tax on net wealth targeted at the very richest in the UK, based on Spain's system – starting at 0.2 per cent and rising to a maximum of 2.5 per cent on net wealth of more than £12 million – could raise around £10 billion a year, which could be invested in supporting the poorest at home and abroad.
Oxfam says there is support for fairer wealth taxes from across the political spectrum, including the Archbishop of Canterbury, former Conservative Minister Lord David Willetts and Institute of Fiscal Studies Director Paul Johnson.
Finally, Oxfam warned that the G7 is not doing enough to cut carbon or to help poor countries adapt to the climate emergency, despite historically having been responsible for the largest amount of emissions. It says G7 countries should cut greenhouse gas emissions drastically now, and to zero 'well before' mid-century, and mobilise the promised $100 billion a year by 2020 to support climate action in developing countries.