Ethical and sustainable investing is experiencing a surge in the UK, with assets under management in such funds increasing by nearly one fifth (18 per cent) in six months.
Find out the where some of this money is heading in the latest Good Investment Review from 3D Investing and Good With Money, which shows ratings for UK ethical and sustainable funds that show how well they back up their claims – as well as a breakdown of their financial performance.
Your antidote to greenwash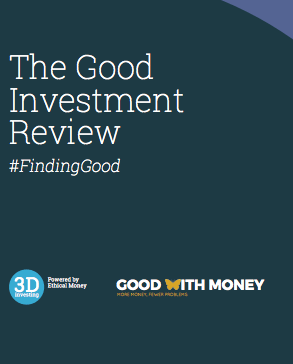 The steep rise follows a surge in interest in "ESG" (Environmental, Social and Governance) investing – as well as the newer form of positive impact investing, which involves seeking to only invest in companies that make a positive difference, over the last year.
The review also reveals a rise in standards among funds that come with an ethical, sustainable or impact label.
 "The average star rating has risen significantly, largely due to a move to impact and thematic investing, as well as better standards of transparency. The major change has been in the number of 4 star rated funds, partly due to upgrading of existing funds and partly because of the launch of new funds that have been allocated a four star rating. Overall, there have been 15 upgrades and 1 downgrade." John Fleetwood, 3D Investing founder
Financial performance of the funds within the universe continues to demonstrate that investing ethically, sustainably or for positive impact does not entail a reduction in returns.
"The data over the last 5 years is quite compelling. Of the 16 ethical UK equity funds monitored, 11 have outperformed the sector average (69 per cent). This is replicated for global equity funds where 16 out of 23 ethical funds have outperformed (69 per cent), and the case is even stronger for UK corporate bond funds where 8 out of 9 ethical funds have beaten the sector average over the last 5 years (89 per cent)."
The 3D Universe has seen a net gain of 31 funds over the six-month period – equivalent to five new funds every month, as asset managers rush to meet demand.
The review was sponsored by some of the biggest names in the sustainable investment industry, including Liontrust Asset Management, Impax Asset Management, Pictet Asset Management, Triodos Bank, Rathbones, Pictet, Aberdeen Standard Asset Management, Hermes Investment Management, Union Bancaire Privee and Pennine Wealth Solutions, the 'Good Egg' wealth manager.