Does your mind go blank every time someone asks what you want for Christmas?
Here's an idea – a gift or experience list from Patchwork, a website that lets those of us who have grown weary of scouring Amazon Prime at the last minute 'crowd source' gifts we really want, instead of getting yet another candle/ pair of Mahabis.
Then all you need to do is message a link to the list to your nearest and dearest.
And as an EXCLUSIVE offer to Good With Money readers, the website will waive its usual 3.6 per cent fee. Get virtuous with us. Sign up to our weekly newsletter here, and your Patchwork code will be emailed to you right away.
Our favourite, not surprisingly, is the Zero-waste kids Christmas list – what's yours?
Offer ends December 11.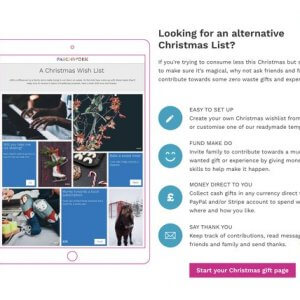 https://patchworkit.com/christmas