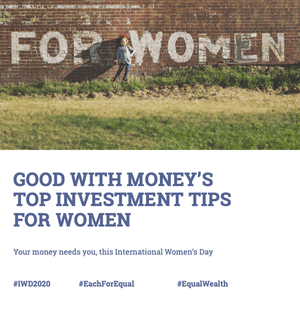 #EachForEqual is the message this International Women's Day. When it comes to wealth, things are far from equal between men and women.
Added to the gaps that are already well publicised: the pay gap and the pension gap, we can add the wealth gap.
At Good With Money, we want #EqualWealth for women, too.
What do we mean by wealth? Investments that are not a pension and not income from employment.
Women do not invest as much as men, overall and investing is a key way to build up long term wealth.
In this tips sheet, we talk about one of the most common ways to build up wealth: investing in the stock market through stocks and shares ISAs, using an investment platform that allows you to pick your own investments, funds or projects.
The tips sheet is brought to you in partnership with EQ Investors, an investment platform which offers positive impact portfolios, and Energise Africa, a platform that offers the chance to invest directly in solar projects in sub-Saharan Africa.
It's designed to get you thinking whether your own wealth is equal and whether there are steps you can take today to get you on the right track.
You can also take a look at our "Invest" section for more inspiration on where to put your hard-earned money to make it grow.