From money-saving 'trees' and pocket money apps to money boxes with separate sections for saving, spending and sharing, teach your children the value of money with one of these cool piggy banks:
Coinit-in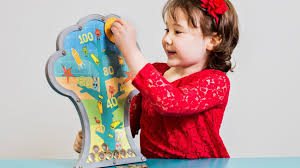 Coinit-in is a flat money box 'tree' that hangs on the wall – so your children can literally see their money grow. The idea is to encourage saving and money mindfulness in an increasingly 'digital cash' and consumer-driven society.
The £35 box is available in eight illustrated designs, with each tree able to hold up to 100 pound or euro coins.
Coinit-in is the brainchild of designer and mum-of-two, Jackie Swainston, who was concerned that money is becoming a virtual concept among young people.
She said: "There is constant pressure on children to have the latest brands and products and with the rapid rise of online, mobile and contactless pay I was worried my children were growing up with no real understanding of the value of money and in danger of developing unhealthy spending habits they would take with them into adult life.
"The 'I want it now' culture needs to be addressed. I designed the money box tree to help kids be more mindful of how and when they spend their cash and to encourage families to talk about money and saving in a fun and positive way."
Moonjar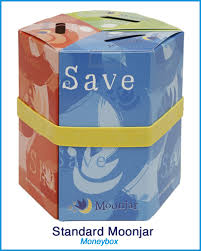 The Moonjar moneybox is split into three sections to encourage children to allocate their money between 'saving' 'spending' and 'sharing'.
It comes with a family guide and passbook for children to track their progress as they identify, talk about, and work towards their financial goals. Moneybox encourages the whole family to get involved in talking about money.
 The three sections of the box – which is made from hard-wearing tin and acrylic – can be taken apart and used separately, and fit together again easily with a supplied band.​​
The Moonjar, costing £24.95, is now available to buy in the UK for the first time after initially only being sold in the US.
---
Want your kids to be good with money? Bring it to their level
---
Pigzbe piggy wallet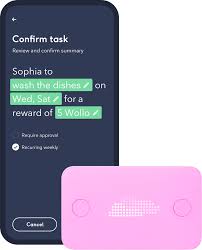 The Pigzbe piggy wallet, designed by Primo Toys, lets kids touch their digital pocket money and teaches them to save, earn and budget in the 21st century.
Parents can set tasks for their child to earn pocket money such as "wash the dishes" or "tidy your room" which they are then rewarded for – the Pigzbe will tell the child when there is work to do. Saving is made extra fun with cool stickers and videos for successfully completing tasks. It is also possible to set weekly allowances and add gift money.
The piggy wallet connects to the Pigzbe app, where you can see all the tasks and money saved as well as pocket money tips.
Children can shake the piggy wallet to hear the balance and and watch their savings grow on a virtual money tree.
The portable Pigzbe, which will be available in pink or green, can also stick to the fridge or hang from its carry tail.
At £81 (currently available to pre-order), the Pigzbe is an expensive option for a piggy bank, but you might find it's worth it for the money-saving motivation it brings.
---
Top ten gifts to teach your children about money
---
Husan electronic moneybox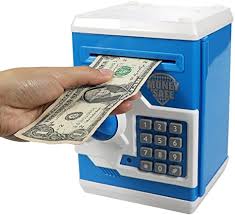 The Husan electronic moneybox aims to make your child feel grown up with their money. Designed to look like a real cash payment machine, it has two slots – one for coins and one for cash (which makes a noise just like the real thing as it slides the money in).
Instead of busting it open with a hammer or uncorking a plug in its underside, kids enter a numerical password they've set into the keypad to unlock the door. Wisely, it's also easy to reset the code by taking out and then reloading the batteries.
The bank, which costs around £21.99, can store 600 coins or 100 paper notes.
LEGO piggy bank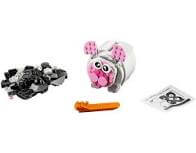 The LEGO piggy bank makes saving fun for children as they have to build the bank before using it for their coins.
The cute piggy bank, costing £11.99, has movable ears and a spinning head. It can also be rebuilt into a polar bear bank or panda bear bank. It's a surefire hit for lego fans.
---
What do kids think about money?
---
My Dog piggy bank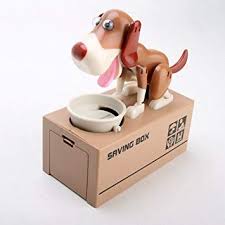 The battery-operated My Dog piggy bank will make your child smile as they save, as they feed the hungry dog with their coins. They put the coin on the dog's dish and watch as it moves its head back and forth and happily wags its tail. The dog then 'eats' the coin, with the dish tilting down to deposit the coin in the bank.
This bank – priced at £11.99 – is also available as a 'stealing cat', which lifts the lid of the box to take the coins with its paw.
Other digital money apps for kids
GoHenry: £2.99 a month fee per child, they get a pre-paid card
RoosterMoney: cheaper fee of £24.99 for the year for the full service that includes a pre-paid card
---
Some of the links in this article are 'affiliate' links, for which Good With Money is paid a referral fee if you open a service with that provider. We pick our affiliate advertisers carefully. Please email us with any questions. 
---