As Good Money Week 2020 begins, the ninth Good Investment Review from Good With Money and 3D Investing finds that sustainable funds have outperformed the sector average over the last five years – and in particular throughout the coronavirus crisis.
Since 2015, the ethical UK equity funds monitored in the review have brought average returns of 25.76 per cent compared with 16.52 per cent for all funds in the sector. Meanwhile, the ethical global equity funds monitored have returned an average of 85.23 per cent compared with 76.12 per cent for the sector.
In the eight months to October 2020, 12 of the 15 ethical UK equity funds studied performed better than the market average (80 per cent), as did 41 out of the 56 global ethical funds (73 per cent).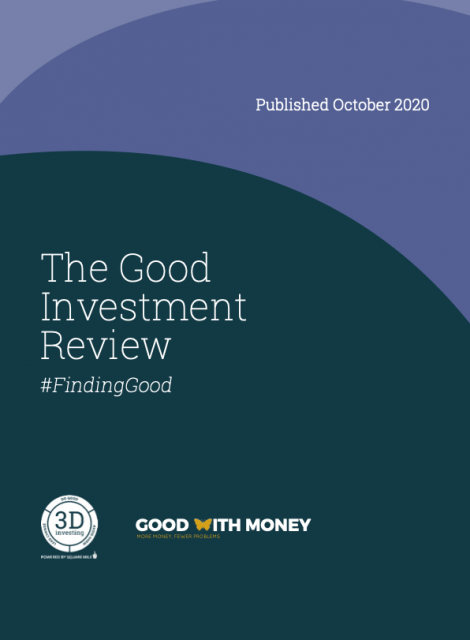 The October 2020 review reveals that despite the financial turmoil of the global pandemic, 'assets under management' held within funds with an ethical or sustainable label in the UK have continued to rise, reaching a whopping £158 billion  – up 14 per cent from the previous six months.
The rise represents further evidence of the surge in interest in investing for positive impact or with environmental, social and governance (ESG) factors in mind.
John Fleetwood, founder of 3D Investing (now part of Square Mile Consulting and Research), said: "The evidence shows that positive impact need not come at the expense of financial returns, and if anything, investing for positive impact can improve returns."
The latest review covers developments in methodology for measuring ethical and sustainable funds, and attempts to clear up some of the confusion over the different terminology used to describe them.
There is must-read commentary from some of the UK's top ethical and sustainable fund managers, including Victoria Leggett and Mathieu Nègre at Union Bancaire Privèe; Mike Appleby at Liontrust; Seb Beloe at Wheb; Marjorie Winfrey at Wellington Management; Ed Heaven at Montanaro Asset Management; Noelle Cazalis and David Harrison at Rathbones; Marc-Olivier Buffle and Cèdric Lecamp at Pictet Asset Management; Eva Cairns at Aberdeen Standard Investments; Meg Brown at Impact Asset Management; Deidre Cooper at Ninety One (formerly Investec); Ben Constable-Maxwell at M&G Investments; William de Vries at Triodos Investment Management and George Critchley, Pennine Wealth Solutions.
The Review rates funds that have an ethical or sustainable approach according to how well they do what they say on the tin.
26 funds have been added to the 3D 'universe' of ethical and sustainable funds in the six-month period to the end of August 2020. The new funds cover a wide range of approaches including passive funds tracking ESG indices, impact funds, and bond and infrastructure funds. Only one fund has been removed, due to its closure.
Good With Money has published the Good Investment Review in partnership with 3D Investing every six months for more than three years.
Check this post for past versions of the Review.
Like this? Sign up below for the Good With Money weekly newsletter.