It's always the quiet ones you have to watch, so Mum used to say: "What are they not telling you? What have they got to hide? Never trust the quiet ones."
Your pension is a quiet one – and it's keeping schtum for a reason. The last thing it wants you to do is start taking an interest. Because then you'd know its (probably dark) truth and you'd start meddling and creating an awful lot of work for your pension and those managing it.
It's even more tempting though, isn't it, when you know it doesn't want you to… Of course, you should. Because you need to know: is yours the right pension for you?
This new guide will intimately acquaint you with your pension, with the hope that you can see its marvellous potential to change the world – and all the places it might currently be invested in that are definitely NOT helping the planet.
It will give you the tools to identify whether your current pension or pensions are goodies or baddies, and whether you want to consider lobbying your current providers to change their ways, or would prefer to cut loose and switch to a new one.
Sponsored by trailblazing online pensions platform PensionBee and forward-thinking fund manager Pictet Asset Management, this guide will help you to make sense of your pension savings and then make them as Good as you are.
Inside the Good Guide to Pensions you will find out:
Whether YOUR pension is right for you
How most pensions are currently destroying the planet – and the potential they have to help change the world
The tools you need to understand your pension and how to move it
Ratings for the UK's biggest pensions providers in one handy table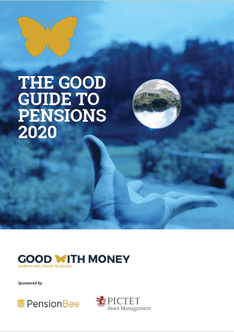 Download your FREE COPY today!