The tenth Good Investment Review from Good With Money and 3D Investing finds that 'assets under management' in sustainable investing funds have risen by a whopping 40 per cent in the last six months.
The April 2021 review reveals that, despite the continued financial turmoil of the global pandemic, assets held in funds with an ethical or sustainable label in the UK have reached £221 billion – up £63 billion from the previous six months.
The sharp increase reflects the continued above-market returns of responsible investment funds.
Since 2016, the ethical UK equity funds monitored in the review have brought average returns of 48.44 per cent compared with 37.07 per cent for all funds in the sector. Meanwhile, the ethical global equity funds monitored have returned an average of 98.99 per cent compared with 90.67 per cent for the sector.
There are now 314 funds in the 3D Investing universe, with 21 funds added over the last six months, an increase of seven per cent.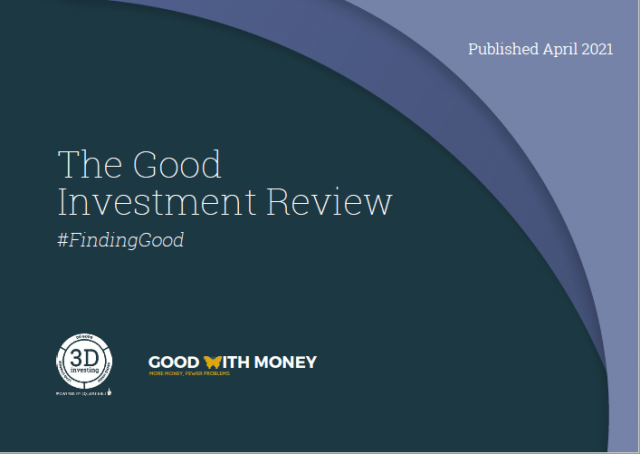 John Fleetwood, founder of 3D Investing (now part of Square Mile Consulting and Research), said: "The evidence continues to show that positive impact need not come at the expense of financial returns, and, if anything, investing for positive impact can improve returns."
The review rates funds that have an ethical or sustainable approach according to the extent to which they "do good, avoid doing harm and lead change".
The latest edition takes an in-depth look at how the Covid-19 crisis has led to an increasing desire among investors to use their money for the greater good.
It includes essential commentary from Newton Investment Management, Liontrust, Aegon Asset Management, Goldman Sachs, Schroders, Wellington Management, Regnan (the Responsible investment affiliate of J O Hambro Capital Management), Federated Hermes, M&G Investments, Pictet Asset Management, Ninety One, Impax Asset Management and Pennine Wealth Solutions.
Like this? Sign up below for the Good With Money weekly newsletter.