A new guide from Good With Money – in partnership with Ethex and Energise Africa – spells out what the Innovative Finance ISA (IFISA) is all about, how it is different from other types of ISAs and how it could be used to add some colour to your investment portfolio and potentially earn a competitive return.
The Bank of England believes that around £250 billion will have been saved by British households in the last year as lockdowns have limited spending opportunities.
Some people will be looking for places to put some of their extra savings that earns a higher return than cash savings accounts. Many will have been encouraged to try investing in the stock market.
But there is another 'third way' to invest cash that is still relatively new, but gaining in popularity. Innovative Finance ISAs – or IFISAs for short – are a type of tax-free savings wrapper that sits apart from Cash ISAs and Stocks and Shares ISAs.
The investments within them are loans to businesses, projects or individuals. What you put in them counts towards your overall annual ISA allowance of £20,000 a year.
Whether you're brand new to investing or an experienced hand, our FREE guide aims to help you navigate the IFISA. It includes a step-by-step flowchart (below) to help investors decide whether an IFISA is right for them, all while fully understanding the risks involved.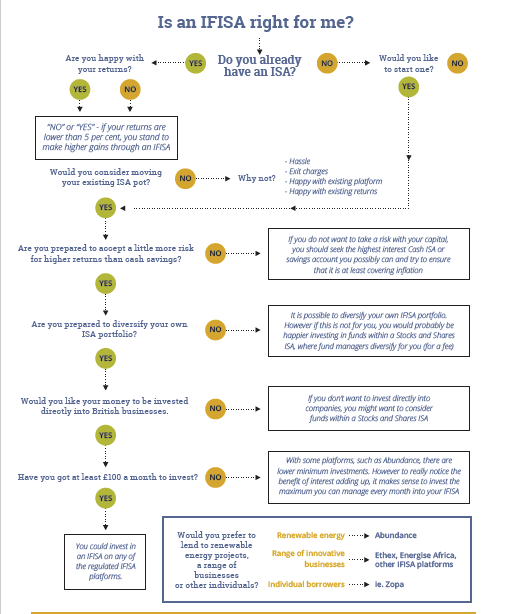 Lisa Stanley, co-founder of Good With Money, said: "One of the unexpected consequences of COVID-19 has been that a lot of people have more money, through lack of spending, and also more time to devote to their finances.
"As a result, interest in all kinds of savings and investment products has shot up. At Good With Money, we noted a surge in traffic to ethical savings and investment articles, which began in April last year and has continued ever since.
"This was, we imagine, a direct result of lockdowns focusing minds – and bank accounts – on ways to build back better and build personal financial resilience, throwing into sharp relief the need to make our savings count in every possible way if we are to emerge from this difficult time stronger.
"The IFISA was gaining momentum as an alternative to more traditional investments before the pandemic, rising from £352 million in assets in 2018 to £648 million in 2019."
She added: "If you want to put lockdown savings you don't need in the short term to good use, for the prospect of a decent return, then now could be the perfect time to consider adding some IF to your ISA allowance."
Download your FREE copy now!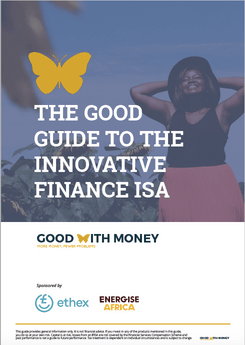 ---
Risk warning: Capital is at risk. Losses from an IFISA are not covered by the Financial Services Compensation Scheme and past performance is not a guide to future performance. Tax treatment is dependent to individual circumstance and is subject to change.