In March 2021, The C Collective, a User Experience consultancy for impact start-ups, launched the Women and Impact Investment Hackathon, in partnership with Good with Money, Ethicalfin and Positive.
Here, organiser Marie Geneste shares what was learned from the event.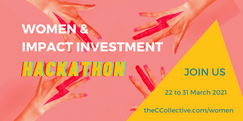 Q. What were the key insights from the research you did in preparation for the Hackathon?
A. We conducted primary research through qualitative user interviews and secondary research, analysing a wealth of existing papers on the topic. Some trends were confirmed, although they all need to be nuanced. These were:
●      Women express a lack of confidence and underestimate their knowledge.
●      Risk aversion – but only from less experienced female investors.
●     'It's a man's world'. Finance is seen as designed by men for men.
●      Too much jargon.
●      Women are definitely interested in investing for good, when they know it's possible.
Overall, our research has highlighted the complexity of women's needs and attitudes to finance and impact investment. We built user personas to show the diversity of profiles from innocent young women to prosperous angel investors.
To create solutions to empower women financially, there's no 'one size fits all' approach, it's really around designing engaging stories and products around users' real needs and paint points.
For more details on our research, read our Women and Impact Investment research summary.
Q. How did the event go?
A. The response to the Hackathon was very positive. On top of the 10-hour virtual Hackathon, we organised an online Finance Masterclass in partnership with Good with Money and Castlefield Investment. Altogether, we had about 120 participants who came from at least 10 different countries, diverse backgrounds and ages.
These varied attendees profiles suggest that the topic of women and impact finance is of interest to a diverse group of people, ranging from financial sector insiders to those who just wanted to understand how to become more financially savvy. The attendees were super engaged and co-created four brilliant solutions in just eight hours of workshops!
We also had a lot of support from partners and forward-thinking organisations such as Ethicalfin, Positive, Finance Innovation Lab, and Women in Social Finance interested in changing the financial system for good.
Q. Can you take us through the main solutions created through the Hackathon?
We had four teams of five to six people working on co-creating solutions to the following challenges;
Challenge 1: Empowering and educating young women
Solution: Journey to invest
The team created an online platform to educate young women, and a supportive network to give them the confidence and inspiration to take action. All through a step-by-step, inspiring, long-term investment journey.
Challenge 2; How can organisations empower their employees?
Solution: The Girls of Whole Street
They created an interactive game based on role-playing where participants learned how to invest a portfolio and rebalance assets towards sustainable (ESG) investments. It was designed as a service/team building activity paid for by businesses for their employees.
Challenge 3; Women helping women. (Runner-up)
Solution: Squads investment clubs
Team 3 wanted to reduce the gender wealth gap by creating a 'safe space' where young women can talk about money. They did this through a gamified educational journey to learn the basics of investing, taught by other women on the app, in a sort of 'pay-it-forward' approach.
They also added a service to create investment clubs amongst friends to invest money together.
Challenge  4; Women investing in impact startups. (Winner)
Solution: The Awesome Impact Investment Co-operative.
They created an inclusive community to help aspiring investors learn about impact investment through a co-operative model, driven by love rather than ego and discrimination. The co-operative was also designed to help democratise investing in impact startups.
Q. What were the other key takeaways from the Hackathon?
A. I think that it really highlighted just how incredible design thinking can be. It is a very approachable process – none of the participants had real design thinking experience. Yet it has the power to quickly find solutions to complex business problems. This is partly due to its strong collaborative and creative process which can bring together a group of people from different backgrounds – in our case we had finance experts and total newbies. The design thinking process allowed participants to empathise with the target audience to create bespoke and meaningful solutions in just eight hours.
Q. What are the next steps following the Hackathon?
A. We had two winners from the Hackathon and their prizes included coaching and mentoring sessions to help take their concept to the next level.
We're so pleased because both teams are keen to try and turn their ideas into a reality. We have a series of sessions to help them refine their user experience, build and test a prototype,understand technical feasibility and startup funding with the help of high profile mentors.
We know this will lead to great things and keep the conversation on impact finance going. We also want to leverage the community of 120+ people who engaged in the Hackathon and keep inspiring them with ideas and solutions.
Going forward, we are looking for innovation partners who want to generate or test new solutions in the areas of inclusive finance and impact investment or any other positive impact challenge. So if you are reading this and have a big social or environmental problem to address with the help of design thinking, do get in touch!